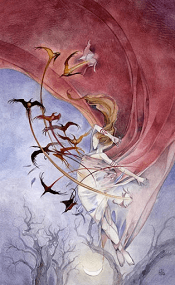 Ten Of Swords – Shadowscapes Tarot Deck
I. The meaning of the Ten of Swords Shadowscapes Tarot
She fell down. Not even a single bird in the surroundings bothered to look at her. Instead, they spun to create a swirl around her, like vultures waiting for their dinner. Wings like razor blades, feathers like daggers, in turn, they tore the clothes and flesh of the young girl. They pierced and shredded thin layers of cloth with sharp mouths. Even their screams filled with hostility in the dark night. The air was full of hollow and jarring whistles. The trees below were covered with bare branches, but the trunk had rotted from the inside. It all came to an end! She screamed in the sky.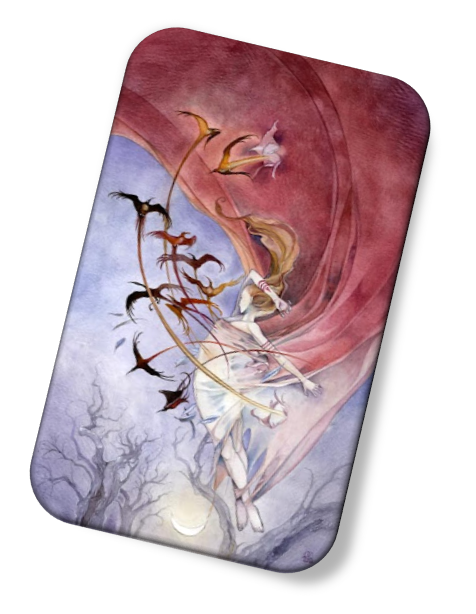 Is it time for the curtain of the martyrdom to drop?
The Ten of Swords Shadowscapes Tarot embodies misfortune, burdens, decadence, end times of illusions. It seems that the situation has become chaotic and out of human control. Sometimes, there is nothing to do except finding the debris until everything stops, and learn from the risks that have happened.
Keywords related to the Ten of Swords Shadowscapes Tarot: destruction, failure, defeat, breakdown, deadlock, separation, pain, thief, negative thoughts, miserable, sorrow, depression, loss, bankruptcy, robbery, breaking, bad condition, disaster, dangerous situations, collapse, divorce, loneliness, hardship, danger, injections, medical examination.
II. The Ten of Swords Shadowscapes Tarot in a spread
Like many cards in the Swords suit, this card gives an uncomfortable feeling, but at the same time, it is not really the feeling of "the end of the world". However, when this card appears, it is still a clear sign that you should be careful about where you put your trust.
In general, when the Ten of Swords Shadowscapes Tarot appears in the yes/no question such as whether you can believe in someone's words or whether a situation will be good, the answer is definitely no. However, keep in mind that whenever a door closes, another will open. The message of the card is also a guideline for you to enhance in a better way. Believe in yourself and the universe.
This card also appears when you are feeling like a victim. You are sure that the whole world is treating you unfairly, making your life more difficult. When we get hurt, we often think that things are too tough, unfair and hopeless.
Ten of Swords Shadowscapes Tarot is a card of destruction. When this card appears, you may be about to lose something very important. The message this card brings is that everything can end in the most terrible and cruel way.
Ten of Swords also refers to the fall. Work, career, relationships will collapse at this point, it warns of poverty, debt, and loneliness. In some cases, it represents physical weakness, you will have health problems.
Depression or disorder can be a disease that will cling to you. However, even in the worst-case scenario, you still have the right to hope for a better future.
In terms of love, this will be a difficult and tiring period. You will face emotional loss, pain, and tears. However, Ten of Swords Shadowscapes Tarot does not mention separation, you can be assured that things are not at their worst.
The advice is that you both should patiently overcome this challenge. When you guys agree with each other, all problems will be solved. The two of you should talk and share more to be able to empathize with the problem that the other is facing.
In terms of work, Ten of Swords Shadowscapes Tarot implies that you will be stripped of all power and trust from your superior. You will face the most unwanted things at this stage. This is the time when you need support and assistance from colleagues, do not hesitate to receive help from them. If you want to run your own business or invest, you should stop planning and wait until everything is more stable. This card represents collapse and disorientation, you need to get back on track before deciding anything.
In terms of finance, Ten of Swords Shadowscapes Tarot does not bring good signs at this time. Debt and poverty are what this card alludes to will happen to you. The old business will continue but the profits from them will be increasingly reduced. In addition, this card implies that you will face large debts due to excessive spending and business risks. Besides, be careful with new business, everything can be very flashy but deep inside, they will not be what you see.
In terms of health, Ten of Swords Shadowscapes Tarot does not clearly display health-related issues but most unfortunate things will come at this time. The stress from work will put you in a state of depression. Even if you are receiving treatment and the situation looks good, things will get worse.
The advice is to be mentally prepared to accept the worst but don't despair as the card has not yet determined the severity of the problem. During this time, you should get more rest and spend time with your family.
In general, the Ten of Swords Shadowscapes Tarot represents a huge disaster. You will be attacked by a certain force that you cannot anticipate. The swords represent wisdom, knowledge, and power. However, in the end, you are still defeated. The pain you are going to experience is not in terms of material or anything else but from your mind and your insecurities.
You are almost overwhelmed by difficulties, besides, you are pressured and forced to admit your failure. The card advises that the end is also the beginning, if you know how to stand up after falling, you will receive many positive inspirations.
The card asserts that the immediate failures are inevitable, you have no way to avoid this tragedy. The only solution is to get up and do everything yourself with a strong spirit.
Pain is also a way to make you stronger, no matter how painful the past is, you don't have to take all the responsibility by yourself. Forgive yourself and those around you, you will find peace of mind.