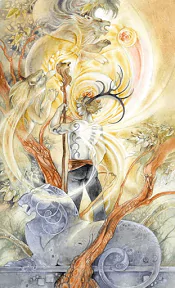 King Of Wands – Shadowscapes Tarot Deck
I. The meaning of the King of Wands Shadowscapes Tarot
The majestic King held a scepter, like a bunch of torches, a lighthouse of fire and light. Perhaps, he himself was like a guiding light, illuminating with the blazing fire inside his chest and the red crown on his forehead. He held up the source of light to shine on the path and to easily guide the next step. The ground accordingly shook, alerting the forest dwellers to back down and make way for his every move. The surroundings gradually changed according to the will, silently obeying the wishes and unspoken commands of this powerful king.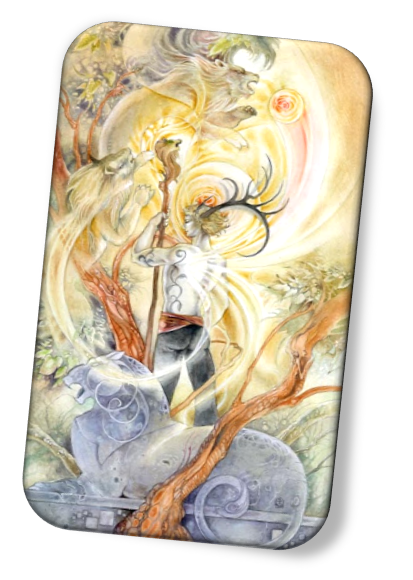 King of Wands Shadowscapes Tarot is a charming character. He possessed undeniable charisma, which was the reason why everything changed according to his wishes and bowed to his will. This king is the source of inspiration, wearing the dreamy cloak of power. He never has felt constrained by this because he was born with innate authority and leadership. This is his nature. It burned within the steady flow of blood throughout his body, gradually ingraining into the flesh, in his voice, withering whatever he noticed.
His soul is a lion that is proud, fierce, dominant and never afraid to chase what it wants. He always acted confidently, with the power and elegance of a beast. The king was bold and did not hesitate to seize opportunities, especially on his way to new challenges.
Keywords related to the King of Wands Shadowscapes Tarot: responsibility, wisdom, charm, power, inspiration, motivation, maturity, intellect, ambition, assertiveness, independence, energetic, enthusiastic, excitement, passion, loyalty, performance, majesty, prestige, optimism, generosity, encouragement, creativity, professionalism, fair competition, contemplation, arbitration, negotiation.
II. The King of Wands Shadowscapes Tarot in a spread
King of Wands is often associated with the zodiac signs of the Sagittarius, this card implies a masculine energy source which is open and adventurous. The King of Wands Shadowscapes Tarot can represent you if you are male or represent an important man in your life. When this card appears, you seem to possess positive energy, leadership, and wisdom. If you are a woman, you will soon receive a piece of helpful advice from an influential man, he may be your superior, your boyfriend or your father.
The meaning of the King of Wands card forecasts for strong passion. You are full of confidence and desire to be the center of attention. The card indicates a powerful, wealthy and majestic man.
This Shadowscapes Tarot card also shows creativity and intelligence in you, you have many great ideas for work, and you also possess the power to turn the tables. You hold your faith very firmly and will fight to the end to protect it. This is both your strong point and your weak point, you have your own perspective and protect it strongly but inadvertently become authoritarian.
In terms of love, this is the ideal stage to start and build a new relationship. If you are single, do not hesitate to start a new relationship, you will find many interesting things from the other half. In case you are already in a long-term relationship, the King of Wands tells that Your relationship is very strong and fulfilling thanks to the balance and seriousness of both of you, you will go through a period of sublimation in love.
On the negative side, however, this Shadowscapes Tarot card advises you two to avoid the argument. Controversy can cause serious emotional harm to either of you. Instead, you should maintain the relationship based on mutual respect.
In terms of work, you will successfully complete all tasks assigned by your superior smoothly. Thanks to the ability to work flexibly and wisely, you quickly reach the peak of your career and receive admiration from others. You will feel ambitious and result-oriented, and other things more than that. You will have enough power to accomplish what you are thinking, so just be positive.
On the other hand, the King of Wands Shadowscapes Tarot card shows your tyranny and autocracy in the way you work. You act like you are the center of the matter, you neither share the problems you encounter with anyone nor can solve them alone. Therefore, the initial goals gradually become a burden for you. The advice of this King is to be more open and less authoritarian, which will help you be more productive and comfortable.
At this stage, some financial fluctuations will occur, but the extent of its impact on you depends on many factors. The advice here is to spend in moderation and save a sum of money in case of rainy days. Do not be reckless jumping into a field or certain investments which you have not known about. You should read, research and talk to others about what you want to do. In addition, King of Wands Shadowscapes Tarot card means you will receive financial help from a man who may be your father or boyfriend, sometimes your superior.
This King card also warns that some health problems related to your diet will occur. You should be extremely careful with your current habits and refrain from eating strange foods that have unclear origins. Worse, this card says you may have food poisoning or have some digestive problems, so you should have regular checkups. Moreover, you should keep healthy living habits, avoid pressure, and eat enough nourishing meals to maintain the best condition.
The image on the King of Wands Shadowscapes Tarot card depicts a King holding a sprouting wand that represents creativity and passion. Therefore, this card refers to the innate creativity and leadership ability emanating from the King, once having a goal and determining the direction, all of your decisions will bring success.
This card also demonstrates that you are a smart and brave person, you are reaping sweet fruits in your career, this is the blooming period of opportunity and success. Besides, you are expecting to face many challenges and conquer them. When the King of Wands appears, you seem to have outbreak energy that will make you ready to use it positively.