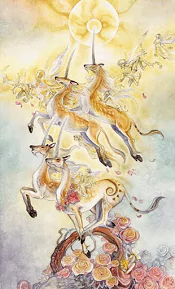 Four Of Wands – Shadowscapes Tarot Deck
I. The meaning of the Four of Wands Shadowscapes Tarot
Spring has come, flowers bloom everywhere. The roses spread the sweet fragrance as an invitation to all residents of the mysterious kingdom. From the east, the ground shook with the footsteps of the unicorns, leaping forward by the call and leading the Fairy messengers to the party. The cold season is still fluttering in the air, but this delay should be seen as a joy, and then more wonderful work must be started. Until then, let's be wise to take advantage of this resting period.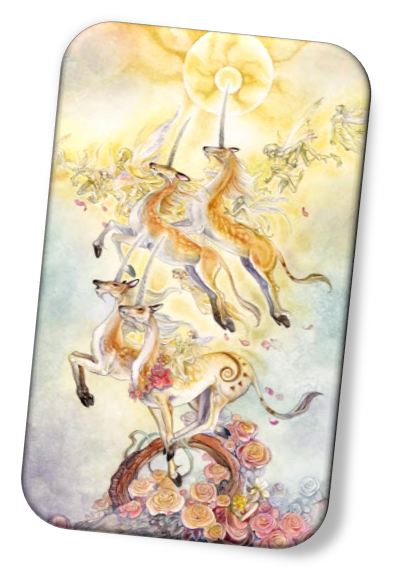 The Fairy messengers lifted the trumpets up high, and then exerted themselves to create a thunderous sound that spread throughout the dawn. Accordingly, the strong wind blowing, disturbing the mane and the wings as if waking everything out of their deep periods of sleep. More quickly, they glided until the world turned into a small colored patch, then with a joyful scream, they burst into the air and glided through the sky.
The Four of Wands Shadowscapes Tarot calls for celebrations and anniversaries. The initial success brought the atmosphere that filled with hope and joy. There is always a peaceful and harmonious feeling for anyone who comes here. However, once the goal has been achieved, this prosperity needs to be sustained. Let's take time to relax and enjoy, but do not forget to prepare to return to work to achieve this goal. The fire must always burn. So, it needs to be nourished to keep the flames constantly burning, not extinguishing into sparks. Let's learn to give up the limits and know how to embrace bestowed freedom.
Keywords related to the Four of Wands Shadowscapes Tarot: peace, achievement, commemoration, satisfaction, blessing, harmony, secure, stability, partnership, success, accomplishment, harvest, improvement, prosperity, enjoyment, praise, productivity, wealth, contentment, happiness, vacation, relaxation, marriage, honeymoon, reward.
II. The Four of Wands Shadowscapes Tarot in a spread
The Four of Wands Shadowscapes Tarot is a card that brings stability. When this card appears in a spread, everything in your life is gradually going into an orbit. This is a card to reassure family issues, all conflicts will be resolved soon. The message that this card brings is not to worry, the tensions will disappear and the conflicts in your family will be resolved.
The Four of Wands brings the message that the upcoming period is quite favorable for you. The surrounding relationships will certainly be stable. If you are under stress, you will feel more comfortable and relaxed in the future.
In terms of love, the harmony in the relationship makes you and your partner satisfied with each other. The two of you seem to be quite content and yield to each other. The Four of Wands Shadowscapes Tarot gives a sign that you can count on a long-term commitment, such as engagement or marriage. If you are single, do not worry because the Four of Wands means stability, you will soon meet your significant other. Clearly, this card brings very positive signals about love. However, that does not mean that you can behave indifferently and without effort, the nurturing of both of you in the relationship will make everything bear fruit.
The Four of Wands Shadowscapes Tarot says that your work is getting stable. The difficult problems at the company have been solved, and you will receive a reward for the efforts spent. This will be a flourishing period in your career, just enjoy it because the card predicts this phase will last quite a long time. If you are looking for a new job or starting a business, the card recommends that you should consider it carefully because this stage is more about enjoying than investing.
The Four of Wands Shadowscapes Tarot's reward for you is financial abundance. If you are still struggling with the source of meager wages, your resources will become more abundant in the future. These issues will be resolved quickly, you will receive large sums of money beyond the initial estimate. Four of Wands recommends investing money in a project to earn extra income. In addition, a provision for an amount of money to cope with arising situations is also essential.
The Four of Wands Shadowscapes Tarot is also a card of vision and development, so it will have certain health effects. This card predicts that you will have physical problems related to money. However, this stage does not last long, you will soon regain your spirits. You should carry out the plans that you have not done, doing the things that you are interested in will make you more energetic and delighted.
On the negative side, the Four of Wands Shadowscapes Tarot implies that you are too introverted and always concealed yourself in the shell, you are not willing to give them up to come to light. You almost feel smug about your present circumstances and do not want to get out of your comfort zone, so it is difficult for you to adapt to the new environment. You feel that all these new things can adversely affect you. The advice from the card is that you should be more comfortable and open to taking on new challenges because every business opportunity or good things can come from those unexpected things.
The meaning of the Four of Wands Shadowscapes Tarot card is that there is a festival taking place, the celebration signals harmony, happiness in relationships, especially in family relationship. This is also a good time to resolve problems and misunderstandings among family members. Picnics, vacation or family trips will be great and helpful in connecting each other.
Besides, the Four of Wands announces this is perfect timing to buy a new home or invest in real estate, you may encounter fortune.
In arithmetic, number four symbolizes stability and solid foundation, and with this Wand card, you are enjoying a happy and steady time. This Shadowscapes Tarot card shows a sense of harmony and balance as well as fulfillment, and thus represents a period of peace and joy in life. All of them are the result of extraordinary efforts in the face of difficulties and challenges. This is one of the most active cards in the tarot deck. It indicates luck, satisfaction, and perfection.