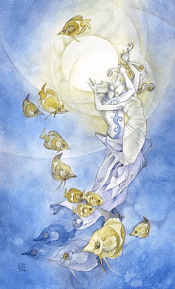 Ten Of Cups – Shadowscapes Tarot Deck
I. The meaning of the Ten of Cups Shadowscapes Tarot
The water embraced them both and welcomed them with a soft kiss of the sun. The water glowed warmly and invitingly. They drifted in a smooth and continuous hug and floated thanks to the light emanating from their hearts. Like a pair of sun twins, they were entwined in each other's attraction and rotated in each other's orbit. The world out there paused to honor the existence of the intense longing hidden in the twin's heart. They wanted nothing more. They did not need anything else to be more complete than this moment, but there was always a link between them and the surrounding creatures.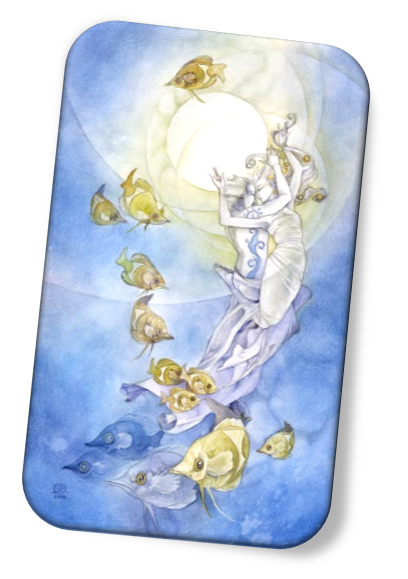 The fish made the surface of the water bubble and surrounded their limbs. Their joy radiated a brilliant protective veil. Fish is a symbol of fulfillment and prosperity. They glided across the deep blue ocean, and their scales shined like gold. Moment of ecstasy in the overflowing happiness, as if this is the last full moment hidden deep under many outer shells, like a school of goldfish swimming in many deep layers of the sea.
Ten of Cups Shadowscapes Tarot is the feeling of serenity and peace at the end. Happiness and success are finally achieved, the longing of the heart, the support from the family, the enjoyment of happiness from life, not just only the pleasure of the body, are also fulfilled. Support from family and close relationships is important to enjoy the satisfaction of life.
Keywords related to the Ten of Cups Shadowscapes Tarot: serenity, unity, faith, reconciliation, fullness, joy-filled, contentment, safety, prosperity, protection, satisfaction, love, marriage, sincere friendship, cooperation, compatibility, peace, eternity, wish comes true, the Thanksgiving.
II. The Ten of Cups Shadowscapes Tarot in a spread
The Ten of Cups Shadowscapes Tarot is also a very positive card. This card presents happiness in the context. This happiness tends to be more mature and wider at the outside, as opposed to personal fulfillment like the Nine of Cups. This is a good card.
In general, this card implies a happy family life (even if you are single), and that happiness is for the people who you care about the most, such as parents, siblings, children. The image of the card also reflects the mental satisfaction. Regardless of any question, this is also a very positive card.
First of all, this card expresses pleasure which includes happiness, fullness, and enjoyment. It is the feeling that comes when we know that we have all those things. Unfortunately, this is not quite a common feeling. We are blinded by the challenges of life many times and feel as if we are drowning in the hardships of life. Still, pleasure always exists and is the fundamental right of every human being.
Peace is another aspect of the Ten of Cups Shadowscapes Tarot. It is the feeling of peace that comes when all other elements are in harmony. Each person has a sense of inner peace and a sense of external peace interacting with each other. When you are in harmony with yourself, then you will enjoy the harmony in your environment. When you see this card, you should know that it is possible to end the hostility. If there are conflicts or struggles around you, then this is the time when those things disappear.
If you have had a hard time struggling to find what you want, at this stage, you can go back and enjoy the present life in the most comfortable way. Very rarely does Ten of Cups Shadowcapes Tarot appear in a negative sense, however, it warns about challenges and things that you have achieved but they still haven't satisfied you. What you expected did not happen as expected. Remember that when you yearn for something, you have to meet the requirements to get it.
In terms of love, Ten of Cups Shadowcapes Tarot is almost a card of happiness, however, you may experience a few negative events. When they are gone leaving feelings of boredom and fatigue, the emotional storm explodes in you. So don't start making decisions about anything emotionally involved right now. Therefore, you should not decide anything emotionally in a hurry at this time. Let's wait for the emotions to calm down, you can see through yourself and make the most accurate decisions. At this time, the journey to find happiness has officially just begun.
In terms of work, Ten of Cups Shadowscapes Tarot predicts that you may be at the peak of your career, the good news will appear such as promotions, rewards, extra bonus, etc. This stage is very suitable for starting a new job as well as a new plan. You should have a plan before embarking on any project. On the other hand, this card warns of difficulties that may arise at any time, so you should be carefully prepared.
In terms of finance, this is a time of wealth, You almost have no hesitation about your finances. You even get the support of money from loved ones in the family. Although the Ten of Cups Shadowscapes Tarot is a very good card for money, the investment did not bring good results during this period. You should only focus on one area, avoid being too greedy and not achieve anything. The calculation, as well as careful consideration, is definitely necessary.
Ten of Cups Shadowscapes Tarot warns about the health of family members, especially children. At this stage, some inherited diseases or bad weather can also lead to negative changes in health. You should not underestimate any strange signs at this time. Besides, do not take miscellaneous medicines without doctor's instructions. You should live in moderation, eating foods with clear origin and rich in nutrients.
In short, Ten of Cups Shadowscapes Tarot shows pleasure and satisfaction in current relationships. Happiness is so simple and usual but it makes you feel like you're in heaven. The image of ten cups represents the fullness of emotion, you are no longer alone, you can share your happiness with families or friends.