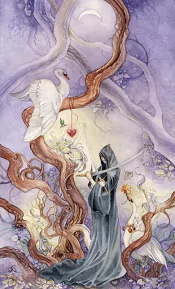 Two Of Swords – Shadowscapes Tarot Deck
I. The meaning of the Two of Swords Shadowscapes Tarot
He was still on the road, trying to avoid any reckless person nearby. Stubbornly and stately, the two iron swords suddenly flashed out as they were drawn, he crossed them to create a barricade on the road. "Who wants to step over?" The man defied, his eyes and teeth shining like the reflection of the sword. He stood there, struggling and unconvinced with the tempered swords. The forest spirits writhed and swayed all around the trees around him. They backed away, cowering at the cold steel blades and at the cold figure.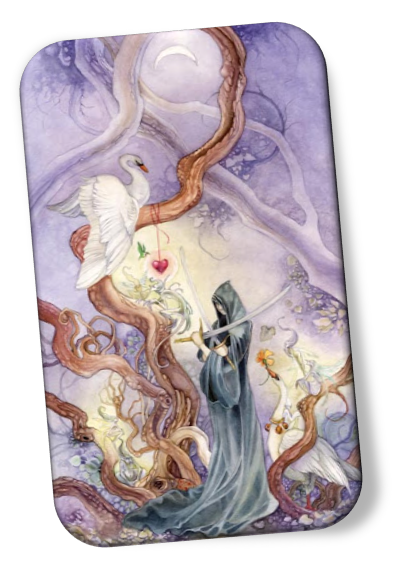 The two swords accidentally created a deadlock, a dead end. At this point, neither two sides would be humble, so it was certainly impossible to make any further progress, perhaps until one party chooses to make concessions. A balance, a chain of shackles for the next step, like a strange dance that prevents anyone from seeking tolerance. It is a rejection of the truth, an escape from what is clearly in front of your eyes or hidden in your heart.
"Open your eyes!", The swan urged, at the same time, offering a symbol, it was a flower – a poppy – a flower of the dead sleep. Existence now became stubborn shields that could not be removed aside.
"Open your heart!", The swan urges, knowing that everything will still be congested when the heart only wants to receive, not to give.
Keywords related to the Two of Swords Shadowscapes Tarot: emotional control, insecurity, cessation, paradox, stagnation, tension, frustration, obstruction, expectation, isolation, antagonism, dispute, a difficult decision, slowness, agreement, reconciliation, avoidance.
II. The Two of Swords Shadowscapes Tarot in a spread
The Two of Swords Shadowscapes Tarot speaks about the barriers we make to ourselves which separate us from others as well as the barriers we create from within ourselves. From the bottom of our hearts, we stop the flow of emotions and refuse to feel them. We avoid looking at the truths and pretend that everything is fine. We speak one way and act another. We try to maintain the present state at all costs even though we know we should accept and face reality.
The Two of Swords is usually a card of cooperation and balance. It often refers to the relationship with another partner (rather than a group of people). This card expresses the need to give and receive (all people can give something away at some points). Let's consider and learn about the balanced aspect of your life as well as your partner.
In general, this Shadowscapes Tarot card tells that your relationships may not be good, whether it is friendship, love, or business. However, you should consider objectively your role in the relationship as well as think about whether you are being treated unfairly by your partners or not. If not, this may be the time to put everything back in the balanced state.
Two of Swords Shadowscapes Tarot appear in a spread when you get stuck. This is the stage where you are forced to make a choice. This card said that you should choose according to the majority, this is not the time to go against everyone. Do your part and your duty, don't mess things up.
Two of Swords Shadowscapes Tarot warns you to face conflict and competitors. At this stage, you will realize who is most loyal to you. Problems or competitors in this period will be very difficult to cope. You and your opponent are willing to work hard just to beat each other.
All of this makes you feel stressed and tired. On the more positive side, this opponent is someone who can compete with you, this battle will make you more mature and progressive. If you're on a project, you and your business partner don't seem happy about working together, which makes you confused and annoyed. The advice is to calmly pass through this gate, things will gradually stabilize.
On the other hand, Two of Swords Shadowscapes Tarot assumes that this is a stage of choices, you are facing a situation where the options are not all that attractive. However, you still have to make a decision. You must overcome this difficult time if you want to make progress.
In terms of love, the Two of Swords Shadowscapes Tarot reminds you to keep your relationship in balance. This is the stage of a quite sweet and romantic relationship. However, only you know how hard you have to maintain this relationship, sometimes you feel pressured but unable to share with your partner. When a conflict occurs, both you and your partner will find it difficult to make a compromise. This card suggests that you should share the problems you encounter with your lover, a sustainable relationship must be based on mutual understanding and sharing.
In terms of work, Two of Swords Shadowscapes Tarot indicates you may have trouble at this point. However, do not be confused and influenced by the people around you because you absolutely can handle this situation. Two of Swords means that this is not a good time to invest and sign. Activities related to investment or market expansion should be carefully considered, besides, you should seek advice from experts in your area of interest. In addition, you should abide by the legal principles of doing business.
Business opportunities can bring you stable financial resources. Although the opportunities are not really many, but because you know how to take advantage of them, you have brought yourself a decent amount of money. However, Two of Swords Shadowscapes Tarot says that you should not spend extravagantly because in the upcoming time you will have to pay for a certain amount.
You are going through a lot of pressure in life. The Two of Swords Shadowscapes Tarot shows bad signs of health that you are disregarding and ignoring. You need to pay attention to abnormal signs of the body, moreover, your dreams can also reflect your anxiety. The warnings of your body condition will often appear, you should get regular checkups right away.