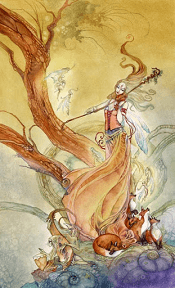 Page Of Wands – Shadowscapes Tarot Deck
I. The meaning of the Page of Wands Shadowscapes Tarot
"Music is the universal language of mankind" – Henry Wadsworth Longfellow.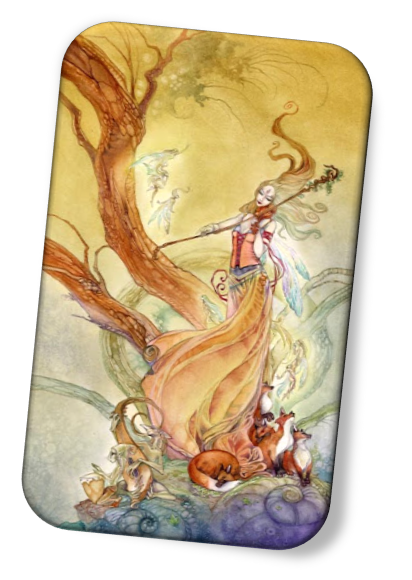 With the confidence and excitement of a child, she began playing her instrument and sending in the sound of the messages. The flexible sound dances in a rotating rhythm, a song of trust and determination. Flexible beats are bustling through fast-paced rhythms, making anyone who hears them is so appealing that it is hard to resist. She smiled and understood that now she was the center of attention, as she drew the attention of all the creatures living in the forest. The excitement and openness spread in the air.
From the above and the below of the kingdom;
From the open sea and the sky;
Come with me!
I signal to all who hear this sound,
Let's gather with me! By all means, come to me!
The Page of Wands Shadowscapes Tarot represents passion and creativity. With a witty nature, full of charisma to the crowd and intuition with her own philosophy, she is the type of person who knows what she thinks, needs and wants, so in the necessary situations, she will directly fight openly for any of her views.
Perhaps, this young lady carries in her the direction of a teacher, always eager to teach all the foundations of knowledge. Like the bright rays of initiative and creativity, she sends you words of encouragement about in-depth research and from there, looking for opportunities. Although this can reach personal negative points, such as fear, laziness, and apprehension, in return, this action can also contain many potential benefits.
Sometimes, you realize that the best reward that comes from doing so is simply feeling good about yourself. Therefore, she encourages everyone to start working on the idea right now, not just immersed in secretly dreamy thoughts. Taking action at this point is the most important.
Can you hear the tunes in her song echoing in your ears? Can you hear the charming and sweet voice and the inspiring melodies? Let's try to hear what your heart or mind is telling you at the moment.
Keywords related to the Page of Wands Shadowscapes Tarot: courage, daring, recklessness, optimism, leadership, initiative, extrovert, enthusiastic, competitive, self-motivated, resourcefulness, inspiration, loyalty, fidelity, encouragement, passion, unexpected events, opportunity, career change.
II. The Page of Wands Shadowscapes Tarot in a spread
The Page of Wands Shadowscapes Tarot represents your curiosity and desire to explore and learn in the future. You will be very excited about the assigned tasks, and you see them as new opportunities that bring interesting feeling. You will almost enjoy them without knowing that every mission contains challenges.
The meaning of the Page of Wands represents the spirit of curiosity and creativity. You regard immediate problems as an opportunity to learn and cultivate. You think of many good ideas but lack the confidence to do it. Sometimes, this card carries a negative meaning, You are quite interested in new jobs or tasks but quickly become depressed and leave them unfinished. If problems become difficult or challenges turn into obstacles, you will want to get rid of them.
In terms of love, the Page of Wands Shadowscapes Tarot refers to the impatience in the romance. If you are not or are about to start a relationship with someone, remember that love is not always warm and sweet. You should be calm to learn and care for your partner with sincerity, the hype and cliché words in love usually does not last long. If you are in a relationship, this period is a good time to do romantic things together, and the interest in that person will make you feel warm. But do not just take it without giving away, the reciprocity and mutual concern will strengthen your relationship.
Page of Wands Shadowscapes Tarot is the average card when it comes to business. All difficulties come suddenly at the drop of a hat and the constant problems happen that make you panic and do not know how to get out of them. If you surrender, it will all fall apart, you can be criticized or get punished for being irresponsible. But if you persevere and try your best to solve the situation, everything will pass very quickly. The meaning of Page of Wands implies that you must face reality and learn to calm down after hardships to grow up.
A few outside factors threaten your financial situation. Page of Wands Shadowscapes Tarot card advises that all matters related to borrowing and investing in this period should be carefully considered. This is not a favorable card with money, prudence and savings will help you on the rainy days.
The abundance of spirit and health when embarking on something new makes you have a great source of energy, you lucidly start everything with a feeling of enjoyment. But very soon after that, all this energy dissipated leaving long-term fatigue and moodiness. Page of Wands points out that this is the stage where you should calm down and take care of yourself more. Keep the optimism no matter what happens.
When the Page of Wands Shadowscapes Tarot card appears, you are in possession of great energy and admirable fighting spirit. You are interested and curious about all the tasks assigned, but that interest quickly disappears leading to contradictions.
This card refers to the internal battles that are preventing you from acting out of fear of risks. If you are strong and smart enough, you will realize this when you get the Page of Wands. You can completely overcome your limits and move forward with all of your passion. Let's think carefully, wake up every source of energy in your body. It is entirely possible that you will succeed if you take advantage of your courage in time.
In general, this Shadowscapes Tarot card demonstrates that what you have started doing before is progressing to success. It can also indicate a need for something new, such as a venture, a new solution or a new idea. Likewise, it brings positive energy. But you also need to pursue to the end and be determined to do those things.