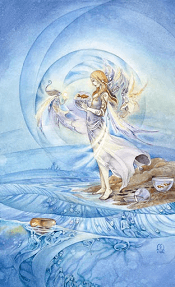 Five Of Cups – Shadowscapes Tarot Deck
I. The meaning of the Five of Cups Shadowscapes Tarot
She struggled to trudge through every large sand dune. Each step gradually subsided, accompanied by aches and pains throughout her bare feet. She found her way to the edge separating the shore and the water, trying to hold on to the half-empty vase of water and worrying that at some point, it would slip out of her numb hands and then shattered on the rocks. The surface of the water was freezing and massive waves covered her feeble toes which made her chill to the bones.
She trembled, thinking that it was the cold wind blowing in, but instead, it was wind goblins. They brushed their hair with gentle fingers and whispered sweet things into their ears, but it was hard for her to notice because, at the moment, her concern was only sorrow and anguish. She sent her thoughts and hopes into the ocean. They followed the white sail, and she wondered if they would one day return with good news.
She filled the vase with tears streaming down her cheeks and was in chaos with overwhelming emotions. She imagined a fish swimming through tears and through the air contained in the empty vase, not being bound by any liquid or air at all.
The Five of Cups Shadowscapes Tarot is immersed in regret and loss. It is the loss of joys, feelings of sadness, and desires of possible things.
Keywords related to the Five of Cups Shadowscapes Tarot: regret, self-blame, sadness, gloom, distrust, disappointment, betrayal, breakup, abandonment, separation, divorce, miscarriage, departure.
II. The Five of Cups Shadowscapes Tarot in a spread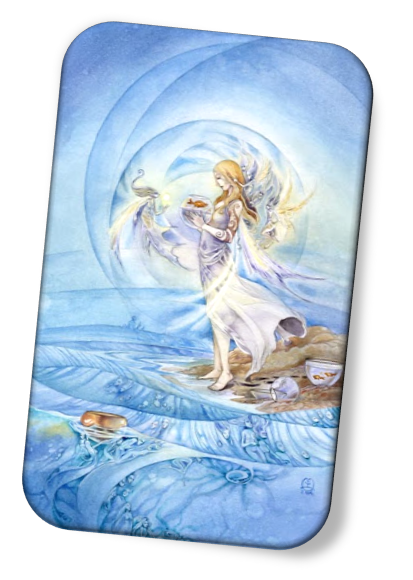 The Five of Cups Shadowscapes Tarot talks about unfinished reality or not achieving the expected results. You are feeling frustrated that a situation is not working out as you wished, and instead of setting up another plan, you are re-immersed yourself in torment and regret about what has been lost.
This card usually appears when the relationship ends. You are engaged in the past and regret old memories, torment, and misery that make you lose all motivation to start again. Sometimes, it has a more positive meaning, past mistakes will be valuable lessons for later.
In this stage, you have big problems in your relationship, sometimes, it means the break-up. But Five of Cups Shadowscapes Tarot promises that if you ignore the past, you will meet the potential significant other. On the other hand, this card predicts that depression will not end if you handle it on your own, therefore, help from others is needed. Jobs or projects often fail at the beginning but will be worthy lessons learned. This card does not mean that you will lose everything, the main meaning of it is that you can fully stand up from failure and success if you are determined enough.
In terms of love, Five of Cups Shadowscapes Tarot is not a good sign, at this stage, you should not enter a new relationship because you are still obsessed with wounds from the past. When starting a relationship, remember that if the other partner does not have feelings for you, all efforts are just redundant and you should make time for those who truly deserve it. In many situations, you will have to let things go, so this will be a stressful period. Even both of you do not want to see each other, but if there are enough determination and strong will, the emotional connection between the two of you will be much stronger
This is the time when controversies related to money arise, you may lose the relationship because of these arguments. If you are intending to invest, the Five of Cups Shadowscapes Tarot recommends that you must know where to stop, avoid greed for immediate profits and do not take risks. Close relationships can crack or end because of scandals surrounding money, so you should not make money regardless of all means and tricks.
The pressure from work and money can make you lose strength, therefore, your body may carry abnormal signs due to unreasonable sleep and activities. At the same time, the Five of Cups Shadowscapes Tarot warns that some old diseases may recur. This card argues that stable spirit is the only cure for the disease and can also be a causative factor. The only thing you can do is to stand up by yourself and motivate yourself through this difficult period.
This is an important time for forgiveness. You do not forgive others for their sake, or because they deserve to be forgiven, you need to do it for your own benefit. The reason for this is that repressing anger and pain in the heart is extremely harmful and bad for yourself.
The Five of Cups Shadowscapes Tarot predicts that instead of moving toward a more positive perspective, you are deep in the past and feeling regret. It suggests that you have to let go of the past and forget the irreversible situation to be happy. You can absolutely move forward if you turn around to look back. In a more positive direction, mistakes are a big lesson for you, the valuable experience gained from these mistakes will help you become stronger.
Remember, it is important to be aware of your expectations; the fault of the past has created wisdom for today. You should think about what has driven you so far and learn some valuable lessons from them. Even when things have come to a standstill, you can always find something positive from the mistakes.
Due to your attitude, you can see either the cup is half-full or half-empty. If you are stuck in a painful relationship, Five of Cups Shadowscapes Tarot tells that it is best to cut off the emotional bond that only brings regret and disappointment. You need to let the sadness pass and consider to priority your feelings at the same time.  If you are feeling frustrated by the actions of others, forgive them from the heart to let yourself be free. You also need to re-evaluate your expectations.