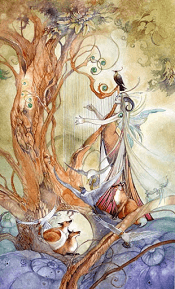 Queen Of Wands – Shadowscapes Tarot Deck
I. The meaning of the Queen of Wands Shadowscapes Tarot
Those foxes with fiery red fur rushed out from the surrounding darkness. Then, quietly, they observed among the other inhabitants of the forest to see which species would be seduced next by the music of the harp playing by the Queen. Immersed in the dazzling midday sun, the presence of the Queen of Wands Shadowscapes Tarot was like a white flame, glowing with warmth spreading from within the soul. Her skilled fingers danced together, gliding through each string. Just like that, she wrapped around the trunk, but probably not many people knew the miracle of this tree which was both a God of Forest and an audience, an instrument and her wand of life.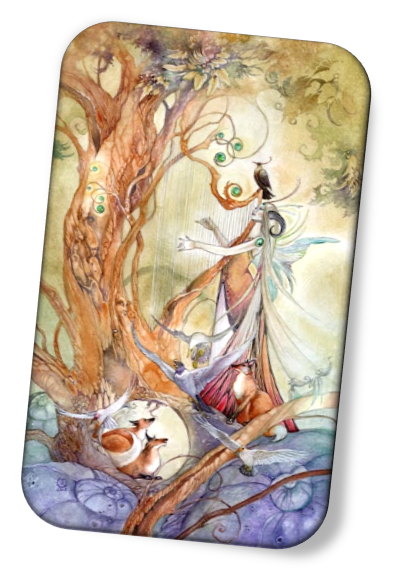 This Queen was originally elegant, charming and attractive, exuding a cheerful and optimistic spirit. She understood the role of a queen and did it perfectly, with quiet and firm manners. She used to be the center of attention, but there were few questions about this, she knew she deserved it. The queen's appearance exudes confidence, as she knows her intellect is strong enough to handle and control anything and anyone.
It was impossible to conclude that this was arrogance, it was no different from just being jealous of denying the truth, in fact, she was well-aware of her skills and abilities. With her seductive charm, she easily succeeds in fulfilling her dark goals, whether deceiving or manipulating things. However, she understood the limits of morality and always resisted these frightening temptations.
The whole bustling world suddenly settled in front of the entrance, listening and watching and immersed in the brilliant light emanating from the Queen. Now, let's enjoy the rich and exuberant soul of life that is recreated through the dance of fingers, gliding across the surface of her lively harp.
Keywords related to the Queen of Wands Shadowscapes Tarot: the majesty, dominance, ambition, the center of attention, social status, self-affirmation, capacity, leadership, flexibility, resourcefulness, warmth, vivacious, courageous, daring, confident, visionary, charismatic, mature, generosity, positive thought.
II. The Queen of Wands Shadowscapes Tarot in a spread
The Queen of Wands Shadowscapes Tarot is a feminine energy source that dominants the Fire element. She is not afraid to prove her strength to others, nor does she hide away from any challenge. Therefore, she is a strong leader who always focused and determined to achieve her wishes. Likewise, she speaks of the power, independence and the ability to take care of yourself and maintain your creative vision, even facing adversity. You know what you want and how to get it, and you are the master in collaborating with others to achieve your goals. Your talent is the determination and the ability to focus on your goals while being friendly and optimistic about the surrounding people.
The Queen of Wands Shadowscapes Tarot represents the queen of power who is ambitious to reach the peak of her career or conquer the world. This card refers to those who live in a sense, being intelligent and able to lead others. When the Queen of Wands appears, you are on the peak of your desire to conquer challenges.
It will give the most accurate predictions if you are female. At this stage, you are carrying abundant energy, you aspire to overcome obstacles. You always try to balance your emotions, before making any judgment or decision, you do think carefully.
In general, you are maintaining a healthy lifestyle and always conscious of keeping your body in shape, which helps you to gradually improve and change in a positive way. However, this Shadowscapes Tarot card warns you that you are too ambitious and authoritarian. You try to control everything and putting pressure on others and even yourself.
In terms of love, the Queen of Wands implies that one of you may be so focused on your work that you become indifferent to the other. Although both of you are not intentional, the busyness from the two gradually creates gaps in your relationship. The two of you have a hard time sharing emotions, on the other hand, one of you is creating pressure on the other. You want your partner to do the same things you do for him/her, which makes him/her feel really stressed in this relationship.
You possess a wise intellect that will fully utilize during this time, which brings about proud achievements. You are responsible and take a serious attitude towards what you do, your competitiveness is also extremely high. At this stage, all of your inner strength will be promoted strongly.
This is the stage where you will face some financial troubles. Specifically, business opportunities come quite suddenly but bring many risks in terms of money. You should consider carefully before deciding whether to invest or lend, this is not the ideal time to take risks. The Queen of Wands Shadowscapes Tarot says that you should handle all matters related to money objectively to avoid personal feelings affecting borrowing and investment.
The Queen of Wands also announces that during this period, health problems may arise. The high concentration of work and devotion in any given project limits the available time to yourself. A few problems with money and stress in your relationship make you tired. You will experience a number of health-related events, so take a break to relax. Do not take any medicine of unknown origin without your doctor's instructions. Let's get rid of the bad habits that are harmful to your health.
In summary, the Queen of Wands Shadowscapes Tarot informs you that you are very brave and smart in dealing with problems. You meet success at work. If you are still struggling to find a job, the card will predict that a woman who will directly affect your career will appear. That person may be a female boss who sees your abilities and gives you many opportunities to grow. On the other hand, the card implies that you possess a burning ambition to succeed, you have the qualities of a leader and logically analyze everything. Compositing.