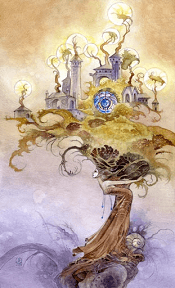 Ten Of Wands – Shadowscapes Tarot Deck
I. The meaning of the Ten of Wands Shadowscapes Tarot
We can see on the Ten of Wands Shadowscapes Tarot card, the Goddess of the Forest was lumberingly carrying on her shoulders an extremely large object that looked like a miniature kingdom. Her body was like branches bent and curled up by bulky architectural blocks.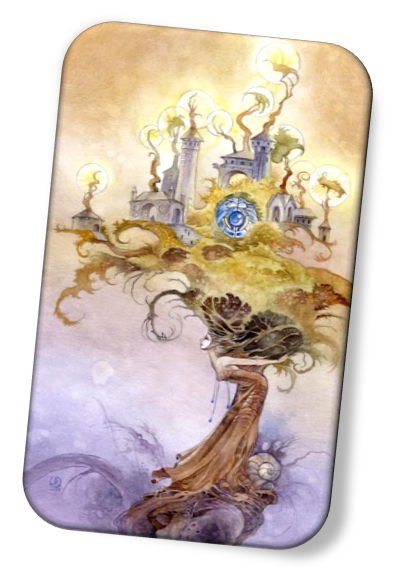 The prosperity and abundant life energy of the creatures living inside the towers depended on the nutrients she brought, through the sap of life flowing smoothly in the stems and leaves. Their souls gradually turn into haunting joyful melodies, through branches and leaves and into the heart. As time went by, the cold gray penetrated deep into the roots. It seems that she is not very aware of the burdens that she has been carrying for a long time. Her body was weak and tired, but she still tried to resist, dragging slowly toward the sun, hoping that the fireball could help her through this difficult time.
The flames burning on the wands, and it seems that the fire can only be sustained based on the coals. She is still struggling and trying to keep her mind clear, which means trying to maintain the operation of the nursing center.
The Ten of Wands Shadowscapes Tarot indicates excessive expansion and multitasking at the same time, letting everything go too far, too much burden with the responsibilities to bear, and doing things in a difficult way. Perhaps, the tiny creatures living among the trees do not necessarily need to be wrapped and nurtured, it was a mistake when the Goddess thought that this was her responsibility. But when burdens are taken on a voluntary basis, will and strength will be born from within to support and nurture her goals.
The number ten represents the completion of a cycle, and therefore, with the Ten of Wands, you have completed a cycle after a period of struggle. In the end, you are reaping your rewards after investing a lot for hard work and effort. You have accomplished a creative venture, realized a dream or a key goal set out, and now you must deal with the consequences remain.
Keywords related to the Ten of Wands Shadowscapes Tarot: burden, pressure, responsibility, determination, overload, stress, loneliness, hard work, anxiety, oppress, temptation, maturity, eyes bigger than your stomach.
II. The Ten of Wands Shadowscapes Tarot in a spread
The message that the Ten of Wands Shadowscapes Tarot card wants to convey is hard work. When this card appears, you have a lot of work to do. If you want to achieve your goals, your efforts must be many times greater than they are at the moment.
The meaning of the Ten of Wands card says that if you want anything, you must make more effort in the future. The challenges ahead will be extremely arduous and difficult, they require a lot of energy and perseverance. You will feel overwhelmed by the challenges that come together at the same time.
This Shadowscapes Tarot implies you will have to work or study hard at this stage, but do not forget to take care of your health. You will do everything to achieve the goal and to make sure that success will come. However, this card also foresees the workload and the huge pressure that will make you depressed.
In terms of love, if you are in a relationship, the card predicts that you will feel tired and pressured. It seems that you will be the one to take care of everything, even will be the head of metal support for that person. At some point, you feel like you are the only one preserving and fighting for this relationship. If you are looking for the other half, just keep in mind that excessive enthusiasm and initiative sometimes backfire. The Ten of Wands Shadowscapes Tarot advises that only when both of you cultivate affection, lower your ego, and let go of your bigotry, will you be truly happy.
The Ten of Wands forecasts a difficult period to come, and all the problems that arise at work can be confusing at the same time. Sometimes, you feel that you have tried your best but the results are not worth your effort. Your approaches to work are rambling and unintentional. The card suggests that you should focus on your main goal, avoiding being too greedy to handle too many things. Let's put efforts two or even three times in the present, you will see the path to success.
This card implies that this is not the ideal stage to invest or spend freely. Economic tightness absolutely can happen, you will have to struggle and re-adjust your spending plan. Ten of Wands predicts that there will be payments that need to be paid out of the original plan, you should save and prepare yourself for the upcoming problems. Borrowing or lending is not advisable at this stage.
Ten of Wands Shadowscapes Tarot thinks it is obvious that you cannot be comfortable with a lot of pressure from your work and financial situation. You will fall into a state of depression, sadness, and self-reproach. If you are receiving treatment, complex health developments will make you anxious. The card suggests that you should rest moderately to regain your balance.
This card says that you will quickly pass a period of hardship, you will soon achieve success. You will enjoy a happy and prosperous life after the days of poverty. However, it implies that it is you who is responsible for what happens in your life. You have to take on challenges from different sources, set and prioritize goals to balance the work and personal life.
On the other hand, the Ten of Wands Shadowscapes Tarot card shows that you have achieved success but still carry a lot of responsibilities on your shoulders. You take those responsibilities as challenges and keep trying to accomplish them, which is good for sharpening your personality and willpower but sometimes, it overwhelms you.