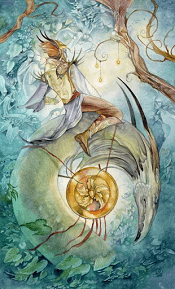 Knight Of Pentacles – Shadowscapes Tarot Deck
I. The meaning of the Knight of Pentacles Shadowscapes Tarot
The thick foliage grows everywhere, so there is only a small path for him, that's also fine, his eyes will not be tempted by anything around. The forest spirits approached, letting out a whisper of inciting and seducing him with tiny and sparkling mascots. But Gods of the forest spread their slender fingers wide to guide him through the forest safely.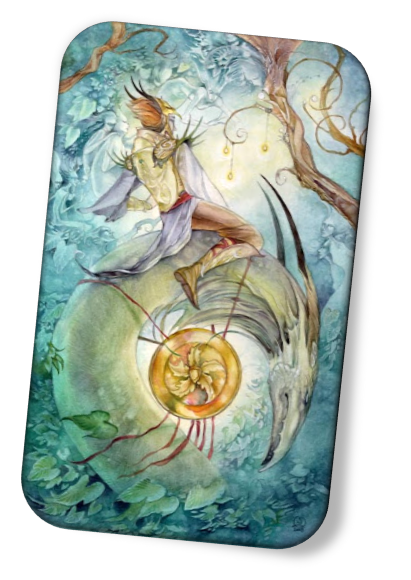 However, he didn't notice what was going on, his gaze was now lit up by his own goal. This knight always works according to standards, thoroughness, and consistency. He rode on the back of the dragon, steadily and slowly. But interestingly, he always achieved the goals that he had set before.
He never takes action without planning things in advance. He spends his time and patience doing what he wants. He tried to keep up and work in a methodical manner, never venturing into a certain unknown place. This also shows that he lacks creativity and desire to explore, but he judges everything by the results of the journey rather than the way the goal is achieved. He has a high sense of responsibility, is steadfast, loyal and always keeps what he said. Once he did, he would try his best to do it until the end.
The stubborn Knight of Pentacles Shadowscapes Tarot draws his own way and attaches himself to the goal he has set in front of him. It sounds bad, but this can bring unexpected effects. He always knew what he wanted and what was the target and approached it without hesitation. When approaching the target, he will conquer it with all the energy that he can summon: with the power of a giant, the thunder or the earthquake or maybe the pressure of the roots of a mighty tree on the rock.
Keywords related to the Knight of Pentacles Shadowscapes Tarot: consistency, caution, diligence, reality, sedulity, new experiences, business travel, assurance, dependence, patience, perseverance, prudent measures, hard work, practice, ritual, wise awareness, profoundness, trustworthiness, safety, methodical work, calmness, kindness, seriousness, loyalty, maturity, consideration, work orientation, pleasure, propaganda, time heals all wounds.
II. The Knight of Pentacles Shadowscapes Tarot in a spread
The Knight of Pentacles Shadowscapes Tarot represents hard work. When this card appears, you must spend your time working hard slowly and carefully, absolutely in no hurry. This card means hard work creates quality, not quantity.
It states that all good things take time to form and develop, if you hurry, you won't get anything worthwhile. If you want to get things built on a solid foundation, this card recommends working with caution. Knight of Pentacles Shadowscapes Tarot advocates endurance and hard work. If you are thinking of quitting a project or skipping a job, this card advises not to rush. If you hold on and persevere in your dreams, you will be rewarded. However, it also says that you spend too much time thinking and making choices, which makes the opportunity to go away.
In terms of love, if you are trying to start a new relationship, the card recommends that you should think carefully, do not go into the downfall again. If you are in a relationship, Knight of Pentacles Shadowscapes Tarot advises that love is not always as sweet, romantic and happy as it seems, if you want to maintain a lasting relationship, you and your partner must share and be sympathetic to each other. Sometimes, you are too focused on work to neglect your partner, try to balance your life and relationship.
In terms of work, the Knight of Pentacles Shadowscapes Tarot reminds us of future plans. Even if your work is stable, don't be subjective. Even very small mistakes can make your career ruined. You need to be careful about your business partners and cooperation relationships. This is not the ideal time to expand your business or invest in a new project, what to do is to stabilize your current career. The card also warns that your frankness may adversely affect your relationship with your colleagues.
Good financial signs are included in the Knight of Pentacles Shadowscapes Tarot. However, despite the abundance of finance, it is not enough to realize your ambition. You should save some in case of unexpected events. Borrowing problems should be clear if you want to get the money back quickly.
In terms of health, bad habits and stagnation in exercise cause your health to be affected. You may get sick and need to get treatment during this time. Immediately, let's change bad living habits and maintain regular exercise to quickly regain health. Knight of Pentacles Shadowscapes Tarot recommends that you should follow your doctor's instructions and never take any medication indiscriminately.
This is the stage when you are full of energy and successfully complete all your tasks. You are a perfectionist which shows in your care when doing anything. On the other hand, Knight of Pentacles Shadowscapes Tarot can represent habits, you are too familiar with the challenges of life, so now you consider it a responsibility. It can be said that you are the one creating the trust for others.
In short, Knight of Pentacles Shadowscapes Tarot implies messages that are often about money and finance. When this card appears, you are more likely to receive the news you are waiting for which are good ones (but not the kind that says you win the lottery). This is a card about reality.
This card reminds us to focus on the matters of the physical world and the ordinary areas of life. There is a saying that "Practice makes perfect". Thus, this Knight card asks you to review and consider the ways you are using to solve your problems. Be confident and do not give up if you are pursuing something; be more diligent and complete all unfinished works if you are often distracted and get behindhand. Let this Knight take you into the world of his caution and steadfastness.