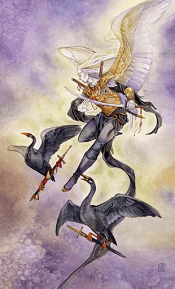 Five Of Swords – Shadowscapes Tarot Deck
I. The meaning of the Five of Swords Shadowscapes Tarot
The blackness of the dark night faded away. Rays of blood-colored sunlight gradually began to glow, so they cut through each dim layer of cover in the gloomy sky. Suddenly, the calm atmosphere was smashed to pieces, shattered everywhere by the howls echoing from the trumpets. The dark angel withdrew his sword from its sheath, ready for any tense battle coming up. Accompanying him were the black swans, they immersed themselves in the tank that is full of self-interest and ostentatious power. It is unknown whether they are aware or not, that gradually, they are no longer iridescent with the pure white outfit as their relatives. The feathers now only shine up with a fanciful ebony black color, the smell of anger with the deadly beauty. They howled, echoing the raucous sound, a way to send challenges to heaven about the next battle.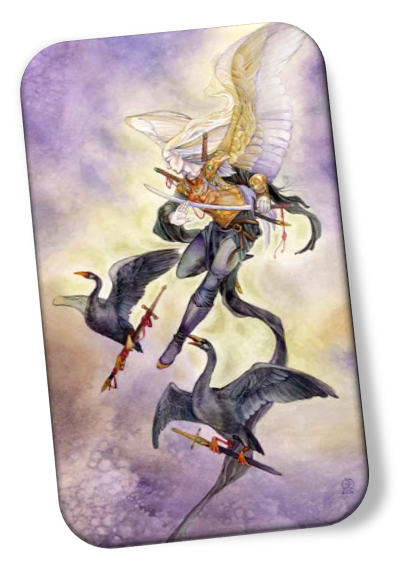 Like the arrow that had launched, he thrust forward, with only one target. He sacrificed his integrity to be able to achieve the final result, leaving only himself in his mind, all for the sake of survival.
But in any battle, there are always the concepts of victory and defeat, but no matter which one prevails, it cannot exist without the other. So who plays the dark angel? Is he the one who prevails, or just being defeated, deported, and fled from heaven? The double-crossed sword on his back reminds him of the Two of Swords Shadowscapes Tarot – a rejection of the possibility of being defeated or between the right and wrong in the battle he chooses to pursue.
The Five of Swords Shadowscapes Tarot is a sign of discord and conflict of interest. The choices are set to make it easier to gain self-interest, put in connection with the things involved, and redeem itself of the feeling that the whole world is now collocating so that against yourself. Perhaps, a broader and wider vision of the world can hide this negative emotion.
Keywords related to the Five of Swords Shadowscapes Tarot: vulnerability, humiliation, controversy, nomination, cynicism, ridicule, embarrassment, cunning, exultancy, intrigue, chaos, sinister, betrayal, malicious rumors, controversy, disagreement, hostility, hatred, sabotage, insensitivity, limitation, loss, cutting off, failures, misfortune, cowardice, negative thoughts, messy comments, theft, abuse, selfishness, domineering attitude, precipitation, deftness, blame, destructive behavior, revenge, deception, funerals, unfairness.
II. The Five of Swords Shadowscapes Tarot in a spread
When the Five of Swords Shadowscapes Tarot card appears, you may feel yourself experiencing some mixed feelings about life in general and some people in particular. Do not ignore this, but do not feel as if you have to say all the things you think or feel; otherwise, you can ruin everything you have worked hard to get, such as intimate and durable relationships with friends and lovers. Think and consider carefully before you really talk or confide in someone.
Sometimes, Five of Swords Shadowscapes Tarot implies a need to put your concerns first. If you are being abused or exploited, you must find a way to free yourself. If you are tired of your needs, take good care of yourself. If it is your turn to act, step up and ask for fairness. Be aware that if you hurt others in any process, your victory will not perfect.
The Five of Swords usually predicts loss. You will lose something by carelessness. This is the stage where you struggle to get back what belongs to you. However, this card assumes that you will have to fail despite your hard work.
This card also implies that you may lose important things. Be very cautious, this is not the time to boast about your wealth and glamor. The theft here is not necessarily in terms of property, it could be an opponent that appears and takes you down.
The Five of Swords Shadowscapes Tarot warns your circle of friends, you can lose everything such as money, status, or fame just because of these people. On the other hand, this is a period of fierce competition. It often carries a negative meaning, you will lose and accept the loss. However, the good news is that what your competitor receives doesn't really mean or value anything.
In terms of love, this is not the right time to start a relationship if you are single. If you are in a relationship, the Five of Swords Shadowscapes Tarot warns that you two do not have the same thoughts and goals, your concept of life is different. Though, the emotional breakdown will not occur. The most serious consequence is that the two of you will lose faith in each other. Your decisions can hurt the other person, whether intentionally or unintentionally. Therefore, this card advises being cautious when making decisions that can significantly affect your relationship.
Five of Swords Shadowscapes Tarot is not a good card in terms of work. This card predicts that if your company is struggling, things will get worse in the upcoming period. It often refers to the problems in the business arising because of the financial status, the company's capital is at depletion. In addition, you are losing the will to fight because of the immediate failures. What needs to be done at the moment is to prepare yourself to stay alert to important decisions. Moreover, you should develop soft skills, a short training course is also a good idea.
In terms of personal finance, Five of Swords Shadowscapes Tarot shows only a moderate amount of money, meaning that your financial situation will not be too plentiful, but enough to cover daily. You are neither too needy nor will have much money to waste. Your current job is facing instabilities, so the financial resources tend to be narrower. The advice of the Five of Swords card is to keep the status quo and save some if possible.
In short, this card states that you are engaged in a certain battle. Although you are sure that you will win, things can be reversed. You feel like everything is against you and you are alone. Close friends may leave you at this time. The advice is to reflect on your actions, recent conflicts can lead to a deep crack in your relationships.
Five of Swords Shadowscapes Tarot also represents strong ambition. You almost defy everything to win without being aware that you are hurting others. However, you may fail because your ambition is misplaced, you feel depressed, and you have negative thoughts. The advice of this card is that you should learn to let go of blind ambitions and negative lifestyles, quickly balance your emotions, care more about those around you, and accept the fact that you have lost. Failure is not necessarily a bad thing, it is important that you have valuable lessons after that.