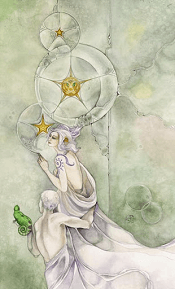 Three Of Pentacles – Shadowscapes Tarot Deck
I. The meaning of the Three of Pentacles Shadowscapes Tarot
They work together, teaming up to create a ladder. Accordingly, one person will climb onto the other. With the considerable height of all three, they always sought to head up, with a strong desire that at some point, they would touch the sky above. On the stone wall, she carved out her own pentacle. They create a sequence of overlapping arcs, like the interconnected relationships of her: invariant samsara circles of adding and combining process. This is a calculation of the relationships and interoperability between humans.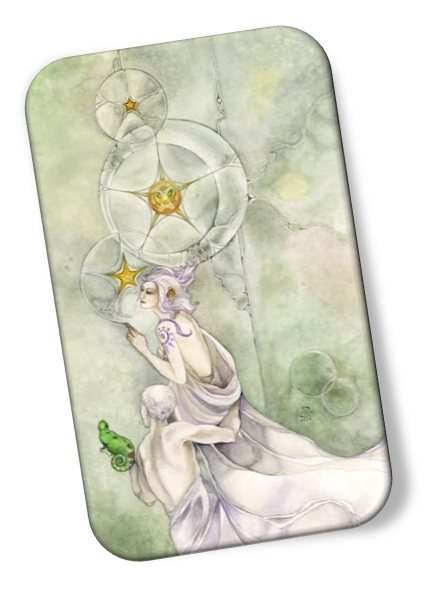 Each arc is created with care and attention, all presented in blueprints. Her fingers glided over the rocks, but everything went smoothly as if drawing on clay. The rough pieces of rock were perfectly obedient and became completely soft under her skillful hands. This demonstrates the strength of the willpower combined with the ability to make the "impossible" suddenly become easy, normal and feasible. They have a clear understanding of this, so they always seek to develop and preserve the source of the power of solidarity whenever the work takes place, especially in the presence of others.
The Three of Pentacles Shadowscapes Tarot is the embodiment of teamwork, working together as a unit, a unity. This card emphasizes that abilities and achievements may exceed expectations. Sometimes, the support of others is imperative to achieve a goal. Not everything can be achieved only with one's own abilities. Not everything may need to be completed alone. Reaching out, seeking and cooperating with others is not humiliating or failing at all, but this solidarity also requires great patience, ability to plan and compromise to hold on to the good foundations of solidarity.
Keywords related to the Three of Pentacles Shadowscapes Tarot: teamwork, planning, achievement, excellence, cooperation, contribution, preparation, recruitment, development, competitiveness, capacity, effort, high standards, hard work, attention, improvement, progress, recognition, approval, enhancement, honor, certification, confidence, recognition, diplomas, assistance, a good start.
II. Three of Pentacles Shadowscapes Tarot in a spread
The Three of Pentacles Shadowscapes Tarot is a very positive card especially when it appears in the spreading about work and career; and overall, what you are doing is very favorable.
This card tells you that the surrounding people highly appreciate you and your efforts, as well as realize the quality of the work you have done even if you did not get paid for those jobs. It reminds you to continue maintaining and promoting what you are doing because you are on the right track (although there are still possibilities for further progress).
This Shadowscapes Tarot card is a card of material development. This situation involves money, occupation, education, physicality, property or project that brings tangible results. You will be rewarded for working proficiently and using skills, knowledge, and talents. You can have a good start and be recognized as an expert in the field you pursue.
Three of Pentacles Shadowscapes Tarot marks the time when you are trying to develop yourself for the future. During this time, you can continue your further study or continue to practice your career skills. Owning natural talents, you will easily acquire and select useful knowledge.
Three of Pentacles also implies that your efforts and struggles are bringing positive signals. This card signifies the journey of efforts, the current results are not the end. Therefore, you must try and cultivate yourself. You are in possession of a great fighting spirit, this is good for fulfilling your dreams.
However, the card warns that the more people who possess natural talents, the more likely they will become arrogant. You can be talented in this field but that does not mean that no one can be better than you. In addition, you can become the subject of jealousy and envy by people who are not born with talents like you.
In terms of love, the relationship must be based on love, interest and mutual care. However, Three of Pentacles Shadowscapes Tarot assumes that you are overly concerned and in control of your partner, which makes it suffocating. Give your significant other personal space to freely do whatever he/she wants. Moderate attention will make your relationship sweet and peaceful. If you're single, this is a good time to go out and look for the other half.
In terms of career, Three of Pentacles Shadowscapes Tarot states that you will soon receive a reward for your hard work. This card also prefers to the promotion, you will be recognized and make many people jealous of what you get. If you want to change your work or invest, be brave, but be careful. It can be said that this is the stage where you reach the top of your career. However, do not be too arrogant and too proud of your achievements.
Advances in your work and wisdom will help you earn large sums of money. The financial situation at this time has started to be more stable. Though Three of Pentacles Shadowscapes Tarot says that you should be cautious about sudden changes in investment. Besides, you should save money to prevent unexpected events. At this stage, please limit borrowing and lending.
This card warns that neglecting yourself in the past will seriously affect the present health. Regulating and rebalancing the body is essential. You should follow a detox diet and participate in exercise activities to improve your health. If you are currently undergoing treatment, don't worry, you have an optimistic attitude that will help you overcome your illness.
Three of Pentacles Shadowscapes Tarot generally represents efforts to accomplish the goal. At this stage, you are having some teamwork plans, and you quite enjoy it. All of your skills are well combined and produce good results. Another feature of this card is the ability to gain fulfillment. You can attract talented people and create a successful environment. Even if the time is favorable, you need to make sure you keep your focus on accomplishing your work well. You can be proud of what you do and how you do it.