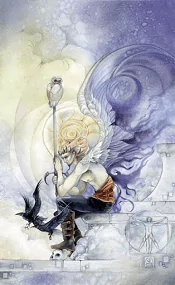 King Of Swords – Shadowscapes Tarot Deck
I. The meaning of King of Swords Shadowscapes Tarot
Like an upright sword he held tightly in his hand, he was now like a solid pillar of strength and morality. The old King held a mighty power that surpassed both life and death. In addition to the reputation of a great King, he was also a mighty experienced warrior, so unconsciously, His sword was always ready outside the sheath, immediately reacting to any necessary situation.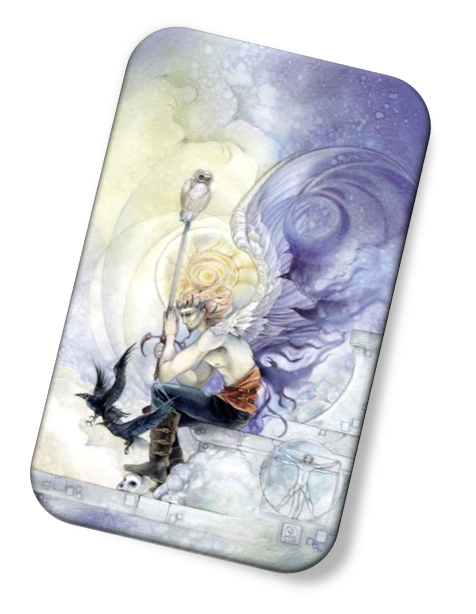 He was the leader, happily leading his army forward. He was always ready to act, to pursue the righteous, clear, and straightforward path. Every path, every step, was illuminated by the sharp sword that he always carried with him. He controlled himself and his surroundings with the tranquility of the owl. Sat enthroned on a high place, reinforced by leaning on the tip of a sharp sword, he launched his eyes away from all the ancient knowledge of mankind.
Not only did he simulated owls, but he himself still existed inside some dark part of the ravens. Like Hugin and Munin, the twin crows representing the "Thoughts" and "Memories" of the Odin, they flew away, searched for the truth, and then whispered back into his own ears. They represent day and night, carrying a specific shape with a mixture of smooth light between moonlight and stars.
The night flowed down his shoulders, a purple cloak was formed, an old stained color associated with ancient Greek aristocracy. The throne was carved and shaped based on Da Vinci's Vetruvian painting, a symbol of the fusion of art and science, a generalization of the human body, and of the universe as a whole.
Keywords related to the King of Swords Shadowscapes Tarot: cleverness, clear thinking, intellectual strength, power, truth, fluency, fairness, morality, truth, control, judgment, analysis, professionalism, intelligence, innovation, ambition, self-assertion, authority, discrimination, improvisation, objectivity, rationality, rules and order, expertise, fascination, cooperation, prudence, coherency, sharp mind, diplomacy, commitment, specialization.
II. The King of Swords Shadowscapes Tarot in a spread
This Shadowscapes Tarot card often represents a strong, powerful and righteous man in your life. On the other hand, if this card does not represent any real person, you may be tempted to think about how things affect you personally. You should consider the feelings of others before taking action.
The personality of the King of Swords is the combination of positive energy between the Air element of the Swords suit and the dynamic/extrovert concentration of the King. He is an intelligent man who can receive and work with all kinds of information. As a master of reasoning and logic, he analyzes any problem easily. He can give a quick solution and explain them transparently to others.
Overall, this Shadowscapes Tarot card is a sign of an extremely powerful source of energy. You cannot change the mind of a man in your life or make him do what you want. You may need a major change in your behavior, thoughts, and expectations. Do not do anything out of your reach.
King of Swords Shadowscapes Tarot represents the smart king who uses his intelligence to defeat all enemies. This card appears to indicate that you will meet a man in the upcoming time, who will help or hinder your growth.
King of Swords also represents discipline, you are being judged harshly by someone. This person follows your steps, who is usually a man, particularly your father, teacher, superior or significant other.
Sometimes, this card appears as a reminder that you should live more realistic, separate yourself from your personal feelings. Use all of your awareness and intelligence to turn unfavorable situations into advantages.
In terms of love, King of Swords Shadowscapes Tarot warns that your inflexibility and stubbornness can make your partner exhausted and give up. Your relationship is under the control of reason. The harshness and patriarchy of the boyfriend can make both of you uncomfortable. This man may be stuck between his nature and overcoming his limits. Under any circumstances, you should know to protect yourself. If you're single, this is not the ideal stage to start dating. The advice is that you should not let your mind overwhelm your heart, talk gently and warm up your relationship with romantic gestures.
In terms of work, the important information that will be useful for the job will come next time, do not be too worried and just keep waiting. On the other hand, troubles can occur suddenly, so you should be prepared for unexpected situations. In addition, the King of Swords Shadowscapes Tarot suggests that you should be cautious with legal procedures. Take advantage of the information you collect and turn those things into your competitive resources.
In terms of finance, King of Swords Shadowscapes Tarot implies that money troubles will harm your relationships. You should draw clear boundaries between relationships and money issues right from the start to avoid awkward situations. Besides, if you are trying to expand your business, then you should decide everything carefully, your carelessness will come with a huge cost. The card assumes that rushing will only take you down.
You are burdened with too many responsibilities, which makes you exhausted. In addition, when enduring for too long, you will turn into an irritable and frustrating person. The advice from the King of Swords Shadowscapes Tarot is that you should take more time to rest, avoid worrying about thinking too much and stressing yourself. On the other hand, chronic illnesses will never go away, you have to accept to live peacefully with them for life.
More so than anything else, King of Swords Shadowscapes Tarot says that you should maintain your goals, and you need to take advantage of your knowledge to get what you want. On the other hand, this card suggests that you should be more self-disciplined about the responsibilities you undertake. Before assessing a situation, you need to consider carefully all the possible consequences and minimize the impact of emotions. And last but not least, it warns impartiality and recklessness in important decisions.