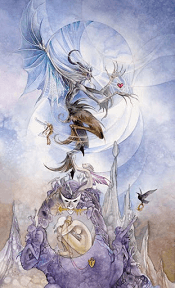 The Devil – Shadowscapes Tarot Deck
I. Description of the Devil Shadowscapes Tarot
She listlessly watched the surrounding walls and forgot the fact that she was not completely imprisoned, that there still was a very vast world out there. The sky was sobbing with melodies of beauty and freedom, but she bowed her head, snuggled to escape from fear, creating boundaries, walls, and shackles, but they were like weak threads wrapped her, and the key to liberation was too close. You wish you could scream to wake her up. "Let's try turning your eyes for once and looking around to see!"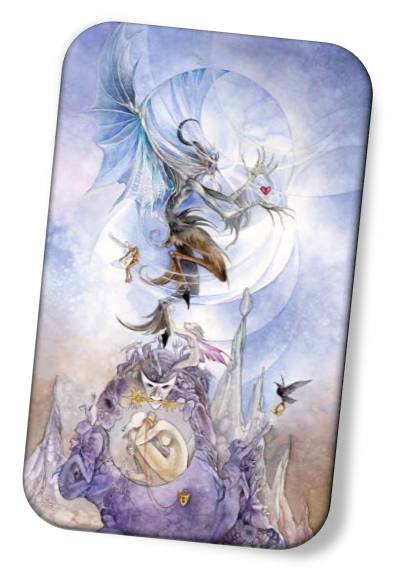 But her ears were now indifferent to any voice, there was only the infatuation of the Devil left. All she heard and felt now was Devil's dance above her, controlling, instigating, suppressing her to the bottom. His hooves jumped down to the joyful and mocking tune with the temptations and the bonds of will. He kept dancing and laughing arrogantly with the knowledge that helped him to easily imprison any fierce soul.
II. The meaning of the Devil Shadowscapes Tarot
The Devil refers to the loss of independence, the domination of addiction and slavery, being stuck in the material kingdom, indulging in passion, choosing to stay in the darkness, and feeling the despair and the limit in choosing. The Devil plays on his desires with a tempting touch. He breaks and seeks freedom from not treating himself like a doll and looking far behind material bonds and temptations.
Keywords related to the Devil Shadowscapes Tarot: pessimism, darkness, assumption, selfishness, greed, lust, constraint, fearful, discomfort, self-doubt, hopeless, oppressive, addiction, brutality, rottenness, sexual instinct.
III. The Devil Shadowscapes Tarot in a spread
There is an impressive detail is that the crown in Lover Shadowscapes Tarot was taken out of the happy couple by the pigeon, then in the Devil, it was brought back to the imprisoned woman. It shows that the couple was too immersed in love to give up everything, and that imprisoned woman was too greedy regardless of everything to get the power she desires!
The wall of her confinement was very thin and just a form, the handcuffs were attached to a thin thread that could be broken with just a little strength, not to mention there was a key right above her head. But she just bent down and panicked, she did not dare to face everything, she let greed and cowardice take control of herself. The wall was the embodiment of humanoid figurines with all the nuances of the panic, helplessness, regret, longing for freedom.
She allowed the devil to be her master, controlling her, trapping her heart in its sticky, cold, and frightening hands. She voluntarily plunged herself into that trap, where there are the power, the ambition, and ruthless but tempting desires. Did she exchange her heart for the devil to achieve such things?
As for the devil, it is the embodiment of a cold-hearted, intelligent, wise, confident person who knows what he will and have to do. He always has a plan for everything he does, he always understands what his prey wants to lure them to automatically fall into the trap, he knows how to control them and cleverly makes them stay so that he can get them to follow his wishes. He always foresees and always judges things correctly. He is careful and detailed. He is strong, ambitious and powerful. He is dangerous and full of temptation. But he is miserable because he is lonely.
Many people assume that the Devil Shadowscapes Tarot is a bad card when drawn in a spread. When you draw the Devil, it is your job to look at the surrounding cards and determine whether you are the victim or the devil. Are you wise enough or are you in the middle of temptation? Who said ambition is not great? Who said that putting your heart aside to wisely complete your work is wrong? That will create success for you. However, do not let those successes control you like a devil, making you heartless.
The image on the Devil Shadowscapes Tarot card indicates the longer the woman lives with and the closer she gets to the devil, the less humane part of her becomes. Naked truths are gradually revealed over time. The card also refers to the torment and emptiness in real life.
You should live and set high ambitions and goals and strive for those goals, while also spending time listening to your heart instead of chasing after frivolous things.
The Devil Shadowscapes Tarot warns that what you are trying to follow will bring nothing but frustration and depression. However, you still cannot escape from the vicious circle, you still try to follow the old path and sink deeper. You carry a lot of ambition and immerse yourself in them, no matter how hard you try, you are still stuck in that feeling. You may have realized the dangers in your lifestyle but you have no way out. However, because of the ambitious personality, you can freely express yourself without any obstacle. The advice is that you should review your lifestyle and adjust it, you can achieve personal desire if you really make the effort.
The Devil Shadowscapes Tarot says that you are mentally tortured by your unreachable desires and dreams, you wake up after a long and frustrating dream, getting angry at yourself and everything around you. Bad and unhealthy habits may appear. This card suggests that you should list what you really need or need to give up, learn how to let go and maintain a healthy lifestyle that will be a way for you to regain confidence. Just do what you think is right and identify it with the most objective view to get back to yourself.
However, sometimes, the meaning of the Devil Shadowscapes Tarot card also brings positive things. The card advises you to be strong and act decisively. At times, you are forced to put your emotions aside and to fight uncompromisingly with others to win. You own a greater ideal and ambition than you think to do that.
More The Devil Cards from Famous Tarot Decks
1. The Devil Rider Waite Tarot
The Devil Rider Waite Tarot card depicts Satyr God as a half human–half goat creature, dancing to the sound of the trumpet that he holds in his left hand. In many myths, the goat is considered as an animal that is not clean and full of lewdness. 
<< See More >> The Devil Rider Waite Tarot Card Meanings
2. The Devil Thoth Tarot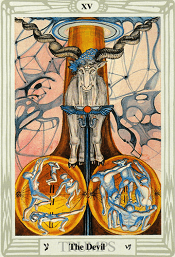 The Devil Thoth Tarot, along with Death and the Tower, are cards with a creative potential that cannot be turned into useless by the horrifying terror or the reversal of it into a divine. 
<< See More >> The Devil Thoth Tarot Card Meanings
3. Le Diable Tarot De Marseille
The Devil – Le Diable Tarot de Marseille may refer to an imminent amount of money or everything related to major financial transactions that are sometimes secret or shady.
<< See More >> Le Diable Tarot de Marseilles Tarot Card Meanings