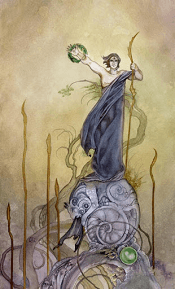 Six Of Wands – Shadowscapes Tarot Deck
I. The meaning of the Six of Wands Shadowscapes Tarot
The man standing on a Sphinx statue which is an image symbolizing kings and emperors, in order to expose their supremacy as a declaration of victory. The statue of the Sphinx bowed and closed his mouth as a tribute to this victory, lying quietly and obediently.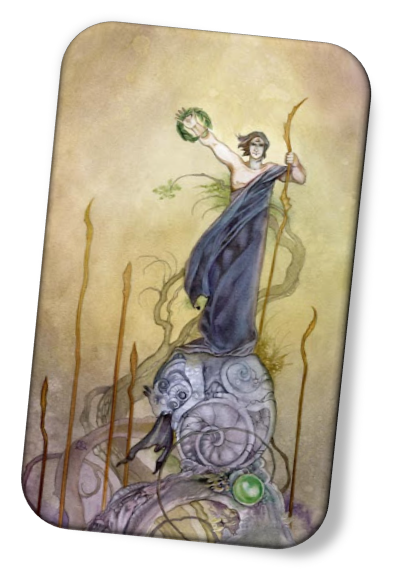 He held a wand just like a scepter and raised his laurels up high. At the moment, he knew his fate as a shining star that was bright enough to challenge anyone who dared to provoke himself. Having gone through many trials, coming and going – from the brave knights to the craziest ones; the wise have tried to deceive him, including those with reputation and subordinates, or those who were full of pretentious but incapable. No one could get past him now. 
He was confident with his strength, personal energy, pride, and arrogance, affirming that no one could compare with him. And after that, he always asserted his position by fighting against the masses and making himself stand out – maybe some challenger would defeat him, but the time had not come yet. At some point, the overly arrogant king will be stunned and regret his arrogance.
The Six of Wands Shadowscapes Tarot symbolizes success and victory, an overwhelming victory and overcoming many obstacles to go to the top. However, be careful, perchance you will become a victim of the trap of arrogance and boredom due to an irrefutable victory. Do not let the over-exaggeration of your importance overwhelm your reason.
Keywords related to the Six of Wands Shadowscapes Tarot: victory, accomplishment, achievement, acclaim, appreciation, wiseness, success, confidence, being recognized, good news, diplomatic, conquer, reward, promotion, honor, applaud, encouragement, capacity.
II. The Six of Wands Shadowscapes Tarot in a spread
The Six of Wands Shadowscapes Tarot are all about success, winning and recognition. Not only you are succeeded in achieving your goal but also your efforts have been recognized by everyone around you. You may have recently received a prize, been praised in public or received recognition from a colleague for work done. It may even be just a pat on the shoulders, a compliment or recognition for your work. This contributes are to increase self-confidence and empower you to keep up those efforts.
The general meaning of this Shadowscapes Tarot card is a success in the present and future, personal efforts will be rewarded. This card represents recognition of the dedication to the work. If you are a student, you may receive a scholarship or certificate in your study. All of your effort spent will be rewarded proportionately, this is the stage of enjoyment. 
The Six of Wands also means that you will be recognized in the job, the financial abundance will soon begin. If you are still struggling with your passion, the card encourages you to keep trying and persevering at present, your hard works will bear fruit. On the other hand, this Shadowscapes Tarot card assumes that you are enjoying the victory and you are satisfied with this. However, pride and self-worth could make you arrogant. You cannot admit your shortcomings, success may soon fade away because of this personality.
In terms of love, the Six of Wands is not a card that represents a relationship or partnership. This card represents individuals, successes, and results that will come to individuals. Therefore, this is not a good sign for many couples. You are considering your love life as a challenge to conquer, not harmonious and long-term progress. Both of you may have disagreements in your thoughts, you and your partner are putting your ego too high. However, the card believes that it is entirely possible to save the relationship If you both give in and sympathize with each other.
Six of Wands Shadowscapes Tarot announces the fullness of your career, all of your efforts are recognized and there will be rewards. You will be in a higher position in your career, Six of Wands even thinks that you absolutely can receive a certain prize or title in the future. The warning is that a colleague or competitor that is on the same level as you will appear soon. Modesty is always the top priority whether you succeed or not. Be a pioneer with both virtue and talent and become a person who brings trust and respect to subordinates.
The opportunities in your career will make your financial situation more abundant. However, any decision to invest or encroach into another market should be considered. The unreasonable investment will waste money, these contracts need to be reviewed carefully before signing. If you are going to lend, do not hesitate as this can be an effective way to save money.
This Shadowscapes Tarot card tells that this is a stable health stage, your energy is quite plentiful. If you are at the stage of treatment, the signals from the card indicate that everything will be fine. If you are expecting news or testing, Six of Wands claims it could be good news. The only advice is to stay calm, avoid overreacting, and use energy appropriately. You just need to try maintaining the hidden strength of mind which will also help to maintain good physical condition. In addition, you should be careful with your statements in the future.
This card is a message of success. You not only achieve your goals but are also recognized and admired by other people. You may receive noble awards or titles in the future. The biggest reward you get is the public praise that makes you so much more excited, the monetary rewards also appear according to the suggestion of this card.
In general, the Six of Wands Shadowscapes Tarot is a card about happiness and praise. You will soon see some positive results for your efforts. Let yourself rest or you should treat yourself well in some ways. You will definitely be worth it.
On the other hand, flashy things can make you arrogant. You think that your life experience and knowledge have reached a level that no one can keep up with. Therefore, this card also sends a message that self-conceit may lead to self-destruction. You must be humble and constantly learn if you want to maintain the inherent success.