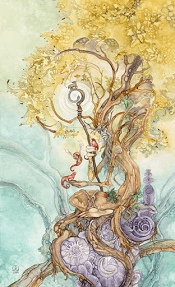 The Hierophant – Shadowscapes Tarot Deck
I. Description of the Hierophant Shadowscapes Tarot
"I want to listen to the story." The salamander told the Priest – the Hierophant. "So, what do you want to hear, boy?" He said slowly. Each syllable seems to be coming from deep inside and stopping at a young root. The salamander has experienced this many times, so it can be patient to listen.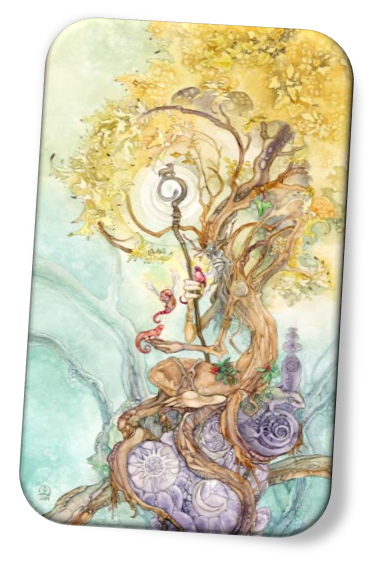 "I want to know how to fly. I used to be very happy about myself. But one day, when Caterpillar said that he was sleepy. And he slept for a long time, so long that I seemed to forget about him. Until yesterday, a moth butterfly laughed with me. He has a laugh that is very similar to that of Caterpillar, and with that voice, he said that he had long sunk in a dream of wings."
"Ah." The sigh sounded like an endless echo, "Oh, my dear, I sincerely apologize. Caterpillar always has that happiness. He can sleep and dream about a flight. He embroidered the rituals of the threads surrounding the body, and when the time came, when the dream changed him completely. And you …"
"I wish I could fly in the sky too." Salamander declared very seriously.
"You absolutely have the right to dream about it." He confided as a teacher, and as a friend, "I will not deny you the gift of God. But I knew that you would be able to gain that sacred part in a different way from the way of Caterpillar. Do me a favor, do not give up on your dream, my dear Salamander."
II. The meaning of the Hierophant Shadowscapes Tarot
The Hierophant's roots penetrate deep into the ground, wrapping around with secrets, tradition, and maturity. Putting his faith in rituals, religions, and in the strictness of the belief system, he was able to clarify the spirit and bring the light of wisdom to the world. Quiet and in control of himself, he is also a teacher who can help to solve mysteries in life.
The Hierophant of Shadowscapes Tarot once again leads us to the culture of the East through the image of an ancient tree with many layers of roots deep into the soil.
The Hierophant in Tarot is considered a high priest, a holder of the highest power of ancient Greek faith. He is an experienced teacher who holds a lot of knowledge about faith and religion, cherishes tradition and calmness, and is always a solid and erudite spirit for everyone.
In Shadowscapes Tarot, Stephenie has anthropomorphized the ancient tree to a respectable and wise teacher and named him Hierophant. The image she gave surprised many researchers of Tarot by her deep understanding of the Eastern culture. In the East, ancient trees have special meaning. Firstly, it is considered the image of longevity, endurance, toughness for years because people often use old trees to support houses, temples, and pagodas, against the collapse after big storms or winds.
In addition, old trees are also a symbol of human rights and spirituality. In the past, most of the communal temples were surrounded by many old trees. In Cambodia, Ta Prohm temple is also famous because it is an ancient temple surrounded by many trees, some tree roots look like human faces. Rumors had it that if you sincerely pray here, everything will come true.
Finally, the old trees also appeared in medieval poetry as a trusted soulmate, where the hermits sought to retreat and soothe their hearts. The image of an old tree has successfully completed the transmission of an image of a Greek priesthood in the Eastern language. .
Keywords of the Hierophant Shadowscapes Tarot: common rights, official celebration, establishment, moral requirements, spiritual progress, wise counsel, professional advice, prayer, the spiritual power, the sacred law, the higher power, the treasure of ancient teachings, the evolution of morality, the righteousness, the loneliness, the pure relationship, obedience, conservative, spiritual search, theology, structured environment, traditional organizations.
III. The Hierophant Shadowscapes Tarot in a spread
When you draw the Hierophant Shadowscapes Tarot in a spread, You may have met a person who is full of life experiences that will impact a lot and can change your whole life in a more solid way. So, what you need to do now is slow down and listen to their instructions.
In addition, let's pay attention to the image of old trees rooted in sustainable rocks, it makes us think of those who are stubborn, conservative, self-righteous, insisting on maintaining what they think reasonable because they are confident that they are experts and have a deep understanding of everything. It is great to have a strong opinion and a firm stance, but if you insist on doing what you want and not listening to others, you will hardly be able to improve, instead, just stand still like an old tree, becoming aged and backward. In some cases, it is also possible that you are too stubborn, leading to isolating yourself with your own thoughts.
The constellation corresponds to the Hierophant Shadowscapes Tarot is Taurus, a stable zodiac of earth elements. It also makes us think immediately of the image of those who are gentle, who prefer stability, have a deep sense of self, are able to guide others very well and are always a spiritual support for everyone by listening very skillfully, sometimes, giving advice based on their experiences so that they are always loved by those around. However, like the Hierophant, Taurus is the most stubborn zodiac in the circle.
The Hierophant Shadowscapes Tarot card brings values of spirituality and learning. It suggests that you will meet a mentor or teacher who gives you lessons in life. This guide can be quite serious, fastidious but deep inside, he/she carries lessons of emotion and morality. That person may be an older relative in the family, an old teacher or a stranger who has a broad understanding.
Besides, the Hierophant card means the occurrence of events related to religion and belief. In the near future, you can participate in a certain activity related to religion and faith. These activities are quite useful in practicing morality and raising awareness of traditional values.
More The Hierophant Cards from Famous Tarot Decks
1. The No-Thingness Osho Zen Tarot
The No Thingness Osho Zen could not capture anything, and there is no direction, even a chosen sign or the existence of possibilities. However, it was a simple situation, existing before the universe was created.
<< See More >> The No-Thingness Osho Zen Tarot Card Meanings
2. The Hierophant Rider Waite Tarot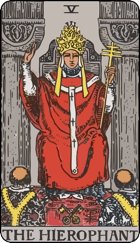 The Hierophant Rider Waite Tarot is a very meaningful card. This tarot signifies that you aspire to follow the typical norms and limits of a typical orthodox approach.
<< See More >> The Hierophant Rider Waite Tarot Card Meanings
3. The Hierophant Thoth Tarot
The Hierophant Thoth Tarot represents the world of faith and a deep belief in life comes from the certainty faith. To find the hidden meanings is his deep motivation, the strong belief in being a part of the higher level was developed from his knowledge.
<< See More >> The Hierophant Thoth Tarot Card Meanings