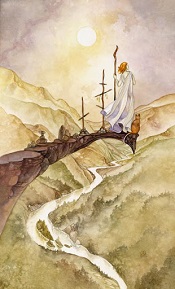 Three Of Wands – Shadowscapes Tarot Deck
I. The meaning of the Three of Wands Shadowscapes Tarot
This is the bridge that reaches the edge of the world. The lower steps below tempt those who are curious and brave to go there and embark on a dangerous journey. It bent across the sky but then did not go much further. She stood on the borderline and hesitated, and wondered where she was going. The dazzling sunlight overhead made her squint, radiating beneath the shimmering bands of light that stretched along the river, reflecting on the hill in the distance below. Like a crystal with endless energy, slowly rising, it brought with itself the eternal light like all the potential she had, waiting for her from deep within, with every breath, every moment that contains the ability that either discourages or encourages us. Be aware of the hidden potential in all things.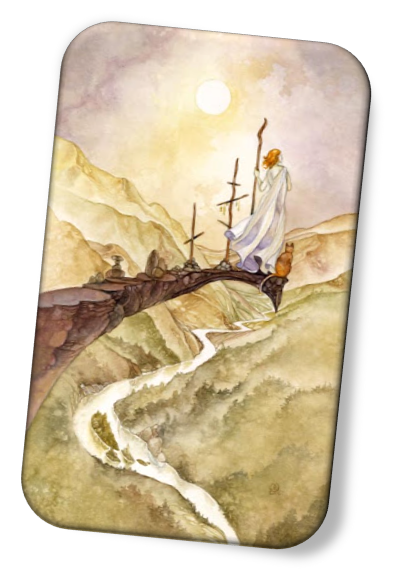 She looked at the wands of the travelers who had first arrived. It could also be that from this position they turn away and leave, just like a threat to what happens to the next ones. She hesitated for a moment, did not look down, and then stepped into the indeterminate place. She felt the strong rocks and clay beneath her feet, then realized the bridge was gradually perfected from the steps and dreams of others. She took a breath and then began to take the first step – just like that, step by step, the bridge accordingly grew below her feet.
Through this, the message that Three of Wands wants to send you is to explore, search for new things, discover and expand to new horizons. Let's broadcast your vision in all situations and clearly show your leadership.
Keywords related to the Three of Wands Shadowscapes Tarot: first reward, employment, professional development, competitiveness, competence, high standards, expertise, skilled, satisfaction at work, hard work, advancement, recognition, certification, progress, confidence, good start.
II.The Three of Wands Shadowscapes Tarot in a spread
The Three of Wands Shadowscapes Tarot is a card of opportunity, which can be an opportunity in the relationship between you and the person you have a crush on. Sometimes, this card means opportunities in business and work. No matter what it is, if you want to succeed, you have to take this opportunity immediately. The card also suggests a new location or new environment which will bring incredible opportunities.
The Three of Wands Shadowscapes Tarot says that, at the moment, opportunities will appear, a new place or idea will make it more effective than the old road you were on. This card also indicates that cooperation in the process of turning opportunities into actions is essential, but this partnership should only be for two people, the more people the more chaotic the situation. Teamwork is what the Three of Wands alludes to, you are forced to complete the task whether your partner makes you feel good or not.
In terms of love, if you are in a relationship, this is the stage when both of you should be honest with each other, all of the conceals and lies, whether good or bad, only push your relationship to the brink of collapse. The Three of Wands Shadowscapes Tarot announces that a good opportunity for anyone who is single has arrived, this stage you will probably meet your significant other. Do not hesitate to ignore this potential opportunity. When getting this card in a Tarot spread, you should calmly reflect on the current sentiments, relaxation is necessary to make them both comfortable with each other.
The Three of Wands Shadowscapes Tarot carries great news for your current job. Opportunities are within your reach, therefore, you should believe in your decisions. This is a very good card for those who are struggling to find a job or start a business. You may have to work in groups with people you do not like, do not be afraid and think too much, instead, you just keep minding your own business. If you already have a stable job, the card recommends that you should plan your work in the long term. The upcoming planning preparation helps you to be more proactive in all situations.
Vacations and travel trips are necessary to relax but you should not overuse your budget to serve your personal interests. The Three of Wands Shadowscapes Tarot card warns you to save money for the rainy days. In the coming time, there will be career opportunities that come, the financial preparation in advance will help you to make favorable investments and raise capital.
This card says that overwork will exhaust you. The physical balance is important to perform, you should not let your body work continuously nor be sluggish and not exercise at all. Light exercises or regular walking are very balanced and healthy. You should follow a healthy lifestyle, eat plenty of vegetables, cool foods, sleep in moderation to avoid stress-induced illness. In addition, this card warns of a number of sexual problems that can adversely affect your health.
The Three of Wands Shadowscapes Tarot shows the opportunity to broaden your horizons through studying, traveling, entrepreneurial business and learning. You need to be more aware of the opportunities that exist around you right now as they may be better than you think. You can look at the best opportunities and know that they are waiting for you outside of your present world, so it is time to put out ambitious. You should consider what you can do to open the door for yourself and develop those opportunities. They can also be changes or challenges ahead which involve expanding your vision as well as invading new territory.
Besides, the Three of Wands Shadowscapes Tarot refers to the plans you are building to strengthen and perfect the future, and there will be positive things happening because your plan is quite thorough and effective. You are trying to build strong support. The card also represents your opportunity through the vision of the woman in the card.
Sometimes, you have to change yourself to seize the opportunity and get out of your comfort zone. On the other hand, the Three of Wands Shadowscapes Tarot signals a tour that is being planned. You should take a few long trips to open your mind and vision, new opportunities can come when you least expect.