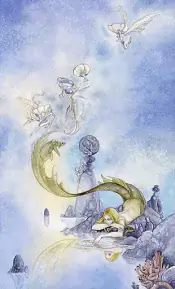 Four Of Cups – Shadowscapes Tarot Deck
I. The meaning of the Four of Cups Shadowscapes Tarot
She found a way to swim up to the surface. The surface of the sea was fluctuating more and more strongly which was a sign that she was about to reach her destination. Finally, with all her might, she jumped up, broke the boundary line between water and air, and climbed on the rocks. Water splattered from her hair and shoulders, she flicked her tail, throwing out the glittering gold droplets. Like diamonds, they glistened in faint sunlight, then dissipated into the water underneath.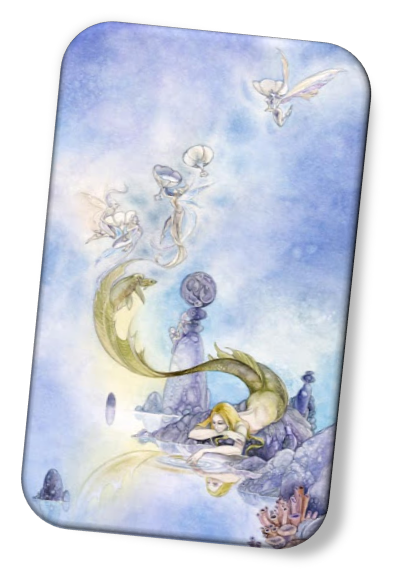 She kept lying there, holding her breath until she was convinced that no one was watching her. Could they still? Originally, their eyes, minds, and senses could only work below the surface of the water, but she was still a little worried about this. She just wanted to make sure she was alone. She was extremely depressed because of their existence, so tired of the endless bragging of the ocean.
The ripples became weaker, lighter and then disappeared, the water surface was soon returned to its original calm state. At this time of day, the blue gradually fades into the reflective blue of the ocean which is a gradual and inconsistent transition of color and light. She was still lying there, thinking of herself always making an impression on her surroundings thanks to her beauty, not a trivial form of frivolity, but like a kind of magical addiction, which makes anyone also yearn to discover. She stared into her eyes reflected on the water, like tiny transparent ponds. She suddenly sought to touch the creature that was staring at her. Out of the blue, her fingers touched the surface, smashing the image into hundreds of tiny ripples.
She was startled, just then, realized that she was not alone as expected. Spirits gingerly stepped closer while she was distracted, with attention, curiosity, and mockery. She was swiftly shivered by the breeze, realizing that her skin was now dry which made her crave a gentle hug from the sea and her dear family.
The Four of Cups Shadowscapes Tarot exhibits self-absorption, the tendency to introspection, self-examination, deepening of personal worries and being lost in mazes of fantasy. The awareness of anything else is being hidden, and the outside world is only covered with grey. However, that world will bring you a lot of other things if you break your own inherent way of thinking.
Keywords related to the Four of Cups Shadowscapes Tarot: Depression, indifference, withdrawal, isolation, re-evaluation, apathy, separation, silence, distraction, distance, resentment, sorrow, introversion, inner enlightenment, the grass is always greener on the other side of the fence.
II. The Four of Cups Shadowscapes Tarot in a spread
The Four of Cups Shadowscapes Tarot card often appears when you are bored or dissatisfied with the present situation. You may have withdrawn yourself because of dissatisfaction with some aspects of life. You have a feeling of depression or shortfalls. Everything seems boring and unsatisfactory. The disadvantage in this situation is that you do not see the good things around and can refuse the recommended help. To overcome this, this Cups card suggests that you need to re-evaluate the situation and look deeply into your own soul to find out the meaning of life. You should stay focused and stay away from distractions to find out the truth you want.
The Four of Cups can represent a positive phase of self-reflection and self-renewal. By taking time to think about your dreams, reflecting and imagining, you will gradually restore your emotional balance.
On the other hand, the Four of Cups Shadowscapes Tarot card implies depression, this card sometimes appears when you are feeling unhappy and not motivated to do anything. You are bored with the present life and cannot find any direction. The card predicts that no satisfaction will occur when you take no action at all.
The meaning of the Four of Cups predicts your present and future life is quite boring. The business will be in trouble or delay leading to a loss of profits or relationships that are gradually losing interest. Sometimes, the card represents a period of crisis, deadlock in life. The only thing you can do is crave to live the lives of others, jealous and compare yourself to others. But at times, it is the jealousy that makes you attempt to get ahead in life every day.
If you are in a relationship, the Four of Cups Shadowscapes Tarot card predicts the arguments that make you both tired and get further apart. You or your partner tries to get to know each other, but it seems that the gap between you two is growing. The advice from the card is that you should take time to rethink about the sweet moment together and the reason you start this relationship.
The Four of Cups talks about new changes in the business that may surprise you. It is advisable to carefully review and thoroughly investigate before signing any contract or business investment. On the other hand, this is the right period to start your own business. Careful planning should be made to avoid any problems during the implementation. This Shadowscapes Tarot card advises you to work and research slowly and considerably because the suddenness and carelessness can ruin all of your efforts.
The card also refers to the financial difficulties that will occur but you will be helped by your loved ones. You should be careful with your spending and save money for a rainy day. If you are planning to borrow, the card suggests that your financial ability can be maintained until the money is stable, therefore, you should limit borrowing from the outsourcing.
This Shadowscapes Tarot card means that just by observing and looking up, you will find a solution to every problem, you are having a way out but are stubborn and refuse to find out. The card suggests that you should regain a positive attitude. Life always has ups and downs, our job is to create joy for ourselves.