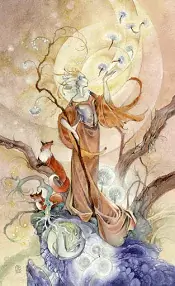 Eight Of Wands – Shadowscapes Tarot Deck
I. The meaning of the Eight of Wands Shadowscapes Tarot
Step by step, she leaned against the wand and walked forward. Spheres of light were gliding in waves on either side of the road. Suddenly, she remembered having a childhood friend, sending her dreams into the dandelion and then and blowing every pistil into the wind. They conceived that the further the pistil flies away, the greater the chance for dreams to come true.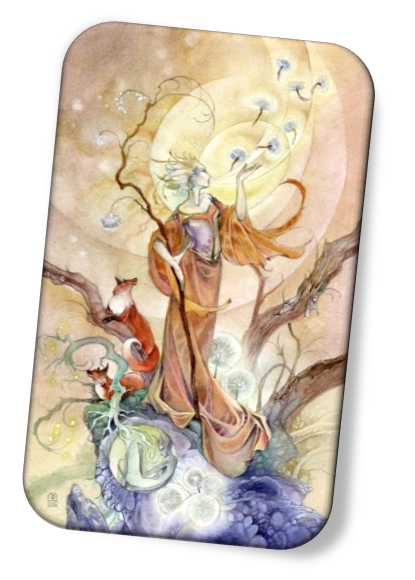 Thinking of that, she smiled slightly, bent down to pick up a bunch of dandelions. Taking a deep breath, she blew the pistils hard and left them free to drift into the wind. But this also means the death of a flower that is blooming brightly, the sphere with its exquisite beauty, is also the beginning of a new life.
The spinning pistils danced with the wild breeze, immersed in the bliss of freedom. Being blessed with a fragile appearance like spider silk, they easily carry out their function, flying farther, and then in a moment, falling down and shoot the roots into a complete tree.
Similarly, the Eight of Wands Shadowscapes Tarot is about the beginning of a long journey towards a certain goal. There is a great promise that everything is under control, along with the speed of quickly gaining rewards.
Number eight talks about structure while Wands are the raw energy. Thus, the structure of it creates a path for the energy flow. You are very sure about your goals and all the distractions have been removed. You can devote yourself to your work with full concentration, determination, and willpower. This is very good, allowing you to do a lot of things in a short time.
Keywords related to the Eight of Wands Shadowscapes Tarot: progress smoothly and quickly, activity, movement, urgency, excitement, delusions, acceleration, communication, news, journey, holiday, movement, productivity, unexpected things, archery, athletic ability.
II. The Eight of Wands Shadowscapes Tarot in a spread
The Eight of Wands Shadowscapes Tarot card represents information exchange, which means you often communicate with people by talking directly, emailing or chatting on social networks. This card tells that it is time to communicate more with society.
The meaning of the Eight of Wands card implies that your interaction with the community may bring great opportunities. Sometimes, it is the business opportunity you unexpectedly gain in conversation with a stranger. You can absolutely get amazing business opportunities and dreamy relationships just through conversations.
On the other hand, the Eight of Wands Shadowscapes Tarot also represents things that are being formed and developed fast. It could be the progress of a job or a personal relationship. However, when being viewed in a negative way, this card implies dominance. You may get caught up in a business venture or an area where you are inexperienced, though you are excited at the beginning, that feeling will soon disappear. The card also warns against social media addiction.
In terms of love, this Shadowscapes Tarot card gives a good signal for confessions and proposals, you should be brave because this is the most appropriate time. If you are in a conflicted relationship, both of you should talk to each other and share your thoughts honestly to bring you closer together. Both your stubbornness and procrastination will not pay off. This is a card of communication, therefore, only when you and your partner have a clear conversation will everything be resolved.
This is a quite favorable period in your career, every situation that is arising will be handled smoothly. The advice from the Eight of Wands card is to plan the company's development path and propose a long-term plan. This card is also an indication that you should plan to invest more in the customer service field. Consulting and customer care will help your company get much feedback to adjust products and business directions accordingly. With this card, you can look forward to completing quickly a project which is being carried out, but you can also expect to find something new and more interesting, and get a lot of inspiration. Nothing can stop you now because you are exploding with all your energy and ideas, and you cannot wait to start another job.
Eight of Wands Shadowscapes Tarot implies that concerns about money and debt problems will soon be resolved. If you intend to invest money in your personal business or contract with a partner, you should seek advice from experienced people. In case you want to try a new field, this card signals smoothness.
It also warns that health problems may suddenly arise. You should be prepared for money and precautions in case of emergencies. The card warns that overwork and labor will seriously affect health. You are overusing your health for purposes of money, remember that your physical condition is the most important thing. If you or a loved one is receiving treatment, the card warns an outside factor that may cause bad influence.
The Eight of Wands Shadowscapes Tarot card indicates difficulties and obstacles are coming to an end. The significant information is about to be revealed, and you will get a sudden growth. You may have many unresolved issues when getting this card. You may be frustrated or tired of waiting. This card is a reminder that you should be patient for quite a time. You may have already accomplished everything you need to do, the current and future decisions will be made by others.
At this stage, you need to be very patient because the potential opportunities are about to come. The advice from the card is to be patient with everything that is and will appear in your life because the sudden and urgent things can ruin all of your efforts spent.
When the Eight of Wands Shadowscapes Tarot card appears, it does not seem to have any current evidence of progress. But do not try to force things because that will only cause the opposite effect. In a nutshell, sometimes our actions depend on ourselves, and all you can do is trying hard and wait. If you have done all you have to do, then be patient and wait.