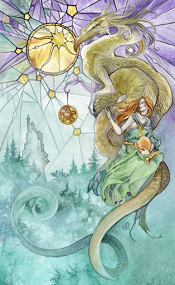 Ten Of Pentacles – Shadowscapes Tarot Deck
I. The meaning of the Ten of Pentacles Shadowscapes Tarot
She covered herself with layers of silk clothes and magnificent gold pieces of jewelry. With just the outfits, she clearly showed off her wealth, the ostentatious mask of society about a well-off and rich life. She was always looking for ways to withdraw and evade the greedy Dragon that was hoarding wealth down the valley.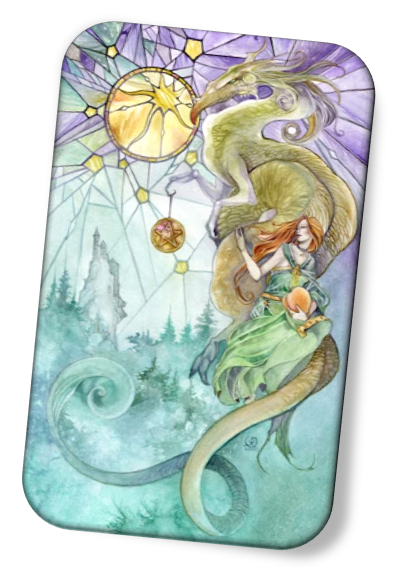 The winds whispered ancient secrets to the surrounding woods. The trees wrapped their roots tightly in gold blocks below, covered with leaves to shield it from the Dragon's sight. This world is like colorful frames – a world of art and wealth – and she holds a Peach close to her, a Chinese symbol of immortality and prosperity.
She is a traditionalist, based on established norms and standards, she understands that better than anyone else because it was the rules that made it possible for her to reach her present social status, there was no random luck here. She is always a model in life and in the world, like the colorful glasses surrounding her, created by the skillful hands of artisans. Its appearance is the result of a long and sustained artistic process, which needs to be more properly viewed rather than something fleeting as its nature. She knows that the present results and position are a sequence of her own hard work and her firm beliefs.
Ten of pentacles Shadowscapes Tarot shows the inheritance of wealth, of our financial desires to be enduring forever with security. You should cherish the luxury and luck that have come to you now. This is the outcome that people want to receive in the material world, which is the result of a long-term effort, and one day it will bear fruit, become the final reward, a conclusion with the great ability that gives yourself a sustainable position and benefit.
Keywords related to the Ten of Pentacles Shadowscapes Tarot: prosperity, abundance, success, guarantee, long-lasting, sustains, arrangement, usages, traditions, conservatory, comfort, money, wealth, stability, safety, connection, transmission, responsibilities, financial support, insightful advice, lineage, happiness, inheritance, legacy, pension, trust, recognition, prestige, family events.
II. The Ten of Pentacles Shadowscapes Tarot in a spread
The Ten of Pentacles is a very positive sign. It may imply that your material expectations will be met to the point that you have never thought of. In general, everything will be extremely advantageous for you. Assurance and safety in all forms are being maintained beyond the requirements.
This card generally tells you that you will feel happy and grateful for many things. Relationships, financial situations, and health will tend to be positive. You should do your best and make sure you share what you have for the less fortunate, even if it is just some kind of advice for someone who needs comfort. You will reap what you sow.
Ten of Pentacles Shadowscapes Tarot is a card of diversity and abundance. With this card, the good things in life are coming to you. It implies a financial increase, you will enjoy the feeling of satisfaction during this period. It also refers to inheritance. This is a card of family and traditional values. A business or a family secret will be transmitted from generation to generation. The card affirms financial abundance.
In some cases, this card predicts that you will be influenced by family routines and habits, you are easily affected by family culture, which creates a challenge that if you want to succeed, you must overcome.
In terms of love, Ten of Pentacles Shadowscapes Tarot tells that this is a period of tension in the relationship, during which the impact from the family puts both of you under pressure. Your relationship can be affected by material things or disparities in family conditions. In addition, you or your partner may feel hurt and lonely in your current relationship. You guys almost can't make it up and the constant argument happens. The advice of this card is that both of you should be patient and respect each other. If you go through this stage, the relationship will turn to a new page.
In terms of work, Ten of Pentacles Shadowscapes Tarot announces stability. You are almost at the peak of your career with the guidance and direction of more experienced people. You can achieve financial success at this stage. However, the card warns of the abuse of trust that may come. Be very wary of flattery and cunnings. At this point, you should accumulate wealth and money to prevent unexpected events in your career.
In terms of finance, you own a solid financial foundation with support from the family. If you intend to invest, this is the perfect timing. The Ten of Pentacles Shadowscapes Tarot recommends that It is recommended that you spend more on family, being close to family members will help everyone to share the financial burden. The opportunity of venture capital funds will appear in the future, do not hesitate, just try it.
In terms of health, your physical condition is at a stable level. You are quite energetic and having fun, which is good for youngsters. At the very least, you will feel extremely well beyond your expectations for a while as well as feel optimistic about the future. You should think about what you can do to improve and maintain this impressive condition in a better way in the future. However, Ten of Pentacles Shadowscapes Tarot predicts that the elders in your family may get sick. Pay more attention to your family members, regularly accompany them to check-ups and participate in physical training sports.
In general, Ten of Pentacles Shadowscapes Tarot shows that all your efforts have been rewarded. This card shows the importance of family to you, the happiness during this time is largely related to finances and family. It is a symbol of financial success and stability in life. Moreover, it assumes that your decisions will bring positive things to your family members. Even the achievements that you gain also help other family members.