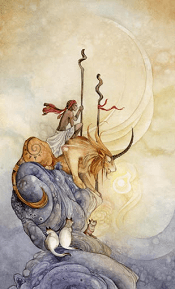 Two of Wands – Shadowscapes Tarot Deck
I. The meaning of the Two of Wands Shadowscapes Tarot
She rolled her eyes across the land ahead. That was her kingdom. Everything was filled and arranged as she wished, and the queen governed all overlooking from her vantage point, just like her ancestors did. At this point, her vision was gradually fading, she was trying to expand her vision to what she could accomplish in the coming years, assuming that there were all sources of power at hand.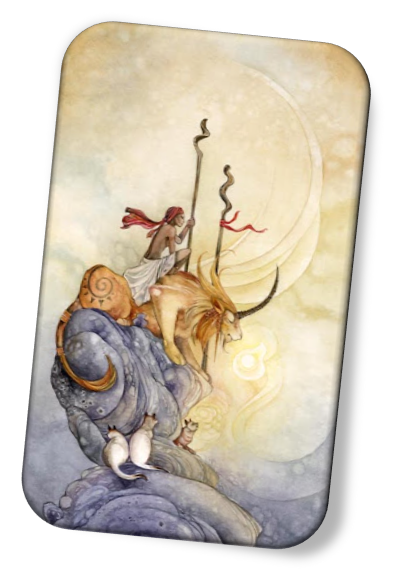 After all, this was an opportunity to make the dreams and the long-term plans for this land come true. She knew she needed to hold on to her power. She may be bold, firm, and determined on the path she carves for her people, but there are always those who lurk and wait till the time is ripe and then lightning attack and take her position.
The companion, the lion, the king of all animals, is the one who best understands the importance of this position. It embodies bravery and authority. From the highest peak, he stared fiercely at anyone who dared to challenge either. It held its arrogant head high, shook its mane vigorously to create sparks, and roared with a roar that echoed throughout the valley as if strongly asserting a position of power, territory, and to anywhere in its ability.
Two of Wands Shadowscapes Tarot is a symbol of influence, personal strength, power, and courage. This is the best time to be bold and creative, do not be ashamed of what you need to do.
Keywords related to the Two of Wands Shadowscapes Tarot: collaboration, completion, effort, transition, achievement, ambition, pride, ownership, co-operation, bonus, power, growth, initiative, preparation, a new perspective, successful negotiation, anticipation, correct orientation, positioning, a move, travel.
II. The Two of Wands Shadowscapes Tarot in a spread
Two of Wands Shadowscapes Tarot is a special card with two different meanings. In the first case, the card predicts that you are not happy with the results you have achieved so far. In the second case, the card represents success and wealth.
This card often represents cooperation. Business contracts will be signed, and success will soon come. It also symbolizes good cooperation and achievement, so the meaning of the Two of Wands Shadowscapes Tarot is mostly positive. The card implies that you will receive the support and help of those around you.
In a few cases, the Two of Wands appear to be negative. Although you have achieved your goal, you are not satisfied. All of your wishes will not be of much value when you achieve them.
The card also means successful satisfaction. You have achieved the goal and you have turned an idea into a reality. You are slowly stepping out of your cocoon and experiencing the new world. Two of Wands Shadowscapes Tarot says that while it may be hard to get started, go ahead with all of your courage.
On the other hand, the Two of Wands card revolves around making decisions. You are whether satisfied with your present life or want to achieve even greater satisfaction. In this case, you must step out of your comfort zone and explore new territory.