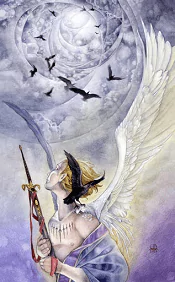 Nine Of Swords – Shadowscapes Tarot Deck
I. The meaning of the Nine of Swords Shadowscapes Tarot
The crow of raven howled about the coming downfall, hoarsely screaming everywhere, at a distance, at a close, just like that. Each howl – A worry.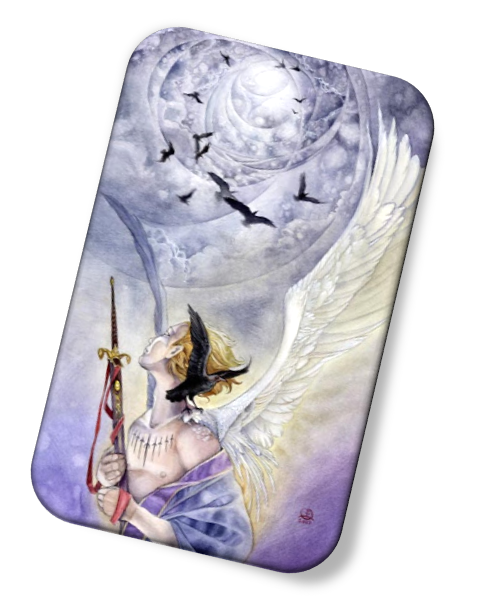 The shape of the funnel was carved into the dark sky, a swirl connecting the ground with the heavens and the stormy tower with little hope above. "Follow us, follow us," whispered the crowd of ravens. "Let us lead the way for you." With worry filled his eyes, the young man stared toward the high horizon and forgotten the whispering sounds that led the way through the dark night of the soul. He always held his sword with him to protect himself, and whenever necessary, he could find the light from the above illuminating his path. But he himself refrains from the guiding light he holds in his hand, or it may be he is too weak or hesitant to use it.
The intricate tattoos on his chest are like torments about regretful mistakes that happened in the past. He was torn by anxiety and uncertainty in the night. A creature of wind – those wings will bring the young man up high, an open sky and freedom always waiting somewhere. And then, if possible, he can throw all those messy dirt aside, he will be as free as the ravens swirling in the sky.
The Nine of Swords Shadowscapes Tarot depicts a chaotic picture from deep within. This is the moment of vulnerability and temptation by the demon inside you. Sin and fear paralyze our muscles. Let's learn to understand the source of these worries, find out their meaning and cause, and aware that the power to break the chains is within our own hearts.
Keywords related to the Nine of Swords Shadowscapes Tarot: anxiety, guilt, suffering, sadness, insomnia, worries, stress, misadventure, threats, sins, torture, fear, pain, suffering, depression, frustration, restlessness, distrust, overcast, gloomy, mental pain, misery, cruelty, resentment, slander, grief, hopelessness, sorrow, accusation, self-hatred, conscience-struck, sickness, surgery, unfounded fear, gynecological disease, the possibility of death.
II. The Nine of Swords Shadowscapes Tarot in a spread
The Nine of Swords Shadowscapes Tarot is often a card that implies worries and fears. You should carefully consider what is bothering you. Do not blame people or circumstances for the concerns you are feeling. Pay attention to deep breathing, which will help you feel calmer.
You will need to be aware of the feeling of insecurity. If you are feeling insecure, consider whether that feeling comes from yourself or whether it comes from other things/other people in your life. If so, you should consider whether you can change something in your relationships to fix this situation. At the present time, there may be some problems that make us feel our life could have been better than reality. Try to be satisfied and enjoy the simple things that life is giving you. Beauty has always emanated from the most ordinary things.
The Nine of Swords Shadowscapes Tarot shows anxiety. When you receive this card, you will have to go through a period of difficulty and emotional suffering. However, you don't need to worry too much because these things are inevitable in your life, be prepared to face these bad situations at any time.
The Nine of Swords also represents the hopelessness that people have to go through. You will experience a period of anxiety and sorrow in the future. This card refers to the sudden breakdown of relationships or plans that are about to be completed. You are in a state of chaos and you don't believe that these unfavorable things have happened to you. Still, this card suggests that there are still rays of hope for the worst. When everything is not over completely, you still have a chance to save the situation.
In terms of love, Nine of Swords Shadowscapes Tarot warns of skepticism and calculation that can cause your relationship to crack. If you no longer trust your partner, everything he or she does will only bring doubts or discomfort. This card advises that you should talk clearly to each other and that you should calmly look at things with more objective eyes. Also, if you're single, don't rush at this moment because current partners are maybe just temporary.
In terms of work, the Nine of Swords Shadowscapes Tarot says that you or your business can go through a hard time, the worst things can happen. You should calmly consider the situation and find a solution, don't hastily make any decisions related to work during this period. In addition, it does not assume that you will gain a profit if you invest, the previous plan may not yield anything.
At this stage, you are not too abundant in terms of money, the financial troubles will make you moody. The Nine of Swords Shadowscapes Tarot, therefore, advises you to take action, instead of over-thinking. You need to consider your spending, cutting unnecessary ones, and balance your personal finances.
If you are in a crisis and need support from someone, this card considers that family and friends are the best companions. Also, if you are a lender or an investor, divide your spending into small categories.
The Nine of Swords Shadowscapes Tarot states that this is the stage where you will overcome stress and loss. Let's maintain a healthy lifestyle and limit the use of drugs or alcohol. If you are in a state of extreme chaos or stress, travel trips will help you relax. Besides, this card forecasts positive signs about treatment if you are sick.
In general, the Nine of Swords Shadowscapes Tarot mentions fears and worries. In some cases, it involves mental trauma, you cannot share it with anyone because you are too shy. You cannot escape nightmares as they make you obsessed. This card suggests finding someone close and trustworthy to share your story, which will help you get rid of your obsessions and let go of the burden.