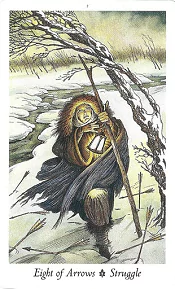 Eight Of Arrows – Wildwood Tarot Deck
I. The Description of Eight of Arrows Wildwood Tarot
On the card is an image of a lonely person struggling on empty land. She scrambles forward heavily with a walking stick. Trying to wrap her body tightly in her cloak and thick clothes, she is attempting to find her way even though the blizzard swirls around her. On the ground, in the snow, we can see eight arrows are bent, broken, and wasted. They are slowly becoming useless due to the effects.
II. The Meaning of Eight of Arrows Wildwood Tarot
In the darkness of defeat, hope still glows like a torch in each person's soul, encouraging them to overcome the challenge. Courage is needed in order to survive a storm.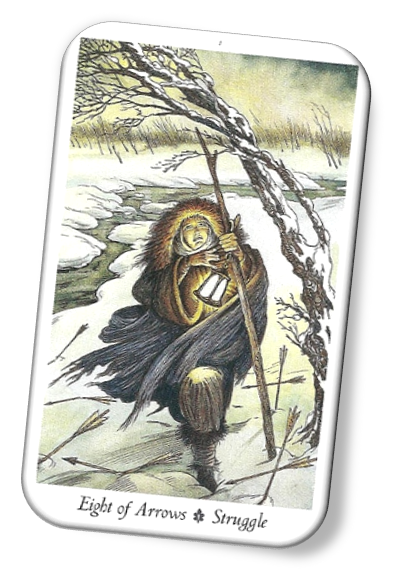 III. The interpretation of Eight of Arrows Wildwood Tarot
No matter how much conflict, discord, or moral dilemma we wish do not appear in our lives, they are still an inevitable part of the life journey. If we are lucky enough, we will gain support and sympathy from friends and relatives. They will help us to solve problems. However, this is not always the case. There will come a time when, because of a very personal matter, we are completely alone when dealing with complicated, difficult situations, which only the insiders can negotiate with. The choices we make can be painful, unpleasant. Exits can be fraught with unfamiliar obstacles, pitfalls, or obscure methods of improvement. Things are stretching our core beliefs, creating doubt about the validity of the choices we made earlier.
Such characteristic personal struggles require calm, determined, and steadfast actions. Let's reach the nature of the ego and gather all your courage and wisdom. Look at it honestly: what are the problems that require you to solve. You need to deal with those who are involved in a tough and unhappy problem. Let's accept this challenge with bright eyes, a steadfast heart because overcoming challenges in life will make us stronger.
IV. The guideline of Eight of Arrows Wildwood Tarot
A woman struggles through the wind and snow, grabbing her fur hood tightly with one hand and her lantern and walking stick in the other. She rushes forward through howling wind and the falling arrows are broken and plunge to the ground. This card has the keyword Struggle printed on it and it corresponds to the Eight of Swords in the Rider-Waite Tarot deck. The woman in the card seems lost in the bitter cold, wandering through a mess of fired and broken arrows. Perhaps they have just come to the sight of a battle that has been fought or perhaps they seek entry into the warmth of a camp where they have no kin.
Some days run smoothly as silk where everything flows effortlessly – the kids get out to school on time, all the traffic lights change to green as you approach, everything seems to have arranged perfectly. Other days, it is like trying to wade through the snow attempting to get things done – for every two steps forward, you will take one step back. Everything feels like a tough fight.
We shot the arrows with good intentions, but just like in the card image, our arrows did not find their markers and showed we were wasted our effort. But all is not hopeless – just like the woman gripping her useful walking stick and lantern, we also have the tools to energize daily struggles and free ourselves from the quagmire.
The woman is carrying a lit lantern, which symbolizes her hope of finally rediscovering her path. Everyone knows what it feels like to be in a situation like this; be challenged by awkward choices and situations, which often make harsh and sometimes painful decisions. And we know we are the ones who created them. Life can be cruel and difficult, but we are empowered in the hope that we will win. If not, we will not fight and struggle to overcome these challenges. And what will our destination be, once we have survived this storm?
Let's take a moment and consider your own situation: Where is your own lantern that can help you light the way? Is it a colleague or family member whose knowledge and skills can help you in the struggle? And what of your own walking stick? Today, Eight of Arrows requires you to search deep within yourself for the resources within you that can help you negotiate a "storm".
V. Keywords and extensions of Eight of Arrows Wildwood Tarot
The air element, Courage is needed to survive the storm, Self entrapment, Reaching out, Making way, Keep moving, Rely on oneself to continue going forward.