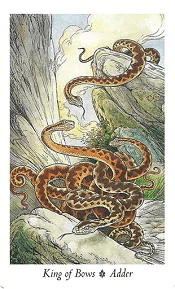 King Of Bows – Wildwood Tarot Deck
I. The Position of King of Bows Wildwood Tarot on The Wheel
Move away from the Beltane day.
II. The Meaning of King of Bows Wildwood Tarot
At this time of year, the adder represents the deep energy of the Earth, aroused from the ground into the air and intertwined, like a male adder struggling to gain domination (sometimes, this is misunderstood as a pairing ritual). They also represent magic power, balance, and the art of healing.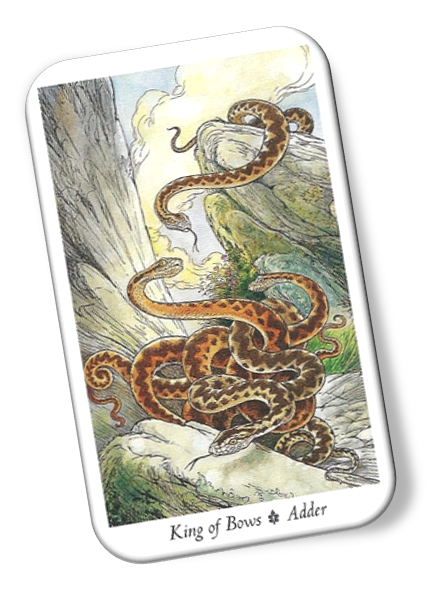 III. The interpretation of King of Bows Wildwood Tarot
Maturity, the power of determination, energy, and intelligence. The genius and individuality of the seeker are strengthened and come at every turn. Your leadership ability cannot be challenged, your path is straight, your goals will be fulfilled.
As someone who is present in your life: An honorable and generous person who stands out from the crowd and gives orders. One dares to take responsibility when no one can lead. An attractive and reputable partner. People who need to leave their own mark on everything.
As an aspect or process: Put a distinctive/creative imprint on everything. Avoid being a leader. Be assertive or enthusiastic. Dominate the situation. Self-righteous. Bullying.
As an event/situation: Mercy. Establishing sovereignty or status. Seek an opportunity or an achievable goal. Develop boldness. Controversy over copyright or intellectual property rights. Purchase to aggressively acquire.
Question: What are the things you need to shoulder? Where will your enthusiasm lead you? What helps you to cultivate self-esteem?
IV. The guideline of King of Bows Wildwood Tarot
In May, the energy of the King of Bows starts to form in our lives. Associated on the Wheel of the Year of Wildwood Tarot with the period directly after Beltane, the King of Bows is represented by The Adder.
As the days become longer and warmer, male adders twist themselves into seething knots that pulsate with life as each snake struggles for dominance over the others. The King of Bows is the successful snake – he has proven his prowess and power over all others.
With a poisonous bite, Adder will not be overpowered – don't torture Adder when he is basking in the sun or you will reap a nasty sting!
The King of Bows Wildwood is associated with the healing arts (a single twisting snake forms the basis of the Rod of Asclepius – a symbol of healing).
Adder also sheds his skin and was associated with "renewal" by the Druids. King of Bows reminds us that we too can – metaphorically – shed our skin and reinvent ourselves through skillful determined action.
Adder asks us to step into our own power and to face our challenges (as individuals as well as groups and nations) with maturity and strength. We can choose to heal instead of poison. We can learn to exercise our authority without striking out in fear.
As a person, King of Bows is an extremely attractive character. When the King of Bows enters the room, everyone turns to look – he is physically attractive, important, and constantly on the move. Adder sees the big picture in a situation, the expansive horizon. However, the details are often left to others to arrange.
Some feel burned by the fiery presence of the King of Bows, who tends to take over if not held firmly in check. Today, The Adder asks you: How do you perform physically? Do you have confidence? Where do you succeed in life? What are you passionate about?
V. Keywords and extensions of King of Bows Wildwood Tarot
Fire element, Serious, Honest, Talent, Good intentions, Integrity, A married man, A good father, Education and intelligence, The ultimate leader, Ambitious in vision, Phenomenally successful in ventures, Masculine energy, Courage, Endurance, Determination.