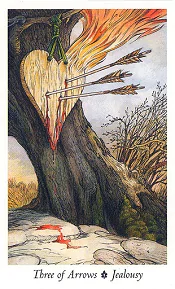 Three Of Arrows – Wildwood Tarot Deck
I. The Description of Three of Arrows Wildwood Tarot
On the card, one can see a large heart-shaped steel target hanging in the center. It is pinned by 3 arrows. Droplets of blood are dripping down from the wounds shot by arrows, spilling over the ground beneath.
II. The Meaning of Three of Arrows Wildwood Tarot
An emotional tension creates fear, jealousy, and jealousy among people. Aggression or resentment always only creates vandalism. Resentful or negative behavior towards family, friends, business partners is caused by emotional insecurity or social prejudice.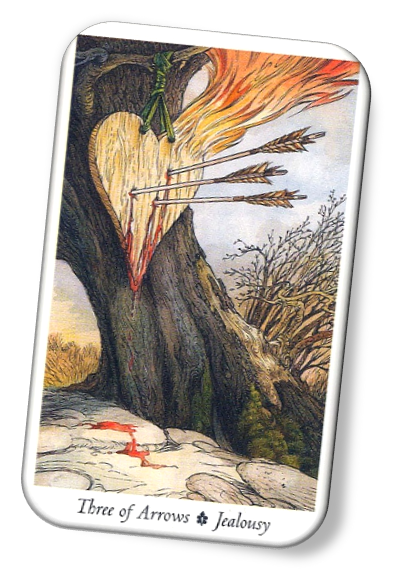 III. The interpretation of Three of Arrows Wildwood Tarot
The origins of jealousy are diverse, unique, and subjective. It is rooted deep within all economic classes, society, or human psychology. However, when in a place with broken hearts, broken dreams, or collapsing economic systems, be careful of the surrounding narrow-mindedness and forgive feelings of jealousy. The pervasive motive and most deeply associated with jealousy is a loss. Whether being conscious or not, the victims and perpetrators of jealousy must both dig deep into their nature and find their motivations and responsibilities in the matter.
Sometimes, people feel they have the right to be jealous and selfish. This is rooted in the social and family's sense of fulfilling false expectations when expectations are derived from false instructions, failures to show responsibility and conform to community norms. As we get older, we will understand that there will always be people who, seem to have more, are more genius, and are always wonderfully fortunate. The way to cure jealousy is to be humble, to accept, and to forgive. Even in the face of bitter rivalries and anger, always focus on transforming your energies into positive and creative motivations in life. That is the best cure for the negative effects of jealousy.
IV. The guideline of Three of Arrows Wildwood Tarot
A heart-shaped target hangs from a tree. The heart is pierced by three arrows. Where the arrows have struck, blood flows. It pools on the ground beneath the heart and the heart itself burns fiercely. This scene looks painful, all those arrows, all that burning. But be under no illusions – the heart belongs to the shooter:
"The jealous are troublesome to others, but a torment to themselves"

William Penn, Some Fruits of Solitude, 1693.
Three of Arrows Wildwood refers to the feeling of being hurt, betrayed, or just burning in anger over an emotional situation you cannot control. This could mean a literal breakup or a loss of friendship, or it could be an eye-opening moment when you realize what (or whom) you have wanted so badly just does not want you back. The traditional Three of Swords, in general, refer to feelings of sadness, loneliness, suffering, and pain. In this version, the word "jealousy" is associated with the card, adding a whole new level.
There are many insightful images in this Wildwood Tarot card as simple as it is. The heart looks old and weathered, the tree looks weak, the surrounding grass and brush look dead. If you can relate this card to a breakup or the end of the friendship, maybe this is something you have seen coming for a while. This will not lessen the stinging sensation but also help you know that you are not completely blindsided. However, if it is the jealousy issue – as pointed out in this version of the card – then that might be more difficult to own up to. You may be hurt to the bone – but know that the card not only encourages you to take better care of your heart in the future but also recognizes feelings of jealousy, and anger.
What is jealousy? We all feel a stinging pain – perhaps when a lover finds happiness in someone else's arms or even a worthy achievement of a good friend can make you triggered. Jealousy is a parasite that eats its host. We often do not want to admit the feeling of jealousy, even though it is a perfectly natural emotion. Jealousy conceals other feelings. Today, let's find a few moments outside of your usual routine to reflect on the image of Three of Arrows. It asks us: Where are you jealous? What is at the root of that burning in your heart?
V. Keywords and extensions of Three of Arrows Wildwood Tarot
The air element, Make our pain a source of growth and power by letting it fully hit its target; Without pain, we would have no purpose; Competing passions or feelings of resentment that are ultimately destructive, Skill, Possession, Calmness, Understanding, Humility, Acceptance, Forgiveness, Refocus of your energy into a positive momentum.