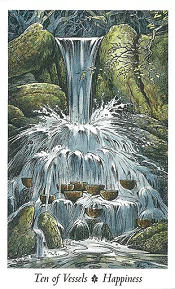 Ten Of Vessels – Wildwood Tarot Deck
I. The Description of Ten of Vessels Wildwood Tarot
The waterfall flows from a low mountain peak covered with trees, splashing water on the rocks. It creates dozens of separate streams and flows down the river below. Near the bottom of the waterfall arrange ten vessels, water will flow into them and continue to flow down.
II. The Meaning of Ten of Vessels Wildwood Tarot
A generous fulfillment of requests from a pure and clean source. The rewards for patience and love are given away without self-interest. True emotional stability and freedom.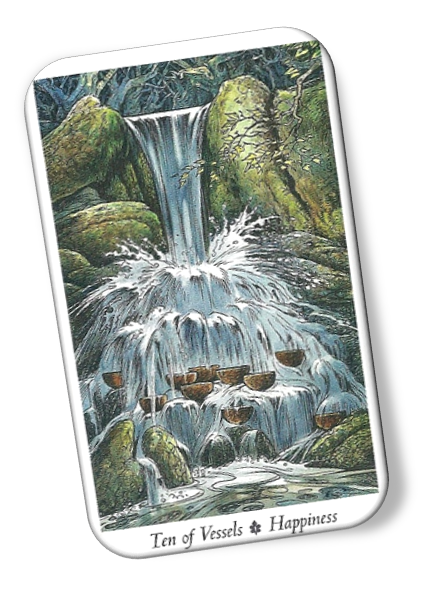 III. The interpretation of Ten of Vessels Wildwood Tarot
Coupled with a deep composure in true and lasting happiness throughout your life, a sense of repatriation, security, or beauty emanating from an individual will illuminate the lives of others and spread to everyone. Emotional healing and warmth radiate from your own inner soul. For those who love each other, rejoicing is when sharing vibrations, cheering intimately and understanding each other. Giving love and seeing love in the eyes of the one you care about is the most wonderful miracle and most effective healing that people have ever known. For those who have happiness when they achieve their dreams or life goals, happiness will be multiplied by asserting their self-worth and recognizing ideas.
Being productive and imaginative in a pragmatic world provides a sense of stability that can be shared or applied as a way to motivate and inspire others. There is no better act to show humanity than pointing out the way and opening one's heart towards happiness. No matter how much we love, no matter how much we achieve, we allow ourselves to live emotionally by accepting that the cycle of life always requires giving, as well as receiving. As we revel in the bliss of the journey, we also gratefully remember the patience, wisdom, and synchronicity, those that have been brought are blessed for us.
IV. The guideline of Ten of Vessels Wildwood Tarot
In the days since Lammas, we have explored the energy of the suit of Vessels and been guided by its animal courts. Together we have experienced the joys of Ecstasy, Reunion, and Rebirth and overcome the crashing waves of Boredom and Mourning. There are no people in this version of the card, unlike the Rider Waite which shows two enthusiastic grown-ups and a couple of dancing children and the sky is a rainbow of heavenly goblets. Here we have a waterfall, abundance incarnate, and everyone is covered.  Ten of Vessels Wildwood may portend good news, good times, happiness. Someone/something is coming to fill up more of your vessels. This is good news indeed.
The full potential of the suit of Vessels is now reached – the water from the lake plashes down joyously, crashing against the rocks, filling and spilling over Ten of vessels that sit in the cascading waters. The air vibrates with negatively charged ions – We are energized! This is happiness, joyous and alive: ever-changing and yet always to be found!
We acknowledge our relationships. We honor the universal flow of energy between all forms of life. We celebrate the child's hand on our own! We expose the vulnerable soft throat of ourselves as we allow ourselves to love! We accept the ecstasy and grief! We pay the price and we rejoice! Today, the Ten of Vessels asks us: How happy are you? Are your ten vessels full? Even if you don't feel all that Ten of Vessels these days, what can you do this weekend to fill up another cup in your life?
V. Keywords and extensions of Ten of Vessels Wildwood Tarot
The water element, Generous fulfillment of desires, The reward for patience and love that have given selflessly, Happiness, Contentment, Feelings, Joy, Romance, Social life, Intuition, Feeling at ease, Feeling at home.