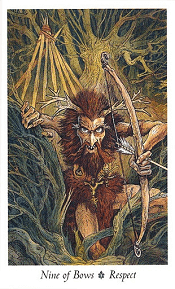 Nine Of Bows – Wildwood Tarot Deck
I. The Description of Nine of Bows Wildwood Tarot
There is a scary Woodwose in the forest passing by your path. He is swinging up a roughly carved bow. The Woodwose is referred to in many ancient myths around the world as a wild, huge, and hairy man in the forest. He challenges our dedication and courage when we want to continue on the path we have chosen.
II. The Meaning of Nine of Bows Wildwood Tarot
As we approach the heart of a spiritual seeker, the motivation and honesty of human desires are challenged. Ancient wisdom requires the seeker to be humble and selfless. Respecting others and their environment is essential to move on the path of enlightenment. There is no perfection without experiencing challenges.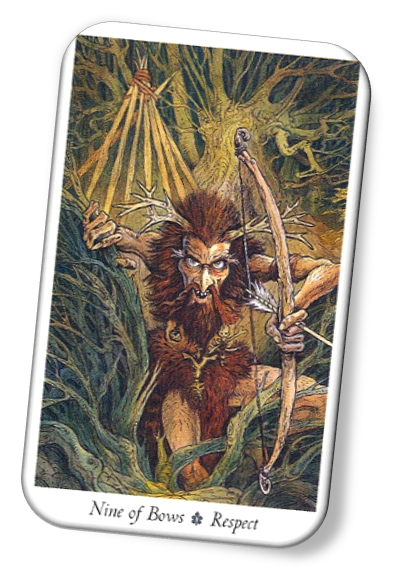 III. The interpretation of Nine of Bows Wildwood Tarot
To walk the path through the Wildwood Tarot, one cannot help but face its challenges and demands. When participating in any environment, individuals must prepare to confront the natural dangers that are waiting. Empathy for the environment and a willingness to deal with it in a practical and respectful way is necessary to draw lessons and eliminate senselessness. If we look deeper into the meaning of the obstacles on the way we go, we will see how we caused trouble, attracted by these negative energies through our lack of discipline or past mistakes. The sign of an evolutionary soul is that one can learn from past failures without being bitter or tormented. They know how to walk in life with a positive outlook and use wisdom drawn from difficulties.
The Woodwose reminds us of how we should face the challenges of the Wildwood under patience and compassion; that we should mark every scar and wound suffered in pain as a proud memory because we have overcome everything with deep courage, devotion, and faith in natural justice.
IV. The guideline of Nine of Bows Wildwood Tarot
With his bow and an arrow in hand, Woodwose emerged from the darkest corner of the forest. Wiry and spare, he's purely a wild creature and his challenging gaze can make Wildwood's bravest traveler tremble: Wildwood can never be tamed!
Behind Woodwose stand eight bows bound together like the ribs of a tent. But there is no shelter or hearth-fire here. As we progress through the Bows suit of Wildwood Tarot, we celebrate and enjoy kinship, abundance, celebration, and empowerment.
Nine of Bows Wildwood Tarot arises here to remind us of the dangers of our adventure. We must avoid complacency.
Be respectful of dangers: Understand that the lowest microbe can be the salvation – or breakdown – of our species.
Our challenge from Woodwose: it is time to take stock of what you are afraid of on this journey. Face your fears, acknowledge your weaknesses, go up on your journey with a humble heart.
V. Keywords and extensions of Nine of Bows Wildwood Tarot
Fire element, Take the challenges, Patience, Compassion, There is no completion without overcoming the challenge, Inner courage, Dedication; If you want respect you must give respect.