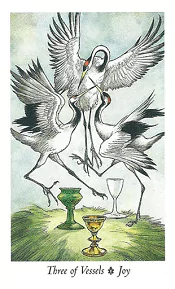 Three Of Vessels – Wildwood Tarot Deck
I. The Description of Three of Vessels Wildwood Tarot
The three white cranes dance together, their bodies and wings forming triangles – two standing face to face, head up straight and the third flying higher than the other two with open wings. Between the gaps of the intertwined legs are three cups of water: one golden, one green, and one white.
II. The Meaning of Three of Vessels Wildwood Tarot
Praise in the family or in a common community, welcoming the arrival of good fortune or a new life. A successful return after the migration or the journey of a group of people or tribes.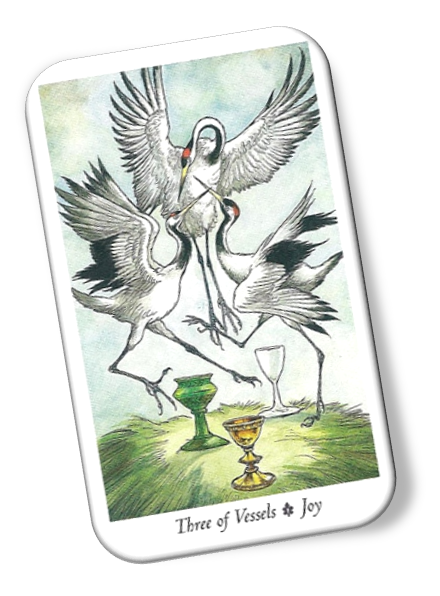 III. The interpretation of Three of Vessels Wildwood Tarot
The ability to connect directly with inspiration allows renewed and re-initiated energies to flow through you, and it is a gift from creation. The ability to lead a life of joy, praise, and gratitude, as if it is an unexpected gift we share, will be a unique blessing. That gift is also acknowledged by people who feel the warmth we are spreading. The fulfillment and achievements in life attained through selfless dedication to belief or common purpose will become a link originating from the invisible underground circuit of the sacred flow to hold on to love.
One of the most common reasons why people lose the ability to feel real happiness in life is due to fear combined with the loss or suffering of experiencing an emotion. From time to time, we need to relax in order to fully enjoy and experience inspiration again. From there, there is enough strength and patience to go through all the trials and sorrows as well as the blessings and gifts of life. That is the inevitable cycle of things.
IV. The guideline of Three of Vessels Wildwood Tarot
Our journey through the Wildwood Tarot brings us to a clearing in which we see three great cranes, who open their wings in dance above three vessels – one green, one white, and one golden.
From Druidic lore to tales told in the pagodas of Japan, cranes are associated with joy and happiness. Here too, in the Three of Vessels, we see joy and celebration of life!
The dance of the three cranes in the card is a dance of joy, connection, and celebration. In your case, this energy is often hidden or suppressed because you are afraid of the pain you may suffer when it departs – which it will do. However, in any case, the joy will return. This is what you have to understand. Life moves periodically within you and without you. You may feel "safe" when you stop or suppress your emotions, but these emotions are with you, and they will express themselves in one way or another.
Although the birds are all cranes, their cups are all different – now is the time to celebrate our differences. Let yourself join in the cheerful dance of cranes, and know that you are strong enough to overcome any disappointments that may occur. Where is there joy in your life? Do you choose to experience joy?
V. Keywords and extensions of Three of Vessels Wildwood Tarot
The water element, Celebration within a communal group or family, Welcoming the coming of new life or good fortune, Success and new joyous additions to life, Go with the flow, Wisdom, Patience, Lightness, Peace, A sign of good luck.