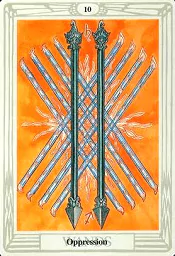 10 of Wands Thoth – Crowley Tarot | Thoth Tarot Deck
| | |
| --- | --- |
| Instinct | Capacity orientation, self-righteousness, fairness, and order (aggression is repressed). |
| Purpose | Structure growth. |
| The Light | Intellectual characteristics of the problem; the depth of truth. |
| The Shadow | Dogma, assignments, authority issues (unresolved things in the relationship of the father). |
| Quality | Responsibility and self-determination. |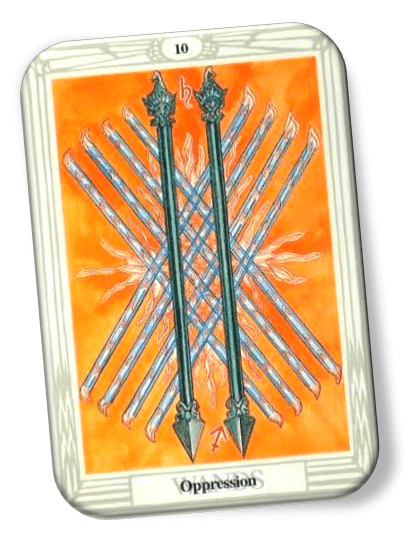 Oppression – Flame of self-determination
I. Analyze and describe 10 of Wands Thoth Tarot
On the card, in the foreground, there are two vajras or two Egyptian daggers that have appeared on 2 of Wands Thoth, which is now extended into sticks. Although the other sticks are linked, these two sticks are separated and form a defensive barrier. The eight sticks in the background still cross each other and show the great power of fire energy, but are surrounded by two sticks in a straight position and unable to show vitality. This explains why the topics here are the practical process of rationalization, life structure, and strategies to master daily life. It refers to giving up on self-deception, which has made us feel good, giving up the dazzling emotional illusions, instead, facing the indifference of crystallized mind that is often initially a painful experience.
II. Interpretation of 10 of Wands Thoth Tarot
1. Energy
The illustration shows oppression and restriction. The sacred fire is off because the Sun has shone a light on the physical ground after confronting its own dark side (Saturn). Saturn is the embodiment of the self that had previously been tattered by the unconscious (Moon) and conscious (Sun) effects, now it is announcing the guarantee that is the principle. Because the positive direction of the fire has not disappeared in the process but is overwhelmed under the influence of worldly obstruction (Saturn principle), the energy turns its back on us and stops the development process.
2. Inner
We are suppressed by obvious anxiety and worries coming from outside, without realizing the emotional problems behind them. At such times, it is necessary to put things into the right context to identify this mess and learn how to handle them in a positive way, instead of wanting to overcome them in the form of external reflections.
3. Career
10 of Wands Thoth card represents a struggle because success and power ultimately cause stress due to so many tasks and responsibilities. We take on more than we can and become victims of self-coercion, which we can hardly bear.
4. Sentiment
The inner problems have developed into tangible difficult situations. Instead of exciting personality, manners and behaviors containing illusions of safety appear with increasing frequency. This can make good relationships become rigid and powerless links. Instead of joy and excitement, only seriousness and excessive responsibility from one side are waiting for us.
III. Similar correlations of 10 of Wands Thoth Tarot
Tree of life – Malkuth (origin) through fire: cosmic consciousness is oppressed or increased in complexity.
I Ching – 10th hexagram (Dà Guò) – "Redundancy"
Similar objects – Jahwe is a strict patriarch (symbol of God's domineering power).
Keywords – Identify boundaries, reject, shape the self, fear of life, hard to establish personal relationships, issues related to sexual desire.
IV. 10 of Wands Thoth card in the upright and reverse
1. Upright 10 of Wands Thoth card
Our desire to do something is blocked and no matter how hard we try, we cannot seem to achieve our goals. This can make us start losing confidence in ourselves and the ability to get what we want.
If this card appears in the last position, it tells us to not waste any more time in an impossible situation.
There may be a situation (work, relationships) in which we are not allowed to experience life as the way we want, and we are weighed down with too much pressure (working environment) or we can have a partner (relationship) who is too controlled or overly demanding.
Spiritual experience: feeling trapped after having a great awareness, and now you have to deal with the mundane world again. However, being in a physical body allows us to liberate others and inspire them through our own perceptions and experiences.
Someone in your life who is too ambitious in the material sense and pursues their mundane goals to disadvantage you and others around.
2. Reversed 10 of Wands Thoth card
Self-harm/destructive habits, emotional problems as a result of being unable to express or connect with our emotions.
Domestic violence/bullying.
Generosity or self-sacrifice in a destructive or intimidating situation.
Losing your sense of identity and what you want from your life due to a repressive work or personal environment, feeling as if you are losing your natural spirit and inspiration for life.
A long term relationship with someone who is materialistic and oppressive to your spirituality and outlook on life, a lack of spontaneity and excitement.
V. 10 of Wands Thoth card in Celtic Cross spread
Card 1: Central Theme of the Spread – You feel oppressed in your current job or in your relationship. The problem seems like you cannot express yourself.
Card 2: Crossing Influences – the need to deal with a person or situation that prevents you from experiencing your life completely.
Card 3: Subconscious Influences – Perhaps, we do not feel worthy to find our true expression and freedom after being dominated or weighed down by our choices in life. Good advice can help overcome negative thoughts and behavioral patterns.
Card 4: Recent Past Affecting the Situation – After getting rid of the dominant relationship, we feel comfortable exploring the adventure of life again.
Card 5: Hopes and Goals – It sends a message to reduce commitments and job responsibilities so you can travel, play and live a more spontaneous life.
Card 6: Immediate Future – A situation that is capable of cutting down on your free time and making you sink in responsibility.
Card 7: How you are affecting your situation – The ability to end with someone who dominates and controls your life too much.
Card 8: How others are affecting your situation – It takes your time and puts a heavy burden on your shoulders.
Card 9: Guidance or Warning – You need to connect with the heart and the inspiration to start eliminating oppressive situations or these will continue to dominate your life and bind your spirit. 
Card 10: Overall outcome – Cutting down a situation where you spent time and energy on but do not get spiritual value. It refers to freedom after ending an oppressive relationship or a job that is too demanding and boring.