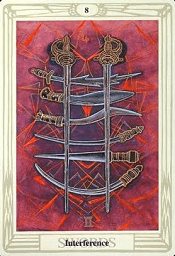 8 of Swords Thoth – Crowley Tarot | Thoth Tarot Deck
| | |
| --- | --- |
| Instinct | The restlessness, and inner disturbance (exaggerated thoughts). |
| Purpose | The insight into the total correlation (relativity in space and time). |
| The Light | Many benefits, dialectic talent, and quick intellectual grasp. |
| The Shadow | Chaos and mental obstacles (chaotic thinking subjectively or rigid thoughts without system). |
| Quality | Structure of consciousness and memory. |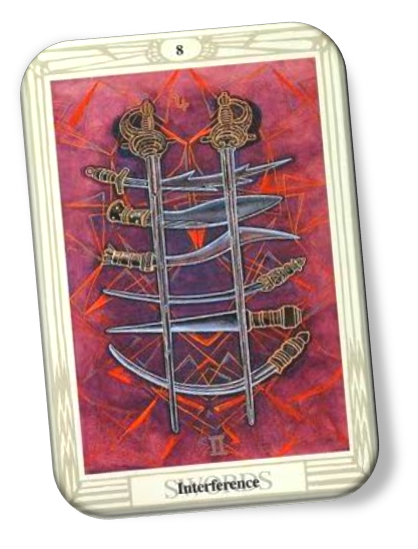 Involvement – The spirit of hyperactivity
I. Analyze and describe 8 of Swords Thoth Tarot
This card depicts the two swords placed parallel and crashing into the ground, interrupted by six small blades, divided into three on each side. This shows that the consistency of two large swords is being interrupted by the small swords, causing trouble and disturbance and showing the tension and confusion of the thought (Gemini) that will constantly distract people from higher goals (Jupiter). However, this is only a matter of hindrance and delaying the process instead of having enough power to block the road completely.
II. Interpretation of 8 of Swords Thoth Tarot
1. Energy
This card represents the forces of restraint and inhibition. If two large swords represent two allied forces (such as awareness and will) attempt to move forward to achieve the goal, the small swords (magic) will interfere with and block the road. Because of tightening, restraint, and all other obstacles, it is impossible to stop the great flow of development, so we find in this card the spirit of a superior and more advanced structure that helps to develop awareness. Although this will inhibit and slow down the pace of development, achieving achievements and great goals is entirely possible.
2. Inner
This card means that we are relaxing and letting our minds open. Many times, we (rejoice) let ourselves be separated from a plan or an important step towards a treasure of knowledge. Sometimes, this leads to an inner impasse. This may also mean that we find ourselves continually criticizing. In this case, our mission is to sharpen our will as well as to have the perseverance to overcome when this difficult period.
3. Career
This card shows an obstacle in our work and plan and this is good for us to move quickly on the rough road. Regularly, once again, we will find ourselves fall in a situation where people who used to stand side by side with us now abruptly interfere with things that are not their business. Fortunately, this sabotage does not cause any long-term negative consequences for our plan.
4. Sentiment
We are prevented and will go through difficult times to reach our goal or find out our plan. It may mean that inhibition has prevented us from reaching out to others, or the plan we want to make or the two-way relationship with the partner is shaken. In any case, the source of the disturbance will be eliminated and the original goal will continue to be maintained.
III. Similar correlations of 8 of Swords Thoth Tarot
Astrology – Jupiter at Gemini.
Tree of life – Hod (structure) through Air: limited structure.
I Ching – 39th hexagram (Jiǎn) – "Relaxing action".
Similar objects – People looking for eternal greatness and hyperactive people: Odysseus, the Flying Dutchman, or Ahasver, the Eternal Jew play.
Keywords – Scattering, instability, stress, multiple choices, a great ship asks deep water.
IV. 8 of Swords Thoth Tarot symbolism
Two swords = can indicate a choice between 2 courses of action or just the inability to find the best action to take.
Contrast with the 7 of Swords Thoth:
Single sword = we know what we want to do but self-doubt and negativity creep in. The energy of 8 is more dispersed but Jupiter is for a rescue so it does not become negative!
8 = "lack of persistence in matters of intellect" (p.207, Book of Thoth)
6 background knives =  there are so many things to think about, so we cannot make clear decisions
Chaotic Background = further indicator of interference in this card.
V. 8 of Swords Thoth card in the upright and reverse
1. Upright 8 of Swords Thoth card
In a common situation, we are having a hard time, which is the best option for us at the moment. The swords are different and the things that are hindering our next course of action are the same.
We can have paralysis or over-thinking in our minds, our willpower to move forward becomes distracted by unhelpful thoughts.
One solution to this problem is to spend time out and do something different.
2. Reversed 8 of Swords Thoth card
There is a distance from the situation because the energy you are putting into it is just indecision. So, the optimism of Jupiter will shine when we leave everything alone and let them settle on their own.
We may be wasting our attention on small things (the knives) which are not important.