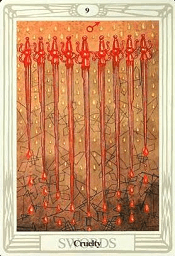 9 of Swords Thoth – Crowley Tarot | Thoth Tarot Deck
| | |
| --- | --- |
| Instinct | The destructive power is offensive. |
| Purpose | Despair, boredom, and suffering. |
| The Light | The fear of being as a guide on the path to maturity. |
| The Shadow | Shame, guilt, fear, disgrace, suffering, hate. |
| Quality | Encountering darkness; martyrdom; terrorist period of the Inquisition. |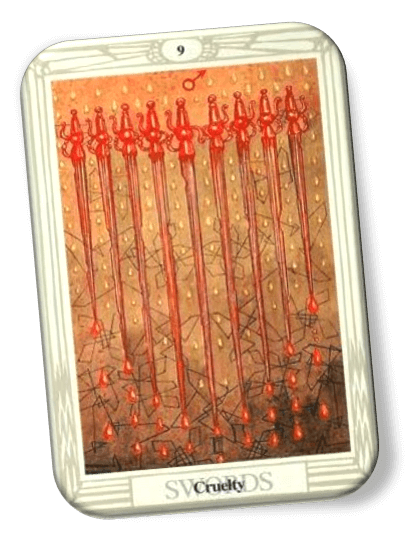 Roughness – The spirit of verification
I. Analyze and describe 9 of Swords Thoth Tarot
On the card, we see 9 swords that are both sharp and rusty, all pointing at the ground. Blood and poison flow along the blade illustrating the pain and danger. The fear of abuse, anxiety, or guilt infiltrates our subconscious mind and still rises to become a nightmare, but this card also carries the meaning of real threats from outside. Crowley wrote: "Cognitive ability has fallen into the depths of darkness for many reasons. This is the world of unconscious primitive instincts, of psychopaths, and of extremes".
II. Interpretation of 9 of Swords Thoth Tarot
1. Energy
This card illustrates the classic "defense mechanism" by suppression, love (exorcism), aggression (the process of transferring mental injuries to the outside world), or is undergoing a process of revision and perfection (an attempt to carry out punishment) with repentance and dedication, which Crowley describes as "martyrdom" or "passive" resistance.
2. Inner
We are tortured by demonic forces, which is the threat of demise that is personified up. However, this does not necessarily happen in real life. It may be just fear, guilt, and helplessness. Only the reception and understanding will help us to break the cycle of failure, existing fear, and aggression that come from within. The path will lead us to go through the pain and face fear. All evasions make the situation worse.
3. Career
This card shows that the situation is torturing us, that we are overloaded with depression and negative attitudes, and we suffer from having to do our work, because of our superiors or working environment. We show our fear of failure when faced with difficulties and obstacles through the performance of unusual tasks, as well as the fear of examinations or public appearances. In many cases, it is important to end this torture. We can either free ourselves from this situation and leave, or better yet, we overpower it by approaching the situation that creates fears bravely and then fight against it.
4. Sentiment
This pessimistic card shows all the fear of being abandoned and the pain of separation. It may be the frustration of loneliness and the fear of losing loved ones, as well as similar feelings, torment, and self-doubt. This card can simultaneously manifest an excruciatingly painful relationship with the toxic space, mostly appearing through the pain that each party causes. This card will awaken us and urge us to try to end the nightmare.
III. Similar correlations of 9 of Swords Thoth Tarot
Astrology – Mars at the Gemini.
Tree of life – Yesod (reflection) through Air: devastating wound (mental shock).
I Ching – 47th hexagram (Kùn) – "Repression".
Similar objects – Erinys/Furies (Goddesses of revenge), including three sisters: Allekto (angry), Magaira (jaundice) and Tisiphone (revenge).
Image – Nightmare, curse, Inquisition.
Keywords – Guilt, fear, "ghost of the night".
IV. 9 of Swords Thoth Tarot symbolism
Swords = thoughts that are strongly poisoned either self-talk or towards another. Red and rust represent Mars and its invasion.
Blood = our spirit is bleeding because of poisoning at this time and it emphasizes pain and suffering.
Gemini = unable to make a choice and find a way out at this time.
Poison = falling from above and it ends when blood starts to fall from that sword. This implies that thoughts that are poisoned lead us to harm.
V. 9 of Swords Thoth card in the upright and reverse
1. Upright 9 of Swords Thoth card
This card can also be linked to guilt and a sense of regret from which we turn this its energy onto ourselves.
This card is very different from 6 of swords Thoth card that represents a logical evaluation of the current situation. Perhaps, we should take a step back to see our reaction to this situation instead of just following passive suggestions/reaction of Crowley and finding another way to deal with it.
Normally, this card will be a comment on your own treatment. If you criticize yourself and beat yourself up, you are facing the worst enemy in your entire life – you know every weakness, each of your Achilles heels. You know exactly what hurts you the most, you have no defense against yourself, and you cannot walk away.
2. Reversed 9 of Swords Thoth card
This can lead to emotional problems, self-harm, emotional harm. If we are sure this does not happen, we must consider how our actions affect others.
Do we act in a way that damages others to some extent? Is there a danger from a distance, maybe there is someone in the back has it in for us?