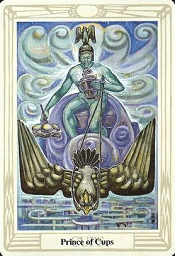 Prince of Cups Thoth – Crowley Tarot | Thoth Tarot Deck
| | |
| --- | --- |
| Instinct | Sacrifice and dedication. |
| Purpose | Connect with the Upper Self (the statue of the Lord crucified on the cross = "return to father"). |
| The Light | Love, sympathy, sincerity, warmth. |
| The Shadow | Selfish, lack of sensitivity, innocence. |
| Quality | The bridge between emotion and reason. |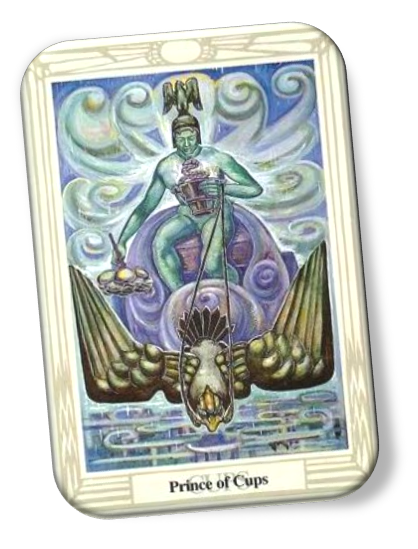 Son of transformation
I. Analyze and describe the Prince of Cups Thoth Tarot
1. Image
We see a naked warrior wearing a winged hat sitting on a chariot pulled by the eagle. Eagle represents rising from difficult physical conditions, in this card, it replaces for the scorpion that represents water element (scorpion freely passes on earthly things like the eagle). According to Crowley, this card describes the idea of depravity depicted indirectly in the image of stagnant water in a pond when it rains. The eagle represents a great will or lets the authority know our purpose; that is part of us that are reaching out endlessly, which leads us unconsciously.
By creating a bridge between the Mother (the water) and the Father (heaven), Prince is a water flow that can turn the suction force downward, which originates in deep places to become an advantage for him. By changing the incest of sin (longing for the mother) into an act of transformation and renewal (snake), he can reunite the ancient energies (Adam and Eva). The drooped lotus shows that this step has not been completed yet. If it blooms brightly above, it will represent the power to combine dark muddy pools with the beauty of bright heights.
Prince has not yet reconciled with the feminine part (inside him); he was still possessed by Siren's love call (Princess of Cups Thoth card), signaling the desire to be held and the desire to pull him back to his original roots. Meanwhile, he was ready to set out for the Great Spirit, because "great will" (eagle) was pulling the scallop-shaped chariot ("eternal feminine") that is free or confined outside of the "unconscious water" to the "cognitive paradise" (air connected to water).
2. Myth
This card does not represent the perfect man, but the one who endures, sacrifices, becomes the savior through his sacrifice. This corresponds to the story of the Holy Grail Knight, Lohengrin, the son of Parcival. He fought for Elsa von Brabant but had to leave her after the marriage because she, though strictly forbidden, still questioned him about the origin. Lohengrin, the messenger of the Holy Grail Castle, has always been enthusiastically helped by the knights, but as long as they can complete the good without being discovered, respond by rejecting the proposal when the Scorpion is in the highest position, also known as "the only salvation alliance of the ego".
This signals the overcoming of the bigotry of ego and the desire to be led by a higher power. The development of the Prince has a profound influence, thereby discovering himself extremely in the act of salvation, which is the purpose of the transforming power represented by the image of the Scorpion.
II. Interpretation of the Prince of Cups Thoth Tarot
This card can represent people, in any field of life, but it can also be an experience in the field that corresponds in question.
1. Human
We come across the Knight of the Heart, a romantic spirit, a sensitive hero, a bodyguard of love, and a guardian of beautiful ideas, as well as tricky scammers and seductive liar. In short, this is a sensitive, warm and gentle guy, but can also be fake and unbelievable. In the case of the card representing women, it describes the masculine aspect of her being (animus).
2. Overview of the Prince of Cups Thoth Tarot
The winged Prince stood on a scalloped chariot pulled by the eagle, his hat also had an eagle symbol, representing the duty of water, his spirit was soaring to combine the emotional abyss with the height of awareness. With this concept, he demonstrates a period of development in which we face life challenges (not sinking again into deep water), still keeping in touch with our emotions (and there are no intellectually unrealistic ideas).
3. Awareness
During the time that this card represents, the main problem is recognizing our deep feelings (water), building them, and expressing them through words (air). This can show an inner search as well as expressing our emotions with a poem, a letter, or simply with a word.
4. Career
In terms of work, this card shows that one person effectively combines intuition (water) and awareness (air) together and therefore, this person not only sees new opportunities but also has knowledge and capacity to implement them. It can also represent someone who willing to be delegated by the community.
5. Sentiment
This card conveys imagination without borders reflected in all areas of emotional relationships. Under this impact, we respond very acutely in our emotional lives and tend to be ecstatic. In the upcoming romantic moments, we can immerse ourselves in warm emotions and make them become wildest: by loving gestures, a secret letter, an unusual invitation, or a very private gift.
III. Similar correlations of the Prince of Cups Thoth Tarot
Astrology – from 21⚬ Libra to 20⚬ Scorpion.
Element – Air aspect of Water.
I Ching – 49th Hexagram (Gé) – "Revolution"; 61st Hexagram (Zhóng Fù) – "Extremely sincere".
Human – Attractive, mysterious and profound guy.
Similar objects – The Knight of the Holy Grail or another savior; Psyche's atonement through the God of Love Amor and finally recognized as the God of Olympia.
Sacred place – Saint Francis Church in Assisi (Italy).
Sacred color – Blue-violet.
Sacred Stone – Lapis lazuli, amethyst.
IV. Prince of Cups Thoth card in the upright and reverse
1. Upright Prince of Cups Thoth card
On the outside, it looks calm but this conceals a passion and intensity about him that can make him pleasant.
There are many things to give and great possibilities but cannot rely on (remember that he is not really an integrated whole).
His main responsibility is to himself, not to others.
He can be secretive and conceal the deepest desires, can be creative frequently in art or music.
Being easily identified with ups and downs in life and can use intuition (when they want to) to shed insight into other people's lives because they have a completely immersed life.
2. Reversed Prince of Cups Thoth card
At his worst cruel, reckless and selfish
V. Prince of Cups Thoth card in Celtic Cross spread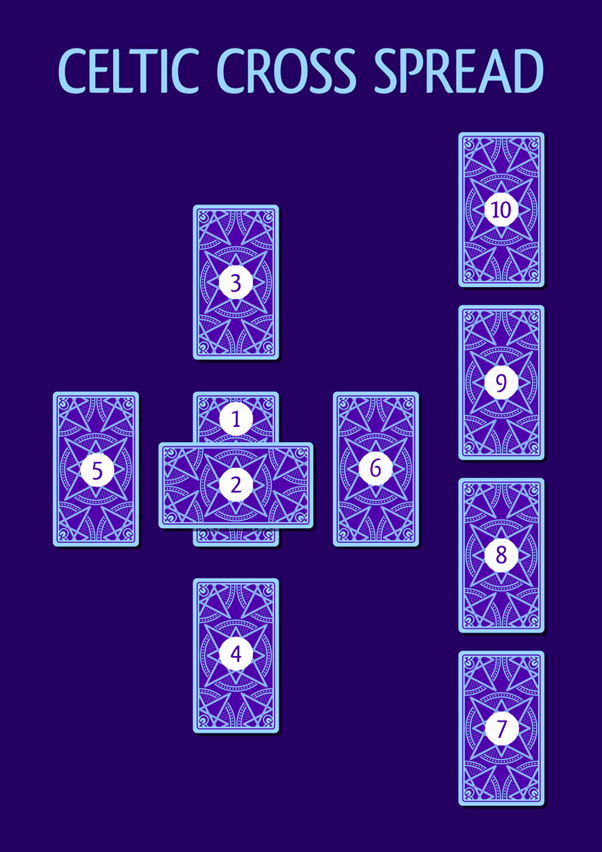 Card 1: Central Theme of the Spread – Are you engaged in the flow of life or holding back?
Card 2: Crossing Influences – need to come from your highest merchandise and combine with.

Card 3: Subconscious Influences – the ambition to dominate rather than really understand yourself.
Card 4: Recent Past Affecting the Situation – extremely high and low periods.
Card 5: Hopes and Goals – to feel more turned on by life and excited to be alive, know yourself better and more balanced.
Card 6: Immediate Future – may be emotionally and spiritually intense, may need time to escape from these extremes.
Card 7: How you are affecting your situation – secretive and hide a fluctuation under a calm appearance; ambitious personality and follow the flow of life.
Card 8: How others are affecting your situation – a close and ambitious person who can be cruel and selfish
Card 9: Guidance or Warning – need to communicate more with your depth and not let ambition dominate you. Your friends and associative friends are important in guiding you to a more balanced life.
Card 10: Overall outcome – It just like an eagle that soars, you will have a much greater perspective on life-like the eagle but at what cost? You may have had lots of extreme highs and lows to get there and yet your potential is ever-present to be highly evolved spiritually (as represented by the association with John the Baptist discussed above).