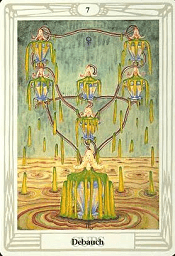 7 of Cups Thoth – Crowley Tarot | Thoth Tarot Deck
| | |
| --- | --- |
| Instinct | Drowsiness, longing, escape from reality. |
| Purpose | Dissolve, the state of dullness ("find treasure under the rainbow"). |
| The Light | Warn of false hopes and promises. |
| The Shadow | Desire, lust (falling into a muddy of false pleasure), lies, and mistakes. |
| Quality | The tempting sweetness of short joy. |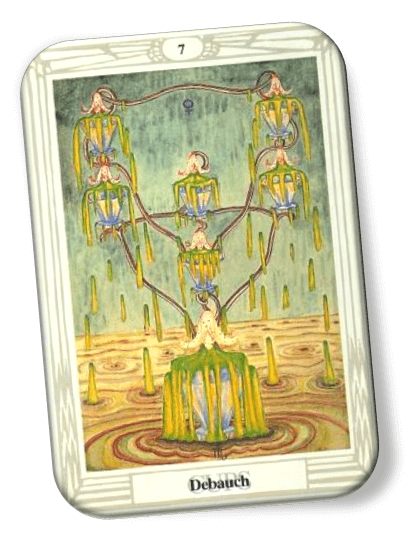 Profligate – Water of delusion
I. Analyze and describe 7 of Cups Thoth Tarot
On the card, the blooming lotuses have turned into lilies and polluted the sea with their toxic nectar (Crowley refers to malaria swamp). The card number 7 represents weakness due to lack of balance, causing erosion inward and outward; Crowley called this "beautiful shell, rotten intestine". He wrote: "The card shows the illusion of drunkenness and drug addiction; that is the bogged down in the fake pleasure mud. That is extremely horrible because there is not anything that can balance it".
II. Interpretation of 7 of Cups Thoth Tarot
1. Energy
The card is the embodiment of the unconscious desire to become a child again, or the childish efforts of lifting ourselves up in the quagmire of the soul. The struggle of the human being for the root is similar to the desire to have immense joy like a newborn baby in his mother's arms. When this desire does not make a person develop better, but diminishes into childish behavior and conception, then it is like toxic water flow threatening to destroy everything without true root.
2. Inner
The card shows that the danger is hiding in careless and misleading knowledge with unconscious power. The so-called intoxication that extends consciousness is usually nothing but a frightening escape from the outside world, and what is known as a superior experience or exploration of deep places of our dreams is just a runaway and hostile to reality, a world that is full of illusions.
4. Career
This card shows that we build castles on the sand, chase after illusions and then fall into a dangerous period of delusion and temptation without starting to see things as they are, as well as do not lower your expectations and limit yourself to what is possible. The card is a manifestation of fake transactions, deceptive goals, and in some cases, it is a warning against unjust conspiracy and underhanded behavior.
5. Sentiment
It signals a sense of lies, idolization, and passionate disorder that resolving it will be a painful awakening process. It does not say that the relationship will end from the beginning, but it is time to escape from the poisoned atmosphere, become sincere, and create a solid emotional foundation.
III. Similar correlations of 7 of Cups Thoth Tarot
Astrology – Venus in Scorpius.
Tree of life – Netzach (disintegrated) through water: "drunk" or lost reality.
I Ching – 29th hexagram (Kǎn) – "Dangerous pitfalls".
Similar objects – The witch, the Siren, the Lorelei, or the Pandora box.
Image – The poison apple, the enchanted garden of Klingsor, jack-o'-lantern or the evil fairy.
Keywords – Dreaming in the daytime, impracticable things, escape from the world.
IV. 7 of Cups Thoth Tarot symbolism
Drooping Petals – lack of personal life because we are using our energy in a way that has a negative impact on ourselves.
Darkening sky – accumulate emotional energy that we do not let harmonious flow through us.
V. 7 of Cups Thoth card in the upright and reverse
1. Upright 7 of Cups Thoth card
This card involves immersing in addictive emotions that do not represent our best interests. When we are depressed, it reflects what we approach to feel better. For example, overeating, excessive drinking, indiscriminate sex, drugs.
It also refers to an overly focused tendency in a negative mood. A destructive way to deal with depression or problems that people do not want to face by abusing excessive behavior.
Negative patterns of behavior related to sex, drugs, diet, alcohol.
So, in this card, we lose control over our circumstances that create negative lifestyle changes. We need to reign and reclaim our personal power. Facing those things in a positive way that we are not currently addressing.
2. Reversed 7 of Cups Thoth card
Repeated patterns of the above so not learning from mistakes.