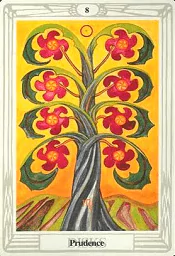 8 of Disks Thoth – Crowley Tarot | Thoth Tarot Deck
| | |
| --- | --- |
| Instinct | Dedication and a comprehensive view (through putting things in order). |
| Purpose | Recognition of detailed correlation. |
| The Light | Self-discipline and careful review of details (economic method). |
| The Shadow | Become numb in forms (pay attention to details without seeing bigger plans). |
| Quality | Adapt to the requirements of time (neutral objective). |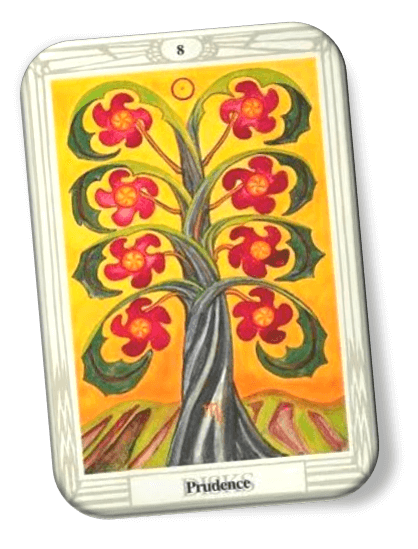 Cautiousness – The power of the overview
I. Analyze and describe 8 of Disks Thoth Tarot
In this card, the order is re-established because the disks are arranged in an orderly pattern like the flowers or fruits of a large tree growing on fertile soil. The chaos of the previous card seems to have been overcome because the fruits are placed in the form of Populus "doing without doing", "achieving results through seclusion", as Crowley writes, "the waiting for the harvest of the sower"- the sorcerers call this" power through inaction". Crowley commented, "Virgo is the secret seed of Life, and also the Virgin of the Earth waiting for the Penis which are the Plow and the Population, the recovery of the secret of Energy into the abandoned Earth".
II. Interpretation of 8 of Disks Thoth Tarot
1. Energy
This card represents self-discipline, careful consideration of the details, devotion, and spiritual understanding of the legitimacy behind the process of all events in nature as well as behind all human actions. High standards bring a person back to balance with creative nature not only requires a pure motivation and unselfish struggle to gain wisdom but also spiritual sensitivity in which chaos and order, destruction and development, creative intelligence and emotional dynamics are not contradictory, but rather support each other to develop.
2. Inner
This card means we have gained an insight into the natural growth process that presents in the consensus of opposing sides. Rose water is a valuable thing, so it would be a mistake to try to fertilize roses with this water. Instead, we will need humus or green fertilizer which is usually the result of the decay of the previous card (7 of Disks Thoth card).
3. Career
This card represents a process of intelligent action in which the most intelligent, practical, and tactical steps are taken with a clear awareness of what is deemed necessary, thereby leading to successful development. This card, therefore, can describe a carefully considered and planned beginning, as well as careful and moderate growth in larger areas of activity.
4. Sentiment
This card shows that we are carefully adapting to new steps. Maybe, we have shrunk after a painful and traumatic period and are now carefully opening up again, or it may be that we are deciding on new and deeper steps based on an existing relationship. Cards sometimes refer to wedding planning and having children. In any case, it shows a welcome development.
III. Similar correlations of 8 of Disks Thoth Tarot
Astrology – The Sun at the Virgo.
Tree of life – Hod (structure) through Earth: order is established.
I Ching – 17th hexagram (Suí) – "Follow"; 27th hexagram (Yí) – "Nourish".
Similar objects – The parable of Wheat and the Darnel.
Keywords – Differences, order, self-criticism.
IV. 8 of Disks Thoth Tarot symbolism
Fruit = 5 segments.
Flowers = 5 petals.
5 + 5 = 10 the number of Malkuth and EARTH and therefore this card represents tangible things manifested in our life.
5 = associated with Hē = mother of the Tetragrammaton associated with nature and fertility.
Protected flowers = be protective of your dreams and plans and nurture them until the universe manifests them. Do not overextend yourself and be discriminating in what you give out.
V. 8 of Disks Thoth card in the upright and reverse
1. Upright 8 of Disk Thoth card
You need time and patience to develop something. Do not be in a hurry because this is a long-term thing, instead, be prepared to wait for your time and make it a reality.
This card is a word of encouragement to continue doing what you are doing as it will ultimately lead to success. Of course, it requires a lot of dedication, concentration, and patience, but as time passes and when you are honest with your values and beliefs, you will get closer to your goals. It may not be easy for you but ongoing events will take you to your destination. Let's keep working with yourself and make continuous improvements and adjustments to make sure you are the best person you can become.
Additional training may be needed to get to where you want to go with projects/jobs, and it takes time for this.
A need to properly manage your energy between different aspects of your life.
2. Reversed 8 of Disks Thoth card
Excessive haste in what you are trying to achieve. You have lost the fact that this is something that takes time and patience.
Too much emphasis on small details and losing the bigger picture.
Too much energy applies to one area of your life, so the rest is suffering because of lack of attention/lack of energy to put in them.