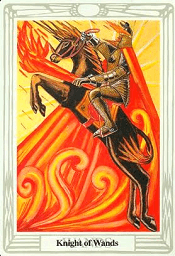 Knight of Wands Thoth – Crowley Tarot | Thoth Tarot Deck
| | |
| --- | --- |
| Instinct | Open and immense (affirmative sovereignty). |
| Purpose | Take advantage of personal potential. |
| The Light | Ideal humanity, intellectual activity (dynamic, capable of enthusiasm, willpower). |
| The Shadow | The authoritarian, presumptuous, non-tolerant nature. |
| Quality | The Creator's affirmation (becoming someone with an inner image; knowing God). |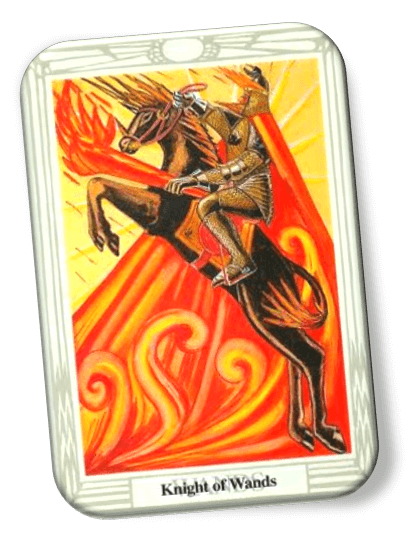 Father of creative imagination
I. Analyze and describe the Knight of Wands Thoth Tarot
1. Image
Knight is the embodiment of the fiery power that makes a creative genius hidden in each of us and arouses it to step into the outside world. This is shown by the burning torch in his left hand, symbolizing the vision of introducing ways to recognize the new world.
His head (chakra crown) is decorated with winged horses, the symbol of innovation and the ability to move towards new goals because he sits on his wild black horse and heads up into the air. The winged horse figure in the center of the knight connected to the real horse, by the real horse with a unicorn horn on the forehead, an emblem of the instinct that was tamed. The horse is a symbol of instinct, and conversely, the unicorn can only be caught when trapped by a virgin.
However, the king's cloak constitutes a fiery background and in front, there is a character who is shown to be creative beyond himself: this is his personal causal structure that has been woven into the foundation of daily life, connecting the lines of his actions to the destiny carpet that he moved simultaneously on ("traveler and the road is as one").
He is not dependent on destiny, but he is destiny because God's creative will exists in every fiber of his body. As theologians and physicists have said to each other, "The law of the universe changes itself gradually through the start of each of its parts." The Knight of Wands, therefore, represents "Creator created" or "creative creature" that is prepared to take responsibility for its goals.
2. Myth
Only Zeus, the father of Gods, be mindful with this great primordial energy. He is a symbol of first power – always considering independence – finding new things to overcome old boundaries and opening up new opportunities. Zeus took over the rule that was inherently outdated and was an enemy of his father, Cronos. Before Athena was born from his forehead, he lived through and suffered from extremely loving and cruel sentiments of love. As a man of creative power, he cherished freedom to plant his wisdom throughout the world.
II. Interpretation of the Knight of Wands Thoth Tarot
This card can represent people, in any field of life, but it can also be an experience in the field that corresponds in question.
1. Human
The Knight of Wands portrays a self-reliant and idealistic person. Generosity is not only an empty word for him: even when his character shows signs that he overestimated his ability so far, he is always inspired by trying for better solutions. He is a very proud, strong, intelligent and respectable adult with the power to encourage resilience and determination. In short, he was born to be a businessman, organizer, politician, boss.
2. Overview of the Knight of Wands Thoth card
The card represents the masculine aspect of the fire element, its developmental ability is visible in the image of the King of Sun, Luis XIV. He embodies confidence, optimism, knows how to enjoy the sumptuous. In addition, he is good news, positive advice, an unexpected opportunity, a great feat. Other meanings include strengthened confidence, the courage to face life and high self-control.
3. Awareness
The image of the Holy Father is shown to comfort and useful to us, but it also draws us into our own notions because the self often prefers to strive for its own Lord rather than those super-personal value. Only in spiritual experience does this card connect the "I want" with the creative understanding of what "it needs in me" or what "I am missing". This is not only a matter of expressing ideas about ideals or personal will but also about facing a person's triviality. This King is manifesting a great maturity, demanding that we also become aware of the inner aspects that we are shy or embarrassed about.
4. Career
In terms of career, the card shows self-confidence, persuasion, and determination. It is a time when we face new adventure plans, but also evaluate our work and management, strengthen personal motivation, and thereby, cause a viral effect and awaken others.
5. Sentiment
Just like the Queen of Wands Thoth card searching for a "superior" hero to meet her needs, the Knight of Wands reached out to a "match" who would obey his desires. Only when we overcome these weaknesses will miracles of love appear in us, with us and through us. Then, we experience this card, at the same time, as an expression of warmth, generosity and sincere commitment.
III. Similar correlations of the Knight of Wands Thoth Tarot
Astrology – from 21⚬ supply Scorpion to 20⚬ supply Sagittarius.
Element – Fire properties of Fire.
I Ching – the 1st hexagram (Qián) – "Creative".
Human – Active people who strive to grow when they are mature and have a compassionate heart.
Similar objects – Zeus and embodiments of The Supreme Being (Holy Father).
Sacred place – Olympia, the land of the Gods; Helicon, the mountain of the Muses of Ancient Greece.
Sacred Stone – Ruby, Diamond.
Scent – Oil of orange blossom, orange ("sun of the heart"), frankincense.
IV. Knight of Wands Thoth card in the upright and reverse
1. Upright Knight of Wands Thoth card
Quick, sudden and powerful action taken or needed.
Need a moral goal to focus on.
2. Reversed Knight of Wands Thoth card
Aggressive, cruel.
The violence in the worst case.
Tempered.
Can be impulsive and lead people in the wrong direction.
V. Knight of Wands Thoth card in Celtic Cross spread
Card 1: Central Theme of the Spread – need to act immediately.
Card 2: Crossing Influences – Not thinking carefully about things, promoting or setting goals and participating in excessive and inefficient lifestyles. Energy is not transmitted in the right direction.

Card 3: Subconscious Influences – something will happen and may affect the current situation (it could be a person, an event or injury).
Card 4: Recent Past Affecting the Situation – can rush through everything without considering the results.
Card 5: Hopes and Goals – become more assertive and get the job done, move to the goal quickly.
Card 6: Immediate Future – need more affirmations and move towards your goals.
Card 7: How you are affecting your situation – completing work and pursuing goals but sometimes not completing them, sometimes not working hard for what you have planned, self-indulgence and excessive periods.
Card 8: How others are affecting your situation – Impulsive, dynamic, impatient.
Card 9: Guidance or Warning –  need to plan more before acting, thinking things thoroughly, need to have a moral goal in life.
Card 10: Overall outcome – Become more passionate and can put energy into your goals. Unexpected interruptions can wake you up from your current position so you can bring your life forward for more purposes.