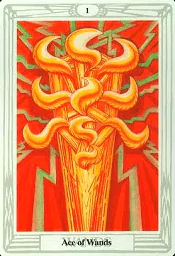 Ace of Wands Thoth – Crowley Tarot | Thoth Tarot Deck
| | |
| --- | --- |
| Instinct | Energy, initiative, passion, willingness to take risks. |
| Purpose | The development of personal talents, new goals. |
| The Light | Courage, assertiveness, potential. |
| The Shadow | Depression due to exaggeration, a failure because of arrogance. |
| Quality | Pioneering spirit (the ace cards are always considered an opportunity within us and the desire to be used). |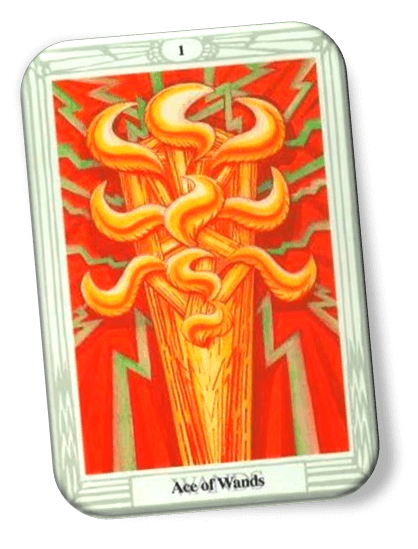 Spark of inspiration
I. Analyze and describe the Ace of Wands Thoth Tarot
The illustration shows a fiery stick (the "penis" ace) as a symbol of creative fire energy, which is the foundation of every external effort as an invisible inner impulse. The torch symbolizes the inner creative energy, the order that creates itself, over and over again, grouping itself in the world around us: we see a fire burning with the same energy with the sun; this intense power can make itself explode if this energy source is not oriented towards a constructive process.
II. Interpretation of the Ace of Wands Thoth Tarot
1. Energy
This card is equivalent to the original sacred energy shown in the matter (Crowley) that infiltrates the visible world. This is the spirit of the will to strive to develop itself in life, the spirit of the flower found in the seed, the divine spark hide in all shapes; it is the birth of all things from the unchanging, perfect, divine unity, the nature of fire from its mysterious origins. According to Cabala tradition, it is a pure soul world ("Atziluth"), the bridge between God and soul, spirit and idea.
2. Inner
We must accept constant unrest with external changes and fluctuations. The internal nervousness that arises from the creative urge to break the framework has become too narrow for a sense of mindfulness of fire. At the same time, the card is also a sign of an opportunity to grow stronger.
3. Career
This card emphasizes the idea that fate holds opportunities for us, making us recognize our goals and giving us the strength and motivation to recognize them. Plans have not yet been fully developed and most likely partially acknowledged. However, this Ace card implies an opportunity to help us grow professionally and facilitate important developments. In the process, it always demands from us the courage and the willingness to take risks.
4. Sentiment
The card refers to warmth, excitement, commitment, and countless opportunities to revive existing relationships or find new ones.
III. Similar correlations of the Ace of Wands Thoth Tarot
Astrology – Fire signs (Aries, Leo, and Sagittarius)
Tree of life – Kether (origin) through fire: the first spark of creation (Atziluth) is the father of creative ideas.
I Ching – 1st hexagram (Qián) – "Creative".
Similar objects – Adam, Promete, Lucifer; "God created man in His image".
Image – Spark of Creation.
Keywords – Starting, moving, developing, competence, idea, intuition, love life, potential in the future.
IV. Ace of Wands Thoth card in the upright and reverse
1. Upright Ace of Wands Thoth card
This card indicates a moment in your life when you have a breakthrough insight and feel very inspired and motivated about an idea to move forward. It feels like a great opportunity has opened up for you.
Because Ace is about potential, this card shows that you are able to exploit your hidden potential that has not been used for a while. Therefore, this is the perfect time to promote your imagination and make your dream come true.
You have a strong passion for the journey to discover souls and spiritual paths in life. You will have the opportunity for a new beginning in which you pay plenty of time and attention to this important aspect.
2. Reversed Ace of Wands Thoth card
This card represents your rough energy but if you apply it the wrong way, it can become reckless and stubborn. You should not rush to new projects without considering it carefully.
It also refers to a period of lack of energy and vitality. You feel you do not have the stamina to start things to do.
You constantly start doing something new but cannot find a way to put your energy into it.
It is also time to consider what you really want to do. There are plenty of opportunities around, but none of them arouses creativity within you.
Projects are difficult to achieve good results in the beginning.
V. Ace of Wands Thoth card in Celtic Cross spread
Card 1: Central Theme of the Spread – This is the time to take advantage of your creativity and discover how you can make your life more sacred in the mundane, inspiring and satisfied sense.
Card 2: Crossing Influences – You get stuck in a time when you do not feel interested in life and cannot seem to create things that will satisfy you.

Card 3: Subconscious Influences – You have thought deeply about a new direction in your life to find satisfaction. You feel you need to be more inspired and creative but do not really act on it or turn it into a specific plan.
Card 4: Recent Past Affecting the Situation – It can be a time of great creativity and direction or if reversed, plans are never done completely.
Card 5: Hopes and Goals – It is to realize your potential and be inspired by life.
Card 6: Immediate Future – A breakthrough moment can happen through which, your life will carry a whole new meaning. This is a great time to plan your actions and fulfill your potential.
Card 7: How you are affecting your situation – You should take advantage of your creativity and do something that will make your life more comprehensive and complete. Let's listen to your intuition.
Card 8: How others are affecting your situation – Others may reduce your potential and creative ability or may indicate that you need to be in an environment that supports qualities which you want to develop.
Card 9: Guidance or Warning –  You will not realize your life potential if you are not connected with your intuition and change your life course to support your spiritual needs and Inspire your daily life.
Card 10: Overall outcome – It implies a new beginning. You should explore your potential as well as your spiritual daily life to become more fulfilled. Let's connect with your intuition more to discover life and find satisfaction.