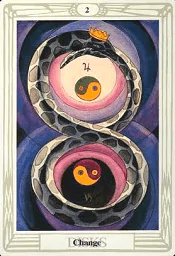 2 of Disk Thoth – Crowley Tarot | Thoth Tarot Deck
| | |
| --- | --- |
| Instinct | Change. |
| Purpose | Transfer. |
| The Light | Flexibility is the positive side of change. |
| The Shadow | Unstable. |
| Quality | Polarity (at a higher level, all opposites are just illusions or different natural products of the same energy stream). |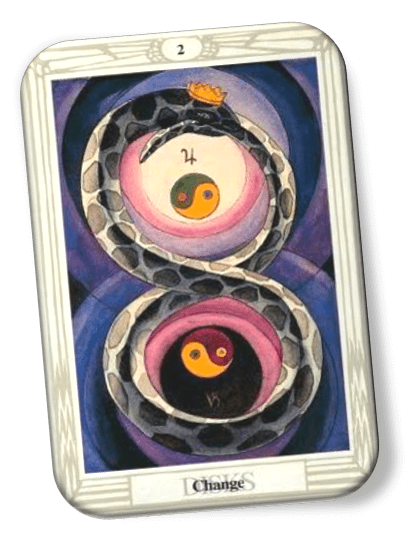 Change – The power of opposites
I. Analyze and describe 2 of Disks Thoth Tarot
The picture shows a giant snake carrying the image of a penis forming an eight-figure, swallowing its tail itself and creating an infinite sign. This animal exhibits constant change between the two different regions but still maintains the connection. This snake is a sacred entity that connects life and death, Gods and demons, animality and spirituality, and express development, intellectual-emotional change, death, and rebirth.
This card represents the original polarization, the basic pattern of archetypal forces: yin and yang (feminine and masculine). As the power of expansion and contraction, the principles that are often opposed to each other form a unified whole, they are described here as two wheels turning in opposite directions. They show the truth that underlies all beings, that life is constantly changing according to its stable rules and continuous change.
II. Interpretation of 2 of Disks Thoth Tarot
1. Energy
The number eight has a snake-shaped describes the continuous change of opposites and is, therefore, a condition of fluctuations and continuous changes. The intact elemental strength of Ace of Disks Thoth card has now been polarized in this card; 2 disks mean a turning point, change, distortion, volatility, revolution, transformation, and diversity. Ace expresses material through the "condensed form of emotions" present through the symbol of gold; this sense of pattern is separated in this card, so that change and distortion occur, even the Taoist symbol (yin/yang) also indicates that the opposites are only signs that are expressed out (Jupiter) of an individual, in an immutable archetype of itself (Saturn).
2. Inner
This card means a deep understanding of folk maxim, that everything has two sides. It almost refers to freeing yourself from all things that have only one face and exploring other necessary aspects for the game of power. It is like opening the horizon, realizing that day and night are two extremes (necessary) of a unified body, leading to a comprehensive experience.
3. Career
The card represents changes that occur on their own. If a person does not rely on what appears to be "authenticated", or at least familiar, he or she will feel that this period is rich and at least when looking back, will that person understands the benefits which it has brought to him/her. High mobility and a good side of selflessness are the best prerequisites to experience these stages in pleasure and comfort.
4. Sentiment
This "change" card in nature refers to a change of relationship as well as the variability in a relationship. The second may come from experience (a new breeze) so that two partners can actually exchange the roles they are carrying. Those who have high standards of emotional security can feel like going through these stages as a threat. But anyone who is open to new motivation will appreciate those times.
III. Similar correlations of 2 of Disks Thoth Tarot
Astrology – Jupiter in the Capricorn.
Tree of life – Chokmah (energy) through the Earth: the transformations that are polarized.
I Ching – 38th hexagram (Kuí) – "Separate (Hate each other)".
Similar objects – The Uroboros snake, the snake swallowed its tail and itself forms a symbol of eternity.
Image – Heaven and hell, day and night (yin and yang).
Keywords – New goals, new directions, continuous cycles, things that change.
IV. 2 of Disks Thoth Tarot symbolism
Top Disk = rotates to the left.
Bottom Disk = rotates to the right.
Not all change is easy, so we have to trust that what lies ahead is for our greater good.
4 elements = these are in the eyes of each disk.
Fire and Water = (active and passive) are in the upper disk.
Air and Earth = (active and passive) are in the lower disk.
Serpent = coils around the yin yang symbols and represents the constant infinite motion that characterizes life. It is also a symbol for the wisdom of Chockmah = the wisdom of the universe.
The sign ∞ = change is never-ending.
Crown = 7 points relating to the 7th sephiroth ruled by Venus = love.
Octagonal spots on snake = 8 relating to 8th sephiroth ruled by Mercury representing will (the Magician Thoth card).
V. 2 of Disks Thoth card in the upright and reverse
1. Upright 2 of Disks Thoth card
We must learn to follow the flow of life and believe in this process of change in order to find harmony and balance.
The constant change in fortunes makes projects difficult to get off the ground.
Nothing financially or materially impossible to change at the moment.
This card takes you down to earth and reminds you not only to focus only on your spiritual life goals but also to ensure your daily tasks are in order.
This is a card that manages well your practical and financial issues. It sounds tedious to focus your attention on these more mundane issues, but this card reminds you that sometimes getting ahead of the everyday job is just as important as pursuing your more interesting life goals.
2. Reversed 2 of Disks Thoth
Not following the flow in your life and leading to a lack of harmony and balance; trying to manipulate many events excessively.
Reckless spending.
Finances and practical matters are not in balance.
Changes at this moment in time not seemingly for the better.