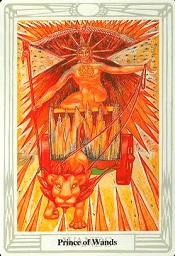 Prince of Wands Thoth – Crowley Tarot | Thoth Tarot Deck
| | |
| --- | --- |
| Instinct | Active, arrogant, eager to adventure. |
| Purpose | Rich experience (travel and adventure). |
| The Light | Attractive, open, enthusiastic. |
| The Shadow | Unrest, impatient, destructive. |
| Quality | Fierce and tense. |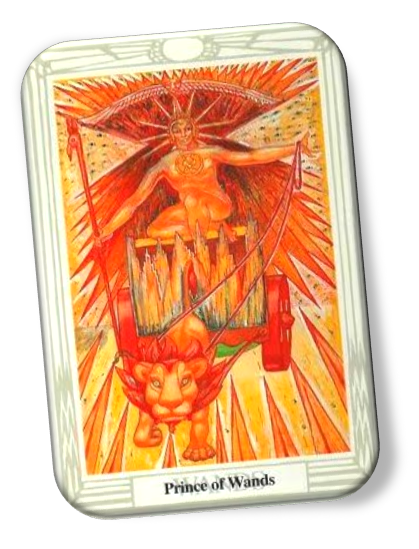 Son of will
I. Analyze and describe the Prince of Wands Thoth Tarot
1. Image
The male (on the card that looks like a bisexual person) represents the will of fire in the early stages of haste. We see a naked warrior in the picture, showing the vitality and the courageous determination. Prince sits on the chariot with his arms outstretched, symbolizing the beginning of the action and continuing the idea of action (the Princess of Wands Thoth). Meanwhile, the crown shines corresponding to the creative willpower, the winged lion's head is ancient instinctive energy, and both represent the power of lions pulling the chariot to entering life wildly and unabashedly (the enthusiastic lion is the impulse of the will that leads human intuition).
The fire emanating from Creator's crown signaled the creative energy explosion. It is the will to perform creative action that manifests itself as an engine behind human development. Prince represents the first impression of future possibilities: the Phoenix scepter in his right hand represents this. The image portrayed purification through fire and the rise from the ashes.
2. Myth
The atmosphere inside the fire symbolizes a positive male principle – elements of light and fire. It was the embodiment of Apollo – the God of the sun riding the Chariot in the air. Apollo is the son of Zeus, representing light and reigning in all living creatures. The fire, symbolizing life force, is only scary for those who avoid life and resist the supreme sense of creativity with their personal will.
This explains why we recognized Hercules, another son of Zeus, who wore Nemean lion head like a helmet after taking it down, being Prince beside Apollo. However, he could also be Siegfried – the German hero that must go through fire to awaken the sleeping Brunnhilde.
II. Interpretation of the Prince of Wands Thoth Tarot
This card can represent people, in any field of life, but it can also be an experience in the field that corresponds in question.
1. Human
Prince of Wands is the embodiment of a temperate, strong, brave, reckless, relaxed, impulsive and passionate young man. He is young and knows what he wants, and also is full of optimism and self-control. Sometimes, he also confronts us in the form of an open and relaxed young man, making us feel that we should not trust him immediately because, although he can be good at expressing himself, his feelings are often variable. If the card represents a woman, it corresponds to the masculine trait in her being (animus).
2. Overview of the Prince of Wands Thoth Tarot
The son of the Wands suit represents the warm atmosphere which contains excitement, passion, and enthusiasm, as well as the restlessness, impatience, impulse, and exaggeration. Whether we enjoy warmth or fear of heat and its abnormality, it depends very much on the area of life that this card describes. The restlessness that it describes means: we want everything immediately. If we do not get or receive what we want, we respond with anger and aggression. On the other hand, the warmth of the Prince of Wands will stimulate and motivate, sometimes, soothe the tense atmosphere and bring new energy to deadlock situations.
3. Awareness
In terms of inner life experience, the card shows that we are in the "intense and stressful" stage. We try our best for ideals, or build and protect basic beliefs without regarding objective justification, or insist on suspecting possibilities of realization.
4. Career
In terms of career, it is not difficult for us to convince the surrounding world about our capabilities. Instead of just one, there are hundreds of ideas we want to implement at once. This makes us a true "business genius" that constantly comes up with new plans, in which most are failures because we are in a hurry to forget not to count the time factor. Everything will burn in instant heat and lack of endurance and patience.
5. Sentiment
In terms of personal feelings, this card shows the wild flame of love and passion, but it is also moody and kinky. Emotionally, Prince is the embodiment of the principle of longing or the inner child. Although we are open in love and ready to receive new relationships, there is a lack of deep emotional desire to protect mature emotions from outside temptations through times.
III. Similar correlations of the Prince of Wands Thoth Tarot
Astrology – from 21◦ Cancer to 20◦ Leo.
Element – Air properties of Fire.
I Ching – 10th hexagram (Lǚ) – "A cautious step".
Human – Young male youth who is excited and enthusiastic, and therefore, often affectionate.
Similar objects – Jason and the golden fleece; Cadmus and dragon teeth; Hercules and Lion Nemean.
Sacred place: Cadmea in Thebes.
Sacred color – cinnabar color.
Sacred Stone – Hematite Stone.
IV. Prince of Wands Thoth card in the upright and reverse
1. Upright Prince of Wands Thoth card
This card represents honesty and integrity and what belongs to the common good, like the heart of a lion. It also has a strong sense of morality and can represent a turning point in our lives when things are going badly.
We have to use our energy, enthusiasm, and effort to move on to new and better things, so the card implies this is the time to do it.
At the same time, we must be confident that the character in the card will advance in life and re-establish our true integrity. He reminds us to rejoin our lives and be ready to cope with all the upcoming challenges (5 of Wands) because, in the end, we will overcome anything that is preventing us from achieving our goal (6 of Wands).
It also refers to a person who is generous and loyal and maintains his humor.
This card asks us to answer the question of whether we have a desire for our lives?
2. Reversed Prince of Wands Thoth card
If ill-dignified, this card represents ourselves or others who can be cruel, futile, arrogant with too much of their own importance, creating haste and recklessness their actions.
V. Prince of Wands Thoth card in Celtic Cross spread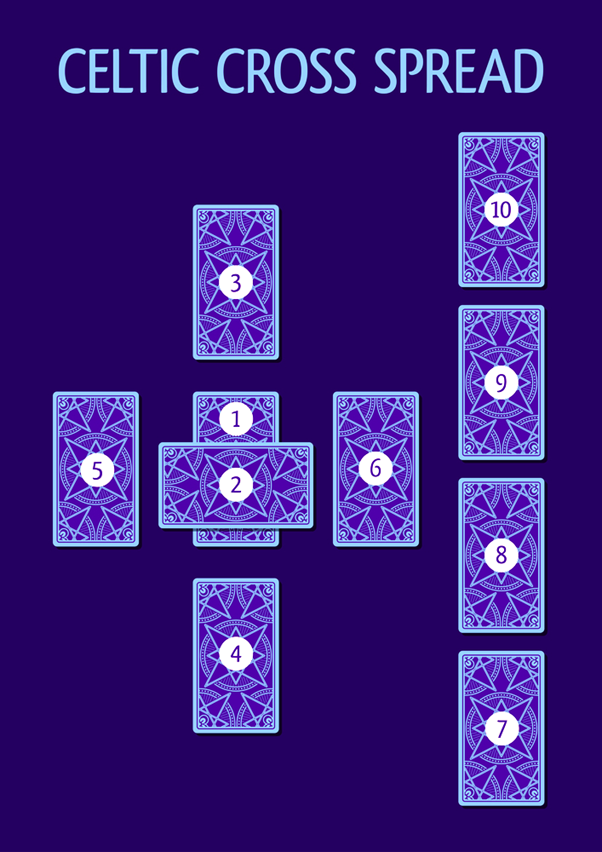 Card 1: Central Theme of the Spread – It is telling us this is the time to pursue our goals with enthusiasm and integrity, and it also implies that we should go for those goals.
Card 2: Crossing Influences – This could be more of an ill-dignified quality we attaching too much importance to our physical appearance (having too much self-importance).

Card 3: Subconscious Influences – A person who is capable of not realizing his/her confidence, it refers to a need to bring it out.
Card 4: Recent Past Affecting the Situation – Having enthusiasm and drive for life.
Card 5: Hopes and Goals – It reminds us to be confident to express ourselves to not hold back, to let those reins loose, and to be able to move forward.
Card 6: Immediate Future – It is a word of encouragement for others to express themselves in an open and honest way.
Card 7: How you are affecting your situation – With the self-importance that we attach to ourselves: do we have our integrity? Are we doing what we need to do in an honest and integral way? Are we following our sense of morality?
Card 9: Guidance or Warning – It is a guidance and warning that with these reins held too tight, we are unable to express ourselves or we have just let go of the reins completely. There is also a sense of ambition and self-importance that have gone too far.
Card 10: Overall outcome – We have the confidence and courage to express ourselves.