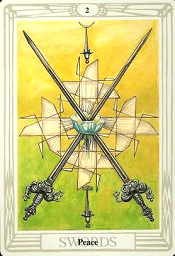 2 of Swords Thoth – Crowley Tarot | Thoth Tarot Deck
| | |
| --- | --- |
| Instinct | The desire to balance knowledge. |
| Purpose | Find the balance by seeking knowledge. |
| The light | The harmony of different things. |
| The shadow | The stressful state is not resolved (because of the balance of forces, stress cannot be reduced). |
| Quality | Balanced justice. |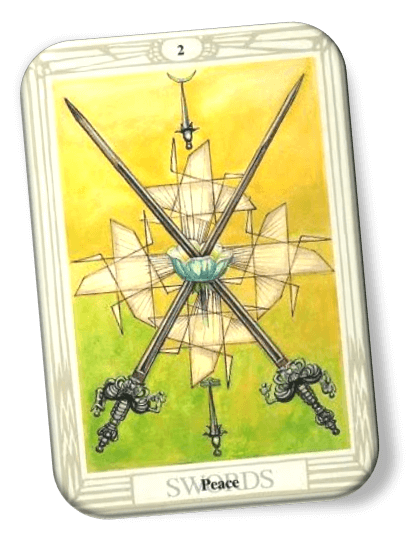 Peace – The spirit of balance
I. Analyze and describe 2 of Swords Thoth Tarot
On the card, we see two swords piercing a rose. Because of the original incarnation of thinking flowing from the stream of archetypes (Ace of Swords Thoth) into polarization (2), this card represents the silence before the storm (3). It is not affected by exogenous factors due to internal balance. There is a moon on the two small swords, which is the symbol of emotion and the sign of Libra, representing the balance. Two large swords intersect at the center of the blue rose, symbolic of the impossible. White homogeneous patterns emanating from this rose show how a dual-minded mind can create and maintain a balance of harmony and tranquility – despite signs that show it is impossible.
II. Interpretation of 2 of Swords Thoth Tarot
1. Energy
This card represents the thought that the world needs to be divided into 2 extremes to understand it. This concept of reality is increasingly dominant as an immutable principle, longing to reconstruct the whole paradigm of thinking. The person who seeks in this way will attempt to evaluate the world as he sees it and will simplify things into a basic formula that only includes yin and yang.
2. Inner
This card shows that we arouse the mental strength of the spirit, found in the ability to overcome key issues, thereby, give smooth solutions to problems even in hopeless circumstances. These solutions are both accurate and balanced, so it is possible to give conclusions to controversial issues and to bring harmony after the separation period.
3. Career
The separation of thinking brings progress due to clear and balanced strategies. This card represents the smoothness of previous contradictory views, arrangements, considerable planning, and scientific calculations for new projects. It shows that we may have to judge based on fair judgments and/or we need to treat and judge others in the same way.
4. Sentiment
This card means that different views and contradictions will be unified and will reach a neutral point of view. It represents a carefully considered model of flexible relationships, which are more likely to be sustained even in tough and stressful circumstances.
III. Similar correlations of 2 of Swords Thoth Tarot
Astrology – The moon of Libra.
Tree of life – Chokman (energy) through Air: Peace is under control.
I Ching – 19th hexagram (Lín) – "Approach".
Similar objects – Hermes is a symbol of wholeness and the self.
Image – Nature is a combination of contrasts, including light and dark, male and female, spiritual and physical coexist in all things.
Keywords – Balance, mindfulness, and impartiality.
IV. 2 of Swords Thoth Tarot symbolism
Guard of Each Sword = a dove and angelic figures kneeling in prayer = symbol of peace.
Pinwheels in background = constant activity of air or the mind. So, despite relative peace of the card, it is only a temporary stay from what is in the background for the client.
Blue Rose = emits white rays that form geometric patterns in the background.
5 Rose Petals = represents the letter HE, the letter of the Goddess (remember the Tetragrammaton). Therefore, this card carries some of her softer features as shown by the card's peaceful color.
V. 2 of Swords Thoth card in the upright and reverse
1. Upright 2 of Swords Thoth card
Having difficulty deciding something and cannot make choices. It is not an acute situation but something more lying in the background and sometimes, on the surface.
Maybe dealing with the pros and cons of a situation (represented by the oscillation of the moon).
Other words used to describe this card are "stagnant" or "passive", but no chaos is going on in the background.
With Rider-Waite cards, we better understand this card: The blindfolded woman in this card is also a sign that you lack the information you need to make the right decision at this time. You may be missing something or important pieces of information.
Once you have this insight and blindfold is removed, you can see the situation for what it is, and you will be in a much better position to make the right decision for you.
With this card, your decisions should aim to bring greater peace and harmony in your life.
2. Reversed 2 of Swords Thoth card
Hasty decisions lead to a lack of harmony and balance in your life.
The deadlock period lasts without clarity about the choices you face and the road ahead.
Confusion and tension due to information overload. No decision and no harmony are the worst of both worlds.