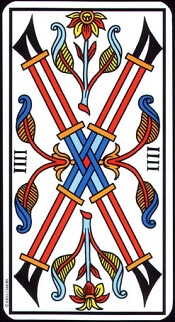 4 of Wands – 4 de Baton | Tarot de Marseille
I. The upright meaning of 4 De Baton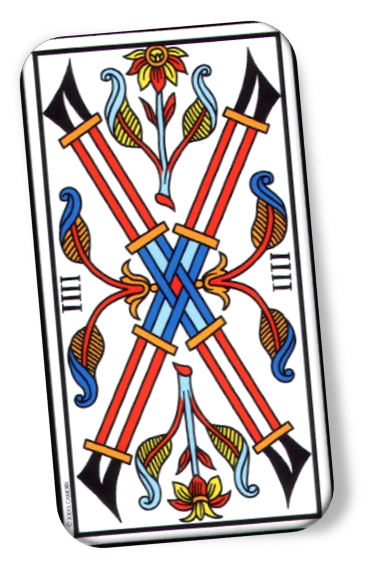 In this card, desire comes true. The work of the artist has debuted in the world and achieved success. Sex is guaranteed due to stable partners or effective sexual habits. This card represents a person who is making a living on his creative efforts and who has gained power in his hand.
4 De Baton announces the celebration, the good times, a happy family environment, harmony, and good news. In Tarot numerology, number 4 symbolizes stability and solid foundations. In the case of 4 wands, it means that you now enjoy a period of happiness and stability. This card highlights your sense of harmony and balance as well as your fulfillment. It symbolizes a period of peace and joy in life after intense and difficult efforts. This is one of the most positive cards of the Tarot of Marseille and signifies general good fortune, satisfaction, and achievement. With 4 wands, this is the perfect time to gather with family and friends and to prepare lots of wonderful moments together.
Often, this card reflects the holiday period when you get together as a family to celebrate. Alternatively, it can be as easy to invite your closest friends for an intimate dinner and to share a few glasses of good wine. It often refers to a wedding, a commitment, the birth of a child, an anniversary, a graduation or any other type of major celebration. If you have worked on a project, you will reach a milestone, and you will have good reason to celebrate it. Because you have completed an important phase of the project, you can now be proud of what you have accomplished so far.
4 De Baton augurs a moment of joy and memorable enjoyment of a person's life and represents the personal satisfaction of a well-done job, an achieved goal, and ambition that begins to be realized. Because this card is closely associated with the family environment, you may be working on improving or renovating your home. You may have recently bought a new home or are about to find a new home and prepare to settle in this new environment. It represents peace, harmony, and tranquility. It can be a refuge from all the turbulence of life like a new romantic encountered or a new place to live away from everything.
If you have been confronted with disputes with others, the time will come to propose to make peace and to develop harmony in your relationships. This card encourages you when things seem too daunting. It reminds you that most things in life are not easy and when you take a big step, you must be proud of everything you have accomplished. Also, it represents the transition from one stage to another and the transformation of past mistakes and obstacles into messages of peace, tolerance, and happiness.
II. The reversed meaning of 4 De Baton
Danger, in all areas, becomes a habit. The 4 of Wands will then become a card of monotonous discontent in which the pleasurable life is downgraded to only a physical training and artistic creation for the purpose of making money. This card may also indicate an overwhelming attitude or even a weak person without power, a fearful person who cannot afford to take on the task.
The reversed 4 De Baton means there is a lack of harmony or a communication problem in the family or at home. There can be tension between family members or loved ones, and you find yourself stuck in the torment and problems of others. This can make you doubt about your own relationship and who you really can rely on. It is also possible that you are going through a transition period in your family or in your personal life with the result of the feeling of a certain tension.
Likewise, you may find that your home situation is becoming more and more unstable. There may be an external threat to the peace and happiness that once prevailed in your home. You may find yourself in a temporary situation that alleviates your immediate concerns but does not solve all the problems in the longer term.
Depending on your housing conditions, it may be better to move for a while to defuse tensions. Given the stability of this card, the reverse may mean that you are going through a transition period where balance and security are uncertain. You may be experiencing many changes in your life, such as a new job, a move, and/or a broken relationship. And although you know it is an indispensable transition, it can be very disturbing, to the point of feeling totally lost.
In love, reversed 4 De Baton reflects a person who is unlikely to be looking for a long-term relationship but without being totally hostile to it. There is a lack of commitment or even a fear of commitment that prevents the establishment of a long relationship.