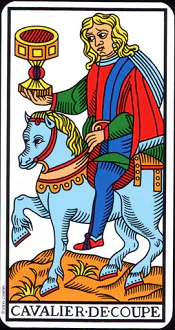 Knight of Cups – Cavalier De Coupe | Tarot de Marseille
I. The upright meaning of Cavalier De Coupe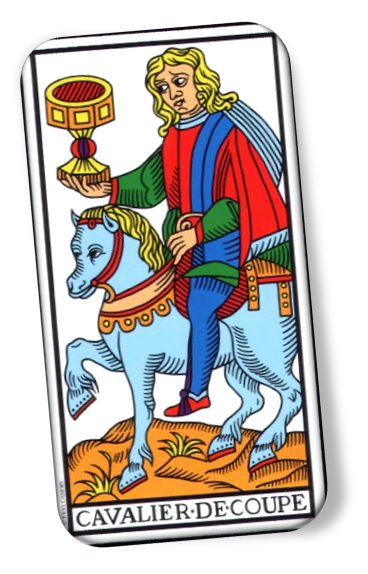 Riding on his elegant blue horse, he followed the path that had been guided by the hovering cup over his right hand (on our left side). The road of love has reached the end: it will now become a solid power. This can be missionary work, a humanitarian mission, a person who comes to ask for forgiveness and wishes to correct his mistake, a good deed or a sincere love. It may also be a saint who puts himself in the service of the world, builds a monastery or becomes a healer.
Cavalier De Coupe is the most feminine of the riders but that does not mean he is weak. It simply means that he is connected with his intuition and emotions and uses them wisely in his romantic quests. He is charming and attractive to everyone, men and women, and expresses a romantic and poetic vision of life in a unique way. This rider also turns to his emotions to know how to direct his life. This person is dominated by the heart rather than the head.
Before a decision, he announces a period during which you will always follow what your heart tells you, whether it is logical or not. Your decisions will be made without much thought and will be based on your inner voice and all your past experiences in terms of warmth, friendliness, love and sharing with everyone.
Like all Court cards, this card can manifest as an event, as a person in your life or as part of you. He often appears in real life as a messenger, an invitation or the arrival of someone or something that will bring you a lot emotionally. It offers an invitation that will materialize in the form of an emotional adventure that will increase your energy tenfold and engender a jubilant state as new situations emerge from all sides. He can also represent the wisdom that inspires your dreams and helps you overcome the obstacles of life.
This card indicates the promise of creative adventure evoked in Valet De Coupe. Like you, the rider has encountered inspiration and is about to realize what his imagination and creativity dictate. If you are about to start a new project, direct your imagination to the real world because the real imagination feeds on the action. Thus, if you do nothing about your dreams, they will remain vague and unrelated to the rest of your life.
Cavalier De Coupe also warns against the fantasy and romance of life. Fantasy stimulates but lacks meaning if you deny your ethics of life and your imagination will produce nothing. Be prepared to probe your passions and great ideals. You may find that you have been attracted by a particular theme, and it is the right time to take action. You do not have to go at a fast pace, but it is important to balance your ideas with your actions and make sure you set the stage for achieving your goals and ambitions.
II. The reversed meaning of Cavalier De Coupe
Your emotions are now taking control of your life. Your feelings change just like a rollercoaster and your sensitivity is on the edge which destabilizes you. Incessant jealousy, sudden sadness, and anger mean that you take the time to draw conclusions without having the right elements to judge. As a Court card, Cavalier De Coupe can represent you or represent a loved one and as he acts without logic, he lets himself be overwhelmed by emotions and impulses.
At this moment, you do not follow your inner voice, it seems that you do not even listen to it. Overall, this card is associated with frustration after many experiences that have a great start but quickly turn into a contradiction. In this sense, this card advises you to act calmly in certain situations and use your mind rather than your emotions to avoid that frustration. It is possible that different pieces of information come up, which will only cause doubts about what is really happening. Delays may occur in the celebration of engagements or meetings, some events or occasions may even be canceled.
In terms of work, you will feel some resentment due to the lack of recognition for the amount of work you provide. Delays in promotions, transfers or salary increases are likely to occur. It is necessary to rest and apply a clear vision. If you are looking for a job, you may not find it immediately or accept a promising job but then disappoint you quickly.
In love, if you are in a relationship, the driver can show that one or both spouses can feel emotionally overwhelmed by the requirements of the partner. This can be solved if both sides want it. Let's share your feelings and pay attention to the signals. This feeling of disappointment may not be real but is dictated by your out-of-control emotions. If you are alone, you will likely meet people who are not doing very well. You then will be quickly disillusioned.
III. When Cavalier De Coupe speaks up
"While the Knight of Wands and the Knight of Swords rode on a male horse, I and the Knight of Pentacles rode on an elegant female horse. I am not controlling my horse; I do not need to do that. With my arms wide open, I pursue my symbol: the Cup. I did not hold it in my hand; on the contrary, it is hovering in the air and leading us. It is a cup where spring of love flourishes.
This love led me, and I did not know where I was going. I kept following it with no doubt that it would take me to my awareness, the cleanest moment. Talent flows naturally: I do not force myself to find the right path. I do not call my courage to overcome my limits. What I do is simply follow. I give away what I receive. My only desire is to be aware of this endless talent, and I am investing in it, to survive, so that I can continue to serve it. This is when I, while blessing the world, step into the kingdom of human life – of Pentacles, of need and material".