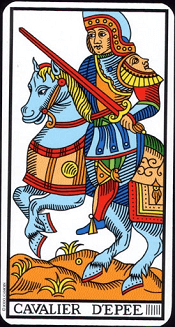 Knight of Swords – Cavalier D'épée | Tarot de Marseille
Wearing a helmet, an armor, being equipped with a long sword like a spear and riding a horse, this mighty envoy is ready to go beyond thoughts. He was trying to make a jump into the unknown. His intellect went through both emptiness and silence. After he has reached the perfect state, he is going back on the path of love: so, he only travels on a path that leads the way. He could be a wise man who had acquired love or divine things, a man who fought for spiritual motivation, who wanted to bring its certification to the whole world, a prophet, a good messenger, a solution to a problem, or the end of conflicts in mind.
I. The upright meaning of Cavalier D'épée Tarot
When we are obsessed with an idea, the desire for its fulfillment blinds us so much that we ignore the obstacles we may face or the consequences of our actions. Cavalier D'épée Tarot is full of life and energy that must be balanced by responsibility and compassion. Once he has started, there is no way to stop him!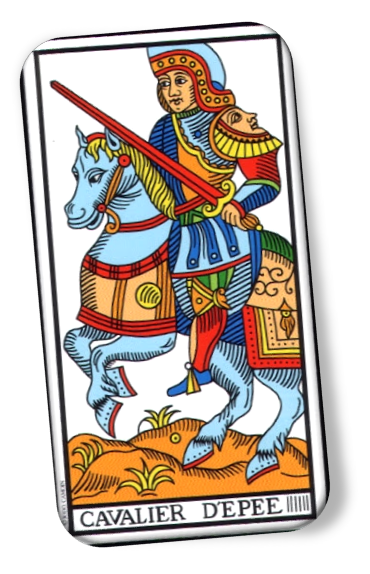 The positive side of this card shows an infallible ambition, determination and the ability to succeed. The downside, however, states that you may be inclined to neglect the hidden obstacles and consequences of your actions and may engage in dangerous terrain with too little preparation. You can also ignore the needs of others while pursuing your own goals with passions.
Cavalier D'épée Tarot often illustrates a time when you throw yourself into a new project or a new idea and there is no way to stop. This sudden explosion of energy propels you and inspires you to quickly achieve your goals. You are ready to overcome any problem, challenge or obstacle in your way. How could something get in the way when you are so determined to reach your goal? However, risk dealing with things superficially. Sometimes, it works well but not always does. For example, dealing with low-cost suppliers will help you to get the job done quickly and inexpensively, but the quality may be at a disadvantage in the long run and could hurt you. Also, make sure to keep the most competent people at your side, especially if they have already proven themselves in your team.
You may be excited and ready to start, but if your colleagues, your partner, your friends, or your family is not, you may have problems later. Cavalier D'épée Tarot also represents your need to understand the world from an intellectual point of view. You have well-developed communication skills and you can easily make strong arguments to express your opinions on current topics and all other important ones. You like to share with people who have the same skills, exchange ideas and develop new perspectives.
II. The reversed meaning of Cavalier D'épée Tarot
The reversed Cavalier D'épée Tarot is incredibly impatient, impulsive and overflowing with energy. He has so much energy but so little focus leading to hasty decisions that drive others with him. His thoughts are scattered. He is likely to be very disorganized, flippant and unpredictable.
If you meet this type of person, be very suspicious and make sure you are not carried away by the hype or energy around you. It will not be easy to do because this person is a great speaker who has full of ideas and interesting thoughts on future opportunities. Do not get caught up in his/her whirlwind of activity and energy!
The reversed Cavalier D'épée Tarot also means you have to go alone to gain experience and maturity. In terms of seeking freedom and independence, it is likely that you will make mistakes along the way because of your reckless and impatient nature, but this is part of the adventure. This card can often reflect a rebellious teenager fighting for his own independence, thus, parents need to allow him/her to make mistakes and be responsible for his/her actions.
It can also mean that you have to slow down, otherwise, you risk being totally stunted. You want to invest in everything but you cannot succeed because of this tremendous energy and overwhelming thoughts. As such, you became intellectually bogged down and more and more tired day by day. Let's take a deep breath first, capture your ideas and then focus entirely on priorities.
When Cavalier D'épée Tarot speaks up
"My horse, as strong as the horse of the Knight of Wands, is more refined and agile. I instructed it to jump a huge step to bring me from the intellectual kingdom to the mysterious emotional world. I and my horse are one. While the Knight of Wands acted with willpower, I and the horse acted with courage. After erasing the clinging ideas, we have also eliminated, among other things, its hopes and fears. We have to convey the essence of the mind: we know that we are the manifestation of the same action. I carry a golden aura above my helmet, a symbol of divinity. Along with the red sword that looks like a spear and my agile horse, I am the one who brings life. Where should I stab my sword? The heart of others, Logos has created love. I have sacrificed my dream to achieve sacred purification".