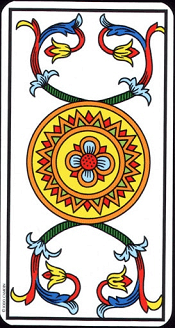 Ace of Pentacles – As de Denier | Tarot de Marseille
I. The upright meaning of As De Denier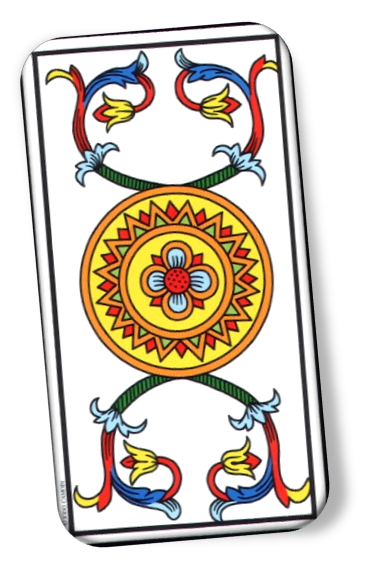 This card denotes physical energy in all of its potential forms: the body, the resources, the positions we hold in the world, the territory. The fact that the Pentacles set always mentioned in a plural form showing this energy is mainly of common. Ace of Pentacles directs us to our relationships with being, family life, home, money, and health. It shows our questions about the specific side of life.
As de Denier like other Court cards, represents a fresh start, energy, and inspiration. In this card, pentacles are equivalent to the alchemical element of the Earth and thus, symbolizes the material world and the things associated with the material and the body. It also represents the money and financial concerns you may have at the time of reading. This card indicates the beginning of new energy and interest revived by the material or financial sectors of your life. It can refer to the start of new investments or the desire to create a new business. There is also the possibility of an inheritance or a gift of money from an unexpected source.
This Ace card announces a sense of prosperity and abundance and should be welcomed with joy because it is a very positive card. This is the symbol of wealth not only in financial terms but also in a more holistic sense. You can see new opportunities as a source of income. You may have the chance to receive a gift or a financial windfall. It is an indicator of abundance in all areas of your life. You should obey the law of attraction and send positive energy to the universe in order to receive abundance in return.
As de Denier is the manifestation of your goals. You will evolve with a more positive mindset about what you are able to achieve. Your ideas are ready to be transformed into something tangible. Let's start projecting exactly how you will achieve your goals. Many opportunities are open to you. You begin to realize that the world is in your way, and you can achieve your goals and desires.
This card may suggest that we need to introduce something new into the equation rather than letting things stay and expecting them to self-regulating. It is time to start something outside your comfort zone. For example, you might consider signing up for a club, taking classes to learn new skills, or even reading a book or learning how to develop new business.
II. The reversed meaning of As De Denier
The negative meaning of this card can refer to a financial problem or the rejection of material or vice versa, worrying about having too much property, illness, body neglect, malnutrition, or poverty.
The reversed As de Denier means that there is a financial opportunity which is in your reach. It can be a salary increase, a new job, a loan, etc. In addition, it indicates that you must be very careful about what you can and what you can not afford. Do not splurge by taking a mortgage that requires huge monthly repayments. Do not rely on the promise of a financial opportunity in the future. You should save some in case you are unemployed at some point or you have a large and unexpected financial expense.
Likewise, this reversed card indicates a time when you are trying to manifest your goals, but you are not going very far due to delays and obstacles in your plans. If your success is limited, you may need to re-evaluate, modify your plans and the proposed approach. It may also be that your goals need to be redirected to something more realistic. Financial or professional advice may be needed to help you to get you back on track.
The reversed As de Denier can reveal corruption, greed and the granting of what one did not deserve. You should be careful not to be too opportunistic or exploit others in your quest for higher profits. You may also be blinded by the obsession with greater accumulation of finances and wealth leading to disadvantage in other areas of your life. If you are planning to start a new business or accept a new job offer, this card in reverse warns you that there is a significant risk due to a lack of organization and anticipation.
You may be neglecting the financial details of your action plan and indulging in a new idea without knowing if there is indeed a market for your services. You may also rush into starting a business without planning ahead. You must better organize yourself and have more consideration for the financial aspects that will nurture your passion and career benefits.