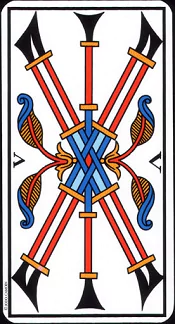 5 of Wands – 5 de Baton | Tarot de Marseille
I. The upright meaning of 5 De Baton
5 of Wands brings a temptation, a new desire, and energy to transcend what has been known up to this point. This may be the beginning of entering into sexual practice which is unknown so far or in the creative field, developing to unpredictable depth and wider threshold. This is also the power of a teacher or a saint who is not afraid to use the Wand's energy to heal and bless.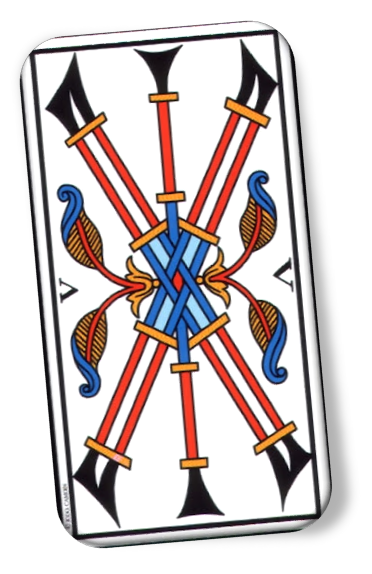 In the Tarot of Marseille, 5 generally represents the conflicts and changes, and it is the case of 5 De Baton. This card means that you are or will be, in a time of conflict, tension, and opposition and this has an impact on your ability to progress in your goals. Rather than succeed in working with others, you run into them and as a result, you are constantly challenged. The problem is that everyone tries to express their point of view but no one listens, and therefore, nothing advances. There are only conflicts and the discussions that take place have little or no value.
Similarly, this card is representative of a group of people who want to achieve a goal but who can not fully agree on how to achieve it, each with their own idea to carry out this task. Let's do your best to turn this into a constructive confrontation by allowing each person to openly express their opinions and listen to those of others. Once everyone has been heard and all opinions are taken into account, determine the best way forward.
Sometimes, this type of conflict and discussion can be very positive, as in the case of a speaking group because you need an environment where you can put your ideas to the test and improve by comparing them to those of others. You can benefit from creating a working group, committee or thinking about other people who will bring different views and experiences. You can consider this kind of debate and discussion as positive contributions to improve the relevance of your ideas and actions.
5 De Baton often means that you are confronted with a number of competing people of similar quality or experience to yours. You may not be used to competing with others at the moment because you have built your success on your own, but now, it is the time to discover what competition really means and demands. Exactly like when the best student still has to fight with others who have high achievements to enter the job market. Where there is competition, respect your opponent but defend your point of view. Besides, fight your predisposition to frustration, anger, hatred, and prejudice.
This card also encourages diversity and differences of opinion. You may be in a situation where you are dealing with people from different cultures and backgrounds, and you may have difficulty accepting their way of life. You should know that every person has a stone to add to the building, and you will benefit by learning more about them and what they have to offer. It also encourages an enthusiastic approach to change. Change happens, whether you like it or not, but your challenge will be to make sure everyone is on the same page and is preparing for it constructively and positively. Currently, the energy of your surroundings is dispersed because the enthusiasm is poorly channeled.
Everyone has a lot of ideas but there is nobody to harmonize them in a coherent way. Your role can be a clear strategy and objective that can be implemented by all parties involved. Sometimes, 5 De Baton reveals a personal struggle or a discord, about problems that are internal or external and that cause you a lot of tension and confusion. You hesitate between conflicting opinions about how you should approach your current situation, and you have not really come to understand where this leads. You feel concerned by a number of external and conflicting issues such as abortion, immigration, globalization or the environment, or simply by more personal issues like love or employment.
At the same time, other people around you have strong opinions about what you should think, which creates conflict, tension and unpleasant disagreements. Just when you think to accept a clear point of view, you will be inverted on this point of view or you will discover new information that will make you change your mind. This process is actually very beneficial and will help you to adopt a complete and thoughtful vision. There is no good answer and whatever path you choose, you will always meet someone to contradict you. So, you have to find the most comfortable option.
II. The reversed meaning of 5 De Baton
In the negative sense, this card refers to depraved sexual acts, sexual and spiritual conflicts, and creativity that requires the use of drugs or alcohol to express or a desire for a development that has not arrived yet.
The reversed 5 De Baton can mean that you tend to avoid conflict as much as possible. You may find that any kind of tension or conflict makes you feel uncomfortable and you wish it disappeared. So, you are doing everything to dodge this energy, and you simply prefer to ignore the problem, if there really is one. The problem, though, is that by doing so, you may just be setting aside your own values ​​without really being interested in or affirming them. Some conflicts, however, may be beneficial, especially if they are constructive and allow the underlying problems to be solved in order to devise a better solution. You should think about whether conflict avoidance is always the best solution, or whether you are foolish enough to reluctantly accept compromises on what is important to you.
The reversed 5 De Baton is like a sigh of relief after the conflict and struggle. You are faced with less animosity, and you can totally lower your ego. On a more personal level, you have overcome your anger and hostility and are now feeling safer in your relationships. You do not have to assert yourself constantly. It can also mean that you really need to focus to reach your goals. You have gone through a period of confusion which is full of crazy ideas to finally find yourself at the same starting point. At present, you recognize that if you want to go further in your goals, you need to focus on your key priorities and stay the course without considering more opportunities.