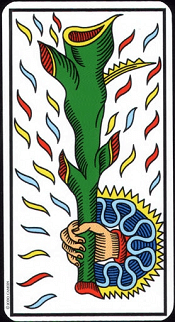 Ace of Wands – As De Baton | Tarot de Marseille
I. The upright meaning of As De Baton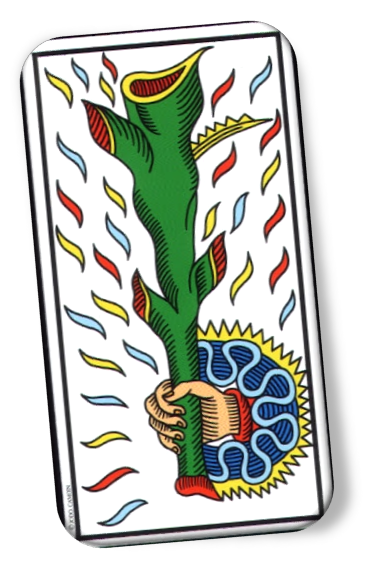 There is a large amount of energy in a latent state. We know how to create and re-create, have the courage to overcome difficulties or lead a project to succeed. The Ace of Wands has power. If you need to fight, you will be able to do it. This is also a card about sexual ability and desire. Perhaps, it signals the emergence of creativity in unexpected areas.
As de Baton urges you to get started. This stimulating card reveals that you will feel incredibly motivated and excited to embark on a new path or project. You are very happy and eager to start. Let's take advantage of your creative energy and passion to start the first steps and launch this project. Even if you like to anticipate everything before you take this new path, this card encourages you to listen to your instinct and follow your intuition. If you think it is a good idea, it probably is. So, start with some basic steps to get things done, then continue to grow and improve your ideas with more complex actions afterward. The important thing is to act now rather than spend time organizing and extrapolating.
This card is also indicative of a moment in your life, a decisive parenthesis during which you feel spontaneously inspired and motivated by a particular idea or passion. Your eyes have opened up wild to a whole new world, and you are now very excited about the available opportunities. You will show tremendous potential and will suddenly be activated by a powerful creative force. It is as if there is an unsuspected talent has been hidden in you for years, and it was waiting for a click to come out.
It is also the perfect time to appeal to your imagination and make your dreams come true. With the As de Baton, as with all Ace cards, in this case, keep in mind that it is only a small seed that will need time to become a beautiful, strong, durable, prolific and fruitful tree. You have a very promising opportunity here, but it will be your job to make the most of it and maximize its potential in the longer term. It is almost like the needed spark to light a huge fire, but you will have to work hard to get the fire going because the spark itself does not have enough energy to generate that burning flame.
The energy of this Ace card can also mean nervousness or uncertainty as to how to proceed. You enjoy energy and passion but do not really know how to transform them. All of these wonderful ideas are starting to take shape, and you are bursting with energy, but now you have to find a way to make the most of them in order to be able to use them in the longer term.
II. The reversed meaning of As De Baton
When the Ace of Wands is in a negative sense, it can refer to sexual problems, creative obstacles, loss of energy, lack of sophistication or clumsiness. It also refers to cruelty, physical violence, abuse of power, and also sexual abuse.
The reversed As de Baton means that you find it difficult to clearly define what you want. This lack of direction can undermine your energy and leave you with a bitter feeling of demotivation and despair. As a result, you often wonder if this is what you really want in life and if the grass would not be greener elsewhere. However, when you think about the possibilities that might interest you, you may still have a hard time knowing what you want. To remedy this, you must first focus on your true passions. There is no point fighting for a goal if you are not motivated or not enthusiastic about achieving that goal. So, take the time to think about what you really want and what you want to achieve at the present.
This reversed card can also indicate that you are mired in previous responsibilities and commitments and therefore, you can not develop new ideas. You must free yourself from some of these heavy burdens in order to free up time for your new passions. You can also take a break from your usual routine to let new ideas flourish.
As de Baton in reverse can also mean that frustrating delays keep you from moving forward in your plans and ideas. You are likely to be impatient at the moment, especially if you are in action and your activities are starting to take off. It may be that you are also in a position where you have a great idea but have still not found a suitable outlet. Again, you feel impatience going up with the risk of not being able to exploit this idea right now but maybe it is better that way because timing is essential. So, be patient and wait for a better opportunity.