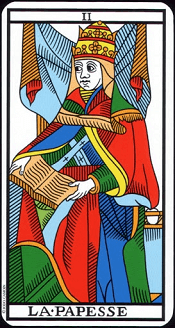 La Papesse Tarot – The Priestess – Tarot de Marseille
I. Overview of the High Priestess – La Papesse Tarot
High Priestess has the number 2, the most common number in the arithmetic system, associated with duality. But in Tarot, 2 is not 1 + 1; itself is a value that simply means accumulation. High Priestess sitting on an egg. The first woman of the Major Arcana, she appeared as a nun sitting next to a white egg, just like her oval face. She was twice as big in her pregnancy, both herself and the egg.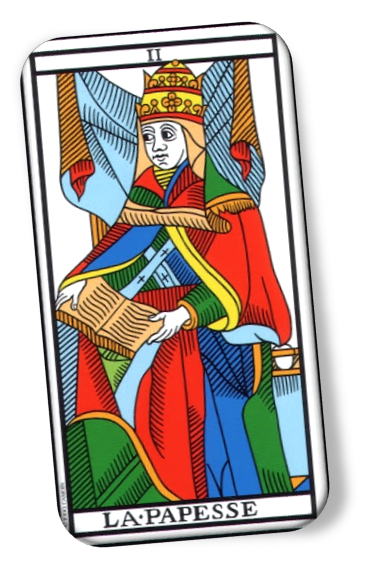 As a symbol of pure holiness, the High Priestess – La Papesse Tarot reveals the intact part within us that is never injured or interfered, the virgin witness that we carry within us, sometimes, completely invisible, being the representative of each of us, is the source of purification and trust, an untapped primary forest, and the source of countless potentials.
High Priestess is often considered an initiator or a witch. She is often associated with two great mythical figures: Virgin Mary with a pure pregnancy, destined to be a pregnant woman of God, and Goddess Isis, a magical source of all fertility and transformation.
The four points on her hat allude to the north, south, east, and west directions: at the center of the cardinal points, her knowledge is connected to things, her level of awareness is achieved through her body. Her crown is slightly protruding from the frame, where it ends at an orange point. The High Priestess comes to tell us both pure material life and spiritual life.
II. Keywords of the High Priestess – La Papesse Tarot
Faith – Knowledge – Patience – Sacred place – Loyalty – Pure – Loneliness – Silence – Severity – Matriarchy – Thrill – Pregnancy – Virgin – Coldness – Resignation.
From a negative perspective, her pallor can be seen as a sympathy, a rigid rule, a virgin obsession that leads to castration, which is a taboo in life. As a woman, she can be a dangerous mother, who never wants her eggs to hatch and reign over it with her power.
The book that she holds directs her to the learning and knowledge. The skin-colored book wants to tell us that she is studying rules about human life. Since she is not reading the book, it gives us reason to think that this open book does not mean anything other than herself, waiting for someone to decode and awaken her. It also refers to the Bible: High Priestess – La Papesse Tarot gathers the language of the Father, a living language. Finally, seventeen lines in the book show the similarity between her and the Star: High Priestess's perception of accumulation is the Star's action. In a positive and original sense, High Priestess is preparing to give birth. She was waiting for the Lord to come and fertilize her eggs.
The three small crosses in her chest indicate that, despite being confined in the physical world, she still belongs to the spiritual world. She represents the pure soul that dwells in each of us and summons us to communicate with this sacred divine force. Beyond any action and complete awareness, in a non-tolerant way, she purifies everything, which can constitute a barrier to the vibration of sacred energy.
III. Interpretation of the High Priestess – La Papesse Tarot
High Priestess – La Papesse Tarot often refers to a female individual, mother or grandmother, who passed on an ideal of purity or domineering coldness. She is also the embodiment of a cold mother, a non-sexual woman who finds a reason to justify religious or moral ideals, and who does not know how to cuddle. But her need for purity can lead us to the path of women with high levels of spiritual development, a nun, a therapist, a guide, who can be of any age. In love, High Priestess is ready to create a couple based on the harmony of the soul.
The book she is holding can also lead us to seek concerns associated with the study or writing of the reader. High Priestess then becomes an author, planning a book or any other kind of work, the necessary pregnancy for action, even an actor who receives a research role, an accountant, a meticulous reader, or the Virgin Mary.
Being separated and reclusive, High Priestess evokes isolation, waiting, or loneliness – either her own choice or being imposed. Her whiteness can elicit the desire to be warmed by passion, spirituality, or creativity. Sexually, on the positive side, she represents sublimation and on the negative side, she represents despair. The answer to the mysteries of High Priestess – La Papesse Tarot can be found in her attitude toward the egg that came along with her. If she cherishes it in great loneliness and is led by high standards, a living God can be born from there. Isn't ostrich eggs in Catholicism considered one of the symbols of the birth of God?
Figure 1: The orange point at the top of her hat touches the edge of the card;
Figure 2: Seventeen lines of the book are worldly;
Figure 3: Crosses on her chest;
Figure 4: Oval and white, the symbol of pregnancy, the egg in the process of hatching.
IV. When the High Priestess – La Papesse Tarot speaks up
"I have formed an alliance with the mystery that I call God. From that moment, I no longer saw anything in this physical world but not his embodiment. When I contemplate my own body, the wood, the stone, I discovered in them the source of energy and the presence of the Creator. Every nuance, every cell, every variation of reality is one of His appearances, manifested in His infinite variety. I live in a world of divine energy. I shivered with every material; at my feet, there is the trembling of the whole planet: it is another manifestation of Him, greater. I am thrilled in harmony with the universe, with fire, with the ocean, with storms, and with the stars, etc. The energy of all creation comes to me".
"But I am a virgin. Nothing came to me except for God, but I could not imagine it. I have no knowledge of filth and dirty".
"I can only contact you in the sacred and unspoiled direction of your being, your virgin nature. If you come to me to talk about passion, sex, emotion, I will not understand you. I go beyond everything, beyond all sadness, and even death. Because if God is material, it will be immortal, and I do not have any fear or desire anymore".
"Therefore, I urge you to join me with your inner spirituality. If you become like me, you will be able to enter me. Your suffering is unclean, your past is unclean; do not come to me when you get dirty. Let's free yourself from that state because impurity is an illusion, like sin. Let's accept the virgin splendor in your existence! In all sentient beings, there is a state that never allows anything except for God, the state can only be possessed by Him and the state of constant connection with Him. This is also true for the whole living world. In every tree, there was an inaccessible core. In each language, there is content that cannot be expressed by words".
"Remember that nothing is yours, that you do not own this body, these desires, this emotion, these thoughts. All these things are His, they depend on the eternal and infinite that you live. Let's give yourself to Him and receive Him".
"I do not regret; I ask you to perform this task and to unite with me, you give up everything that does not deserve to be a holy grail in which the Gods will be able to hide it. I am like the temples where the exorcism ritual is performed, where you have to take off your shoes before entering, where the air is purified with the scent, where believers are washed with holy water".
"In the fusion with the power I felt in everything, my weaknesses and doubts gradually disappeared. I live in this body as a sacred place; I can give myself to the position I deserve at any time. I am buried in work, and no one can make me deviate in my journey. No one can arrest me or bind me to his desires, his emotions, his consciousness. No one can distract me. No one can make me deviate from what I want. I personally do not want anything; I obey God's will".
"I do not give up, I do not let go. I am not the one who keeps any secrets because I am empty. I give myself to God, who is the only mystery".
V. Traditional interpretations of the High Priestess – La Papesse Tarot
Accumulation – Preparation – Research – Chastity – Writing a book – Compatibility – Expectation – Perseverance – Retreat – An indifferent woman – Forgiveness – Role-playing actress – Nun – The cruel mother – Stubbornness – The weight of Religion – Isolation – Frosty – High moral people – Strict education – Pregnancy – Needing warmth – The ideal of purity – Solitude – Silence – Meditation – Feminine wisdom – Prestigious female character – Virgin Mary – Reading sacred texts.
More The High Priestess Cards from Famous Tarot Decks
1. The High Priestess Rider Waite Tarot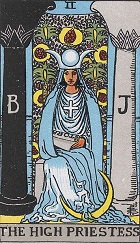 The High Priestess Rider Waite represents wisdom, serenity, knowledge, and understanding. This character is often described as a guardian of the subconscious. She sits in front of a thin veil of awareness, which separates us from the inner within ourselves.
<< See More >> The High Priestess Rider Waite Tarot Card Meanings
2. The Seer Wildwood Tarot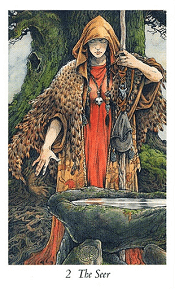 The Seer Wildwood acts as a prophet, helping us to recognize the femininity and creativity in ourselves. She mastered everything on the basis of abundant energy and solid skills. In particular, the owl feather coat is a metaphor for her travels into the world of thoughts and knowledge. 
<< See More >> The Seer Wildwood Tarot Card Meanings