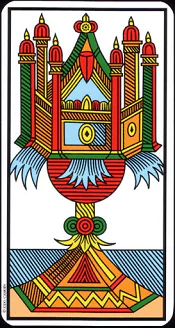 Ace of Cups – As De Coupe | Tarot de Marseille
I. The upright meaning of As De Coupe Tarot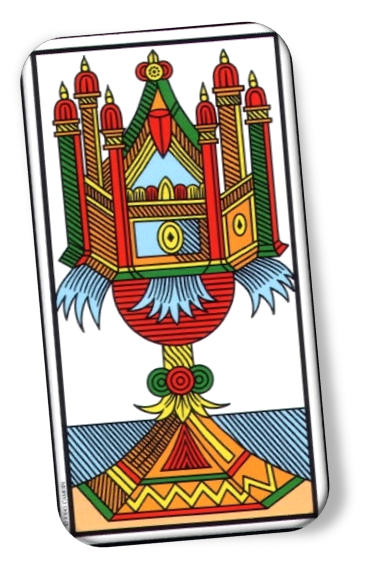 The symbol for a love is in a latent state. The door of the church is still not completely closed, it could be a visualization of all emotions, all possibilities of the heart from passionate enthusiasm to the mystery; the great arrangement of love and being loved; the ability to receive love even though it has not been used yet, is immense. With Ace of Cups, love appears as a glass of wine, an impending question will distort the quest of the reader. It is also the foundation of communication and religion in terms of connecting with others and transcending themselves to reach the Divine Realm.
As De Coupe Tarot is a symbol of accomplishment, not only emotional but also spiritual. If there is an opportunity for fulfillment, will you seize it? In fact, everything will depend on how much you need to be fulfilled emotionally and spiritually in your life at the moment. It represents happiness, compassion, the beginning of a new relationship or a love story in which you feel butterflies in your stomach and with whom you can share a particular bond. The content of this card symbolizes the flow of emotion.
As De Coupe Tarot, therefore, means that positive emotion and energy will be created between two people, which will allow you to feel good about yourself and in life in general. You will probably have the chance to feel a new love or to give and receive unconditional love. So, let's give and accept love to a new level and open your heart to those around you. The tenderness offered to others will attract many potential partners for you in return. This card often means that love is the essence of the situation. It can be romantic love but not necessarily. Let's find ways to connect to others. Is there someone whom you want to forgive or apologize to? Can you put aside your anger and find peace? Do you want to give up your modesty and let your feelings manifest? It is a peaceful moment in your life, so use it and make peace with your friends and with yourself.
As De Coupe Tarot also represents an artistic expression, especially when it is possible to let your emotions show through. You agree to experience your inner feelings and share them with others. You may want to get down to a creative project, take an art class or dance class. You are at the stage of your life where you feel comfortable with who you are and how you feel, and you are not afraid to reveal that part of yourself to others.
You plan to immerse yourself in a creative bubbling and, as such, you are open to new possibilities and stimulate your imagination to let your talents reveal themselves. Undeniably, there is a generous and compassionate element regarding this card. It is time to give up and seize new opportunities to help others. You have the power to bring more happiness to others and share your satisfaction and positive energy. You will also find that the more you give, the more you will receive on many levels.
As De Coupe Tarot also indicates fertility. From a literal point of view, this means that it can announce a conception, pregnancy or birth. On a more metaphorical level, there may be "birth" of a new idea or a spark of inspiration. This can be the beginning of a project in which a lot of energy, love, and creativity will be invested.
II. The reversed meaning of As De Coupe Tarot
The negative side of this card includes endurance, jealousy, lack of affection, poverty, which never satisfies and emotionally inhibits suffocation.
As De Coupe Tarot in reverse advises you to calm down emotionally for your benefit. It tells us that to heal, you really have to push away the tears and fight to maintain a balance. Try not to let your emotions take over or unhealthily transform your life. Sometimes, it is possible for us to take too much trouble and, in doing so, we reveal our weaknesses or worse, unconsciously attack the vulnerabilities of others.
Let's find ways to express constructively how you feel, so you can continue to live in a more balanced way. Plus, this reversed card could also mean that you have suppressed your feelings for too long and it is time to release them. Keeping too much emotion inside can lead you to be emotionless with everything.
In love, it may indicate that you are not holding back your emotions for fear of being hurt. You know that to let the relationship progress freely, you must trust your partner. You may also feel like you are on a roller coaster about your emotional well-being. There are so many ups and downs in your life that sometimes you do not know where you are. Your life, emotions, and energy are running out, so take care of your emotional health. Let's be aware of how you feel and its impact on your reactions.