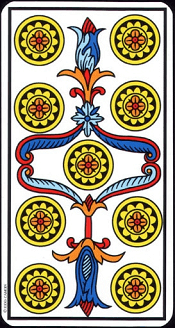 9 of Pentacles – 9 de Deniers | Tarot de Marseille
I. The upright meaning of 9 De Deniers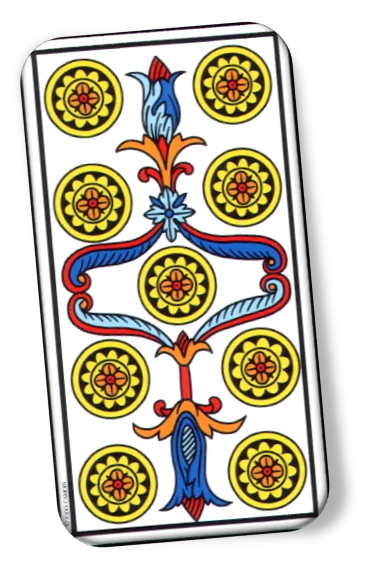 A material stage has been completed, from which new birth is born. For a pregnant woman, that could be a time of labor. It is also a material detachment, one has left everything to start a new life or a profound financial transformation leads to a new project. The Nine of Pentacles may refer to bankruptcy, inheritance, or winning a game of chance; in any case, it also leads to new construction.
9 De Deniers indicates that you have reached a point in your life where you feel confident, autonomous, independent and free. By acting on your own, you have achieved a well-deserved success, and you can now enjoy the property, recreation, pleasure, material comfort, and rest. You appreciate what is available to you at the moment and that the difficulties are behind you. You also know that you can accomplish everything with little confidence, self-discipline, and patience. This card means it time to enjoy the good life and fruits of labor. You have worked hard to get there, so now let's sit back, relax and enjoy the luxuries of life. You deserve it!
Do not be afraid to show or pamper yourself, especially if it is a reward for your hard work. You should treat yourself with a little fun, simply celebrate the path you have made to reach your goals and recharge your batteries for the next step. You are about to reach your goal, so get ready for what will come next. Sometimes, however, this card may indicate that you are close to achieving your goal but you have not done yet. Therefore, you may still want to follow your plans and continue to suffer until you reach that goal.
You show great self-discipline and conviction to make sure you get where you want to go. While this suit typically describes material wealth and profit, 9 De Deniers also suggests that you are in harmony with the surrounding nature. You may appreciate the beauty and abundance of nature and harness that energy to bring pleasure into your life. You can enjoy gardening, flower growing, or just spending some time in nature by going camping or walking in the parks. This card can indicate a time of restraint and balance. It is a time when you must behave with grace and refinement and be tactful and diplomatic in your relationships with others.
II. The reversed meaning of 9 De Deniers
The negative aspects of this card refer to the economic crisis that is not well-handled, being stolen, deportation or forced removal, dismiss, lack of old age experience, inheritance or exile.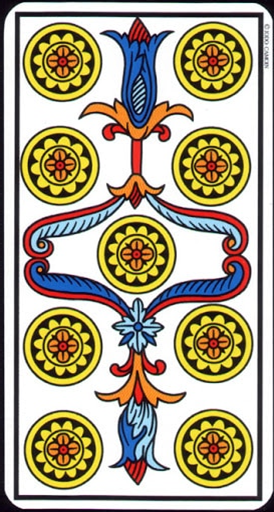 In reverse, 9 De Deniers means that you could suffer financial setbacks or have experienced a loss due to reckless decisions or foolish actions. Your bases may be about giving way. If this happens, learn from your mistakes and build a stronger and safer foundation next time. This reversed card can also indicate over-investment in the job. You work long hours at the expense of your personal life. It is a good time to return to a natural setting (for example, a forest, a beach, a mountain or a lake) to restore your energies and recharge your batteries.
Similarly, it suggests that you may need to stop focusing on the need to maintain an unnecessary income and standard of living, especially if it conflicts with other priorities of life such as family or personal relationships. You may think that you need everything you see but in fact, all you need is your family and a few close friends around you. Do not be afraid to cut your income for a short time or reduce your hours of work! It is important that you focus on what is most important to you.
Your finance can be relegated to the second position and there may be areas where you should reduce your material dependency. On the other hand, the reversed 9 De Deniers shows that you want to lead a luxurious life, but there is also something that opposes it. For example, a part of you knows that you deserve a beautiful house, but another part doubts and wonders if you can really afford it or wonder if you are going too far in the madness. You want to be surrounded by beautiful things but you do not want to be dependent on material goods. You do not want to be seen as someone who throws money out of the window, so you are reluctant to spend on the superfluous.