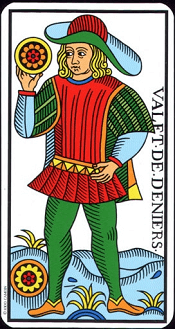 Knave of Pentacles – Valet de Deniers | Tarot de Marseille
I. The upright meaning of Valet De Deniers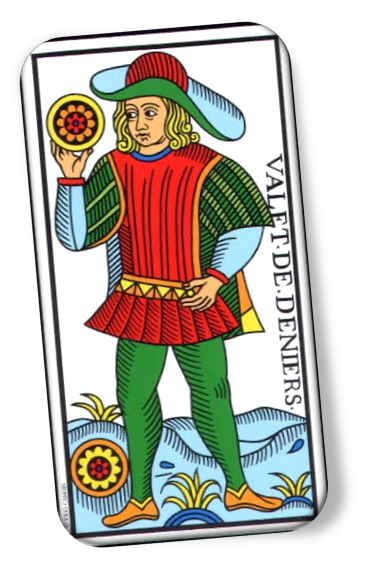 With his two coins, one being raised to the sky and one buried underground, he was wondering where his position in this world, his body, his financial problems. The buried coin is an obstacle that prevents him from developing; the coin being raised is his wish. His left hand is holding a yellow round object, which can be a piece of gold like the Magician – Le Bateleur Tarot. Should he start a business, and if so, what kind of profession? How to enter an active life? Is this investment worthy of possible problems? Will he regain his health? There are dozens of questions that Knave of Pentacles ask when considering whether to take physical risks or financial risks. If this card describes problems, it can talk about not knowing where a person's position is, where to stay, staying passive, or, on the contrary, playing dangerously with one's safety or life.
Valet De Deniers is the card of dreams and desires to manifest them in the material world. You can be in the middle of a new project like a hobby, business creation or the start of new training. In any case, this card is a sign of enthusiasm and desire, centered on a goal or a dream. It does not indicate the fulfillment of dreams but rather the initial motivation and the needed energy to begin the process of materializing these dreams into reality. As a result, this card encourages you to start putting in place clear strategies and actions that will ultimately lead you to realize your dreams and goals.
This is a time when you must be able to follow careful planning to achieve your ambition. You must stay focused on the practical and tangible elements, keep your feet firmly anchored on Earth without getting carried away by other ideas and concepts and also be focused on what is realistic and achievable. That is when your common sense and pragmatic approach will lead you to success and a solution that really works. It is the time to put into practice all these great ideas and concepts that have stimulated your imagination.
Valet De Deniers also asks you to flourish and progress along a trajectory that will generate prosperity and wealth in the future. You are just at the beginning of a new project or business which will require staying focused on tangible results and benefits. Besides that, you should be clear about the skills and resources needed to attract you to wealth and abundance.
This Knave is thirsty for knowledge. It is dedicated to knowledge, the acquisition of wisdom and new skills. He is passionate about all of his commitments and has a great capacity for involvement in his interests and activities. Thus, the appearance of this card means that success will come to you after mastering new skills, and you have decided to achieve specific and tangible goals. You may need to consider continuing your education, expanding your skills at work or learning new ways of doing things.
Do not be afraid to be an apprentice again, even if you already master another area to perfection. Think of those 70-year-olds who suddenly engage with enthusiasm in obtaining a university degree! The more strings you add to your bow, the more goals and dreams you will achieve.
Sometimes, Valet De Deniers can represent a young entrepreneur. This person may aspire to fortune by pursuing a new business idea through learning new skills or adapting to a new situation. He/she may be young, but there is also a lot of enthusiasm, commitment, dedication and a keen sense of responsibility to carry out his/her project.
II. The reversed meaning of Valet De Deniers
In the upright, Valet De Deniers indicates the realization of your dreams and your goals. But in the reverse, it can advise you to be wary of the current blockages that prevent you from achieving these goals. You may not be well-organized enough or lazy and complacent, and afterward, you may have lost sight of your goal. You may also be too busy thinking about new dreams and goals without taking any action for your initial ambitions. So, you need to review all of them and think about why you were motivated to reach them. Think about your satisfaction once you reach that goal and invest once again to make your dreams come true.
This reversed Valet De Deniers can also indicate that you are focusing on the pleasures and benefits in the short-term rather than the long-term and sustainable goals. You will have to go beyond material satisfaction and towards what will bring you lasting happiness and fulfillment. Similarly, you may find it hard to realize a specific project or idea. Every time you try, it seems to be useless, or even worse, it looks like it takes you away from where you want to be. Failure creates increasingly frustration that makes you too desperate to achieve what you want. You can lose faith in your talents and abilities. If that is the case, relax and give yourself some free time over a short period of time. Let's take a vacation or take a break from your usual routine, then, you will find that it will help you to relax and stay refocus.
III. When Valet De Deniers speaks up
"I sympathize with the Earth, the whole planet. I went through countless paths. I can move to actions as easily as reaching ideas. Like all sacred lands, I hold a treasure that can stop me from progressing as long as I keep it secret, buried, and unexploited. Like a heavyweight of the past and of the traditions, it can turn into chains and shackles on the prisoner's feet – is me. But at the same time, I am also reaching out to the best of myself, which is the best level of material: gold, a necessity of Humanity. The wealth I have gathered has not been used and does not bring any results. The wealth that I turn to consciousness promises a transformation of matter into spirit. You can say that alchemy originates in me with its two simultaneous processes: spiritual materialization and vice versa. I am the source of action, but I am not an act".