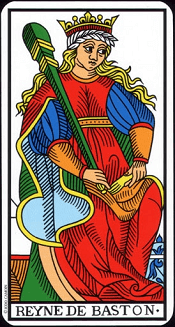 Queen of Wands – Reine de Baton | Tarot de Marseille
I. The upright meaning of Reine De Baton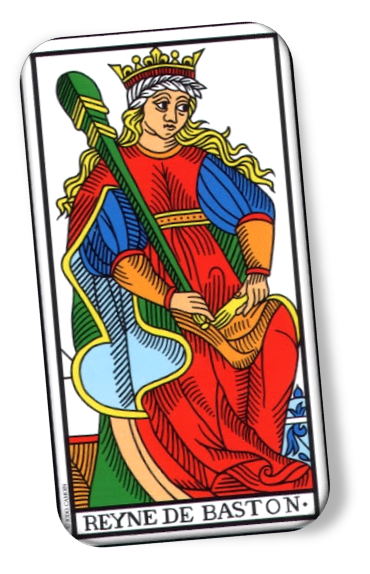 There is a finely sculpted wand leaning against Queen's lower hip; and she holds it with her right hand (ie our left side), while on the other side, she seems to shake a fake yellow hand. She is a sensitive and charming person who carries many things in common with Empress (III) – L'Impératrice Tarot. When she possesses all sexuality and creativity, she can be full of passion, the homophobic, instinct, and independence. She represents the contentment of a person who has begun living with his creativity.
Reine De Baton represents the dominant female energy in the element of Fire. She is not afraid to show her power and not afraid of any threat. He is a strong leader who focuses on her desires with the firm intention of getting what she wants. Thus, this card indicates that you are strong, independent, able to take care of yourself and consolidate your aspirations, even in the face of adversity. You know what you want and how to get it, and you excel in collaborating with others to achieve your goals. You are good at staying fiercely determined and focused on your goals while remaining friendly and optimistic with those around you.
This card is very energetic and leads an active and overflowing life. She radiates health, vitality and the inner vivacity that fills her with energy and motivation. This Queen is an intelligent and natural leader who actively inspires others. She can be a catalyst, influencing her friends with her vision, courage, and determination. It builds trust in you and gives you the power and confidence that you can achieve anything you decide to do. She asks you to be brave and enduring in your businesses and your actions. Your aspirations are noble, and you are lucid about your ethics of life. You are optimistic, confident and full of ideas that you are ready to implement and share with others. You have the capacity to express your passions with a lot of authenticity and courage.
Reine De Baton is a natural extrovert and attracts attention. She creates a favorable first impression because she implies a friendly person who easily makes friends by being sweet, warm and charming. She wants to be recognized by someone. This card has abundant social and professional networks and attracts people with its charisma and positive energy. She may dream of becoming a celebrity one day, whether in entertainment, in the professional sector she has chosen or in her circle of friends.
The disadvantage of this Queen is that she can sometimes be stubborn, especially if she pursues an ambition or goal for too long and gets lost on the way. She is not invincible, even if she thinks she is! Sometimes, it can also be disappointing, authoritarian, irritable and even tyrannical. She has a lively and passionate personality with a fiery temperament. She is known for getting upset and screaming, then hugging you in a moment.
II. The reversed meaning of Reine De Baton
She experienced a full sexual aspect, and she could represent an artist or an energetic work, but in a more negative sense, she could represent a person obsessed with love, sex, is easy to bribe or goes beyond the limit.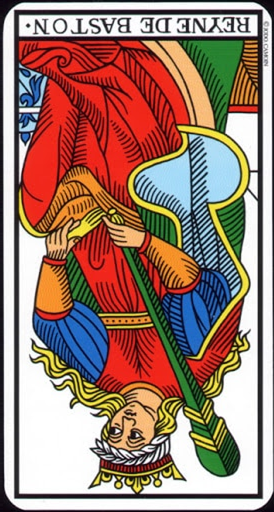 Reine De Baton in reverse describes a situation in which a person behaves in a manipulative, aggressive or selfish manner. Someone in your entourage always seems to be in a bad mood, moaning, expressing anger, resentment, and jealousy. You may be the victim of his/her aggression and intimidation, or perhaps yourself. Perceptions are skewed and the information is transfigured into lies. There is someone demanding, manipulative, petty and narrow-minded around you.
The reversed Reine De Baton can also mean that you have recently lost confidence in yourself and have become shy. You fear to be in the limelight because you imagine that others consider you are no longer good for nothing. You may have had a recent failure and are now a little embarrassed by your reputation. What you need to do is restore faith and trust in yourself. Let's take advantage of this positive energy that lies deep within you and believe that you can fight everything if you have determination.
III. When Reine De Baton speaks up
"I immerse myself in the endless river of longing. Everything in me exploded. With the craving of a vortex, I offered my burning cave to every conception. My bobbing hair is the sponges gathered from a single wave. Cosmic power is expressed in the form of sexual acts that give me the supreme power of seduction. I am ready to incubate countless eggs, to make every desert bloom, and for those who live in the harsh kingdom of the Queen of Pentacles – Reine de Denier.
This is why I never stop opening my heart and calling people. I cannot survive without fertile wasteland. It was this shortage that gave me a huge stature. Under the supreme power expressed on the face, I need to be used, nurtured and oriented. This is the charm: a deficiency is transformed into strength through desire. If I do not admit this deficiency, if I crave to improve myself, I will be mutilated".